How Two World Leaders Helped Casablanca Launch Humphrey Bogart To Superstardom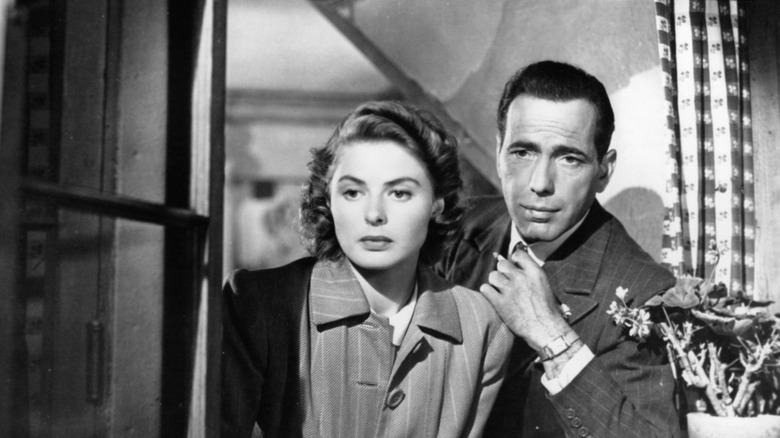 Warner Bros.
Unlike many classic movies about World War 2, "Casablanca" was made during the war. The film was released in 1942, just under a year after America entered the conflict, and is set a year earlier in the eponymous Moroccan city. Club owner Rick Blaine (Humphrey Bogart) discovers that his old flame Ilsa (Ingrid Bergman) and her husband Victor Laszlo (Paul Heinrid), both Nazi resistance fighters, are in Casablanca and looking to escape to America.
The film shows Casablanca as a refugee hub, full of unique characters scattered to the winds by Nazi oppression of their homelands. Rick, the sole American in the cast, becomes an avatar of his country's role in the war; he's initially neutral but ultimately chooses the right side. Underlining this, the film is set mere days before the Japanese attack on Pearl Harbor, which pushed America into the war.
"Casablanca" and its connection to contemporary events helped make it a hit. In particular, the film, and star Humphrey Bogart, got a publicity boost when President Franklin Roosevelt and UK Prime Minister Winston Churchill visited the city where the film was set in 1943.
A constantly shifting story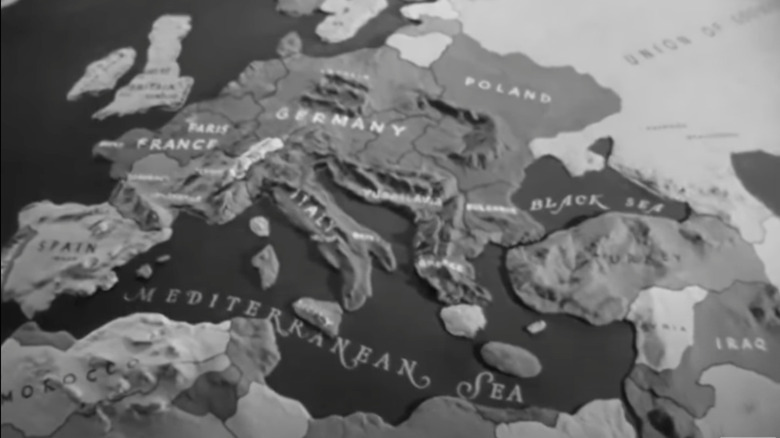 Warner Bros.
"Casablanca" exists because of chance. On December 8, 1941, the day after the Pearl Harbor attack, a script based on the unproduced play "Everybody Comes to Rick's," landed on a desk at Warner Bros.; producer Hal Wallis saw the potential for a film centered around the ongoing war and decided to commission a film of the script. He even handpicked Bogart to play the leading man.
To stay topical, the film needed a quick turnaround. As a result, the script was cobbled together. While Wallis and director Michael Curtiz are believed to have contributed, three different writers are credited: Howard Koch and brothers Julius & Philip Epstein. Koch has admitted that when the shoot began, the script was unfinished:
 "Ingrid Bergman came to me and said, 'Which man should I love more ...?' I said to her, 'I don't know... play them both evenly.' You see we didn't have an ending, so we didn't know what was going to happen!"
The time crunch escalated when Allied forces invaded Casablanca, in an event called Operation Torch, in November 1942. Originally slated for a summer 1943 release, "Casablanca" instead premiered in time for Thanksgiving. This change paid dividends thanks to a second attention-grabbing headline a few months later.
In January 1943, the same month that "Casablanca" went to wide release, a secret meeting between Roosevelt and Churchill took place in Casablanca, from the 14th to the 24th. This marked the first time a sitting US president had visited Africa and the first time a president had left America during a war.
Bogart's later career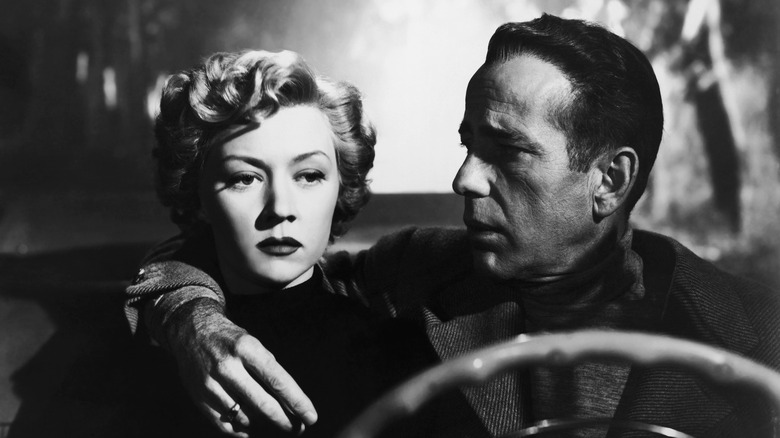 Columbia Pictures
Once the meeting was revealed to the public, the lucky coincidence brought "Casablanca" renewed publicity; it became a film which patriotic audiences had to see. "Casablanca" rode this success to victory at the 1943 Oscars, claiming Best Picture, Best Director, and Best Screenplay — not bad for a script which Julius Epstein said, "[had] more corn than in the states of Kansas and Iowa combined."
In the long run, the biggest beneficiary was Bogart. While audiences knew him as Sam Spade from "The Maltese Falcon," "Casablanca" made him into a star. As Stefan Kanfer wrote in his Bogart biography, "Tough Without a Gun," "No one expected that. Not even Humphrey Bogart. Especially not Humphrey Bogart." Bogart's last 15 years (he passed in 1957) existed in the shadow of "Casablanca." He played characters similar to Rick; dry-witted cynics with good hearts.
One of his best performances, the 1950 noir "In A Lonely Place," directed by Nicholas Ray, deconstructs this persona. Bogart plays screenwriter Dixon Steele, who is suspected of murder. His lover Laurel (Gloria Grahame) even begins to doubt him thanks to his explosive temper. Once Dix's innocence is proven, their trust is still too shattered to repair. The ending is reminiscent of "Casablanca," two separated lovers having to settle for memories of their time together, and just as splendidly tragic.
If it weren't for that chance intersection between "Casablanca" and current events in 1943, we might not have plenty other great Bogart movies, "In A Lonely Place" included.