A Legendary Pop Star Wanted To Play Morpheus In The Scrapped Sandman Movie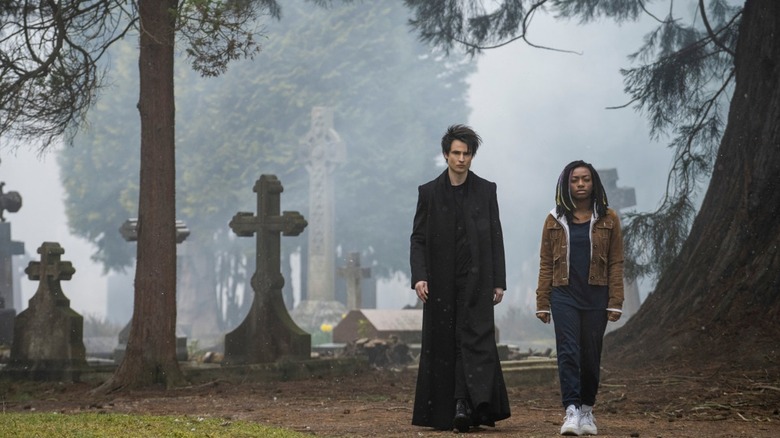 Netflix
From January 1989 until March 1996, Neil Gaiman's pivotal goth text "The Sandman" flooded the hearts of Doc Martens-wearing, clove cigarette-smoking, Fields of the Nephilim-listening teens the world over. The comic followed the downbeat, bitter adventures of Dream, a supernatural personification of human dreams, as he escaped a prolonged prison sentence in a fantasy kingdom, and set out traversing multiple dimensions to build up his power again. Dream frequently ran into other personified human concepts like Death, Destiny, Despair, and Delirium, and existed in a vast, complicated mythology world that your "Rocky Horror Picture Show"-attending buddies probably knew better than you. 
Because of its cult popularity, scuttlebutt about a "Sandman" feature film began to spread sometime in the mid-1990s. Recalling the time, the buzz seemingly became loudest following the release of Alex Proyas' ultra-Goth comic book adaptation "The Crow," a film that appeared to be visually and tonally in line with what Gaiman had written. Rumor had it that Warner Bros., the owner of DC Comics, started to put a "Sandman" feature film into production with Roger Avary ("Killing Zoe," "The Rules of Attraction") set to direct. Many scripts, most of them false, began circulating in the online communities of the time. One particular script, written by William Farmer, was openly derided by Gaiman himself, who called it one of the worst he had ever read. 
In a 2022 interview with Entertainment Weekly — done in honor of the brand new Netflix TV adaptation of "The Sandman" — Gaiman reminisced on all those stalled "Sandman" movies from the '90s, and even revealed who wanted to be first in line to play the character of Dream: Michael Jackson.
The King of Pop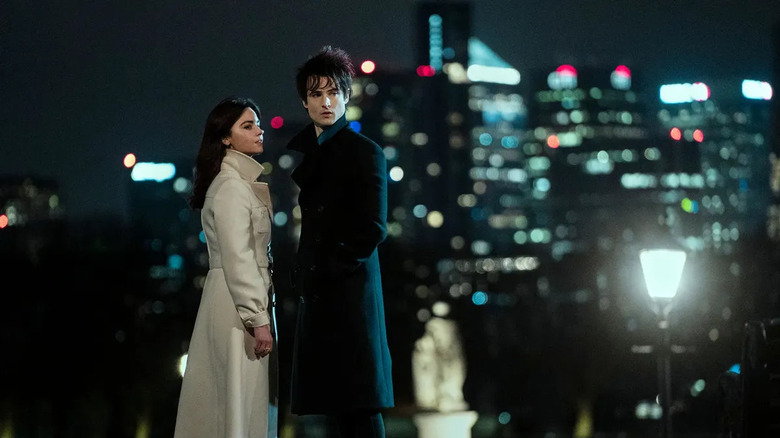 Netflix
The 1990s version of "The Sandman" eventually died a quiet death, but there was a brief glimmer of hope for the project's success when Jackson expressed interest. Jackson — famous beyond belief at the time –  was always a comic book fan, and even toyed with the idea of buying Marvel Comics in the '90s. In his music videos, Jackson typically staged himself as being so talented that he developed superpowers. A leap into playing Dream is not so far-fetched as it might seem on the surface. Up until the early '90s, Jackson was known in the public eye for being a wealthy kook with a personal amusement park and exotic pets. Gaiman recalled hearing the news of Jackson's interest from Warner Bros., saying:
"By 1996, I was being taken to Warners, where the then-president of Warner Bros. sat me down and told me that Michael Jackson had phoned him the day before and asked him if he could star as Morpheus in The Sandman. So, there was a lot of interest in this and they knew that it was one of the crown jewels and what did I think? And I was like, 'Ooh.'"
Of course, the idea might have been cooled by the fact that, in 1993, Jackson had already been publicly accused of sexually assaulting a 13-year-old boy. The case settled in 1994, but the scandal was too notorious to overlook. One can only speculate that to be the reason why the Michael Jackson version of "The Sandman" never manifested.
The miracle that we got it at all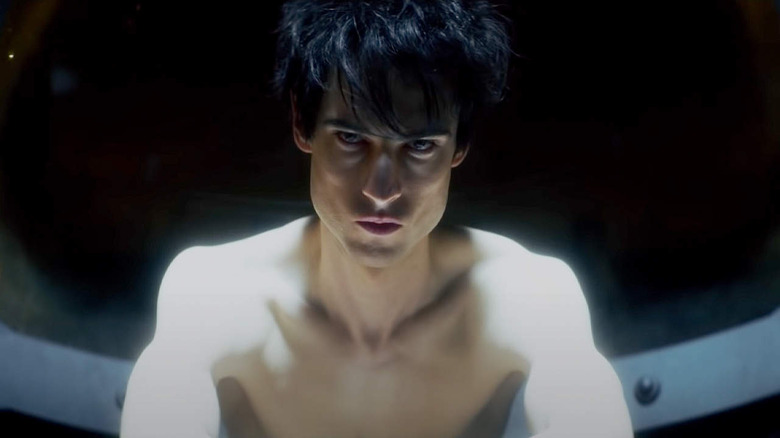 Netflix
The current iteration of "The Sandman" has been in development for quite a while. A 2016 Entertainment Weekly article revealed that Joseph Gordon-Levitt was briefly in talks to play Dream before exiting the project. In July of 2020, Audible put out a high-profile audio adaptation of the book, with James McAvoy playing Dream. After dancing around the property for the better part of 30 years, "The Sandman" finally came to Netflix to some fanfare and warm reviews. 
Gaiman's writings have been adapted to the screen on multiple notable occasions. Gaiman wrote the screenplay for the 2005 semi-animated fantasy film "MirrorMask," which had special effects by the Jim Henson Company. His 1999 novel "Stardust" was adapted into a somewhat well-received 2007 comedy film with Michelle Pfeiffer and Robert De Niro. His 2002 novel "Coraline" was adapted by Laika into a rather good 2009 stop-motion animated feature (although we shall ignore its myriad similarities to Clive Barker's 1992 novel "The Thief of Always" for the time being). Most recently in cinemas, John Cameron Mitchell adapted his teen romance "How to Talk to Girls at Parties" in 2017. He was also the man behind the TV miniseries "Neverwhere" in 1996, and "American Gods" in 2017. 
Seeing "The Sandman" in filmed form seems like one of those projects that was destined never to happen. After years and years of development, some — including Gaiman — had washed their hands of it. In 2022, it seems the time was finally right.