Netflix's Horizon Zero Dawn: Everything We Know So Far About The Video Game Adaptation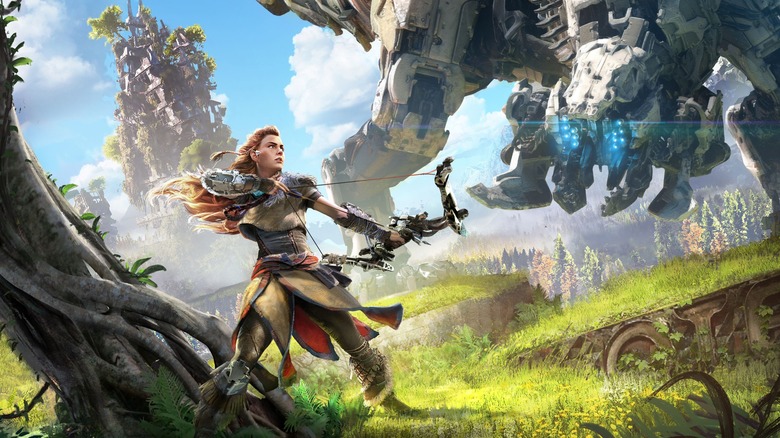 Sony Interactive Entertainment
Based on the best-selling, PlayStation-exclusive video game from 2017, "Horizon Zero Dawn" is set to receive a small-screen adaptation on Netflix. The latest effort by PlayStation Studios to repurpose its intellectual properties as full-fledged, live-action franchises is set to revolve around Aloy and her adventures exploring the ruins of a machine-riddled, post-apocalyptic world. The adaptation currently harbors even more secrets than the original story it is based on, but a few key details have trickled out of the anticipated production. For instance, Netflix has hired Steve Blackman to develop "Horizon Zero Dawn," signing him to a multi-year deal after serving as the showrunner to "The Umbrella Academy."
With Blackman set to write and produce the series, "Horizon Zero Dawn" gives Netflix another opportunity to adapt a popular video game franchise after releasing "Resident Evil" earlier this year. Additionally, Netflix is also not the only distributor for Playstation Studios — the original announcement for "Horizon Zero Dawn" mentions a "Gran Turismo" project is in the works as well. However, significant progress is being made with the former and if the rumors are to be believed, the futuristic video game universe will be filmed just six years after the original game's release.
Who is working on Horizon Zero Dawn?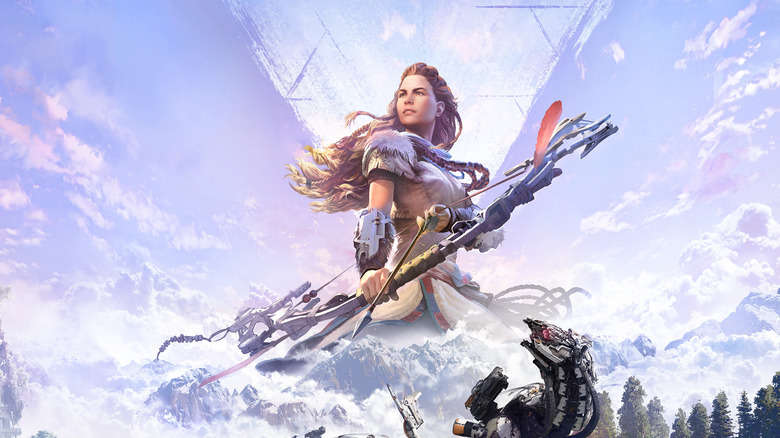 Sony Interactive Entertainment
Joining Blackman is writing partner Michelle Lovretta, whose track record includes the latest season of "The Umbrella Academy" and SyFy's "Killjoys." It's unclear who else is contributing to the project, and even though PlayStation Studios is closely developing "Ghosts of Tsushima," it seems as if Netflix has significant control over "Horizon Zero Dawn." That said, the creative team is committed to staying true to the source material. 
Talking to Netflix's Tudum, Blackman confirms that the live-action series will closely follow the game's storyline and setting:
"Guerrilla Games has created an incredibly lush and vivid world of man and machine who find themselves on a collision course to oblivion. Their salvation comes in the form of a young female warrior named Aloy, who has no idea she's the key to saving the world. Suffice it to say, yes, Aloy will be a main character in our story."
Starting with Aloy, the cast of characters from the video game is extensive, to say the least. However, no actors have been announced just yet. According to a rumor from DanielRPK, the casting process is set to begin in September 2022. If the rumor is true, that's a pretty quick turnaround given the project was in the early stages of development just a few months ago. However, considering the epic scope of what Netflix is developing, it is fitting that Blackman and crew are prioritizing "Horizon Zero Dawn" sooner rather than later.
What is Horizon Zero Dawn about?
Sony Interactive Entertainment
Developed by Guerrilla Games, the original "Horizon Zero Dawn" game follows Aloy while she attempts to uncover her true purpose in the strangely beautiful landscape of a post-apocalyptic United States overrun by machines. Wielding her bow and a few gadgets, Aloy treks across vast, open lands filled to the brim with exciting yet deadly creatures that defy any previous notion of the animal kingdom. The jaw-dropping visuals are accompanied by a twist-filled overarching narrative and an array of rich subplots that, as Aloy, the player gets to experience firsthand. Not only plenty of stories to mine for a television series, but a sequel expands upon the vast world introduced in "Zero Dawn."
The second installment of the video game franchise, "Horizon Forbidden West," features Aloy on another, even more epic adventure through the dangerous, futuristic landscape. It's unclear if the series will touch upon "Forbidden West," but there is plenty of source material to chew on if they extend to multiple seasons.
Here is when the show might come out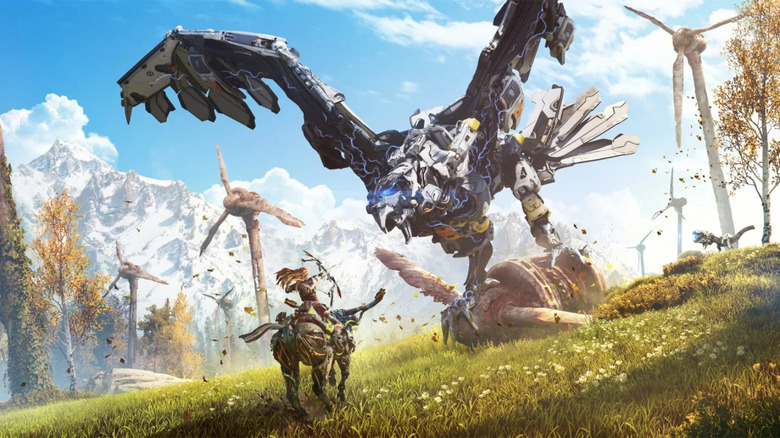 Sony Interactive Entertainment
With casting rumored to occur in September 2022, filming on "Horizon Zero Dawn" is likely to begin in early 2023. Expect the high-profile project to have an early-to-mid 2024 release window on Netflix, at the earliest. Reminder: scripts are still being written and the VFX required to pull this off will have to be no less than the best Netflix has to offer. The scale of "Horizon Zero Dawn" is arguably one of the biggest yet for the streamer and, as with "The Sandman," it'll cost more than a pretty penny to faithfully produce for the small screen.
The fact Netflix is moving quickly with hiring talent for the young property is a good sign for fans of the franchise. The creative team amassed thus far have a clear connection to high-concept sci-fi stories and "Horizon Zero Dawn" should be treated no differently.