TÁR Trailer: Cate Blanchett Conducts Orchestras And Chaos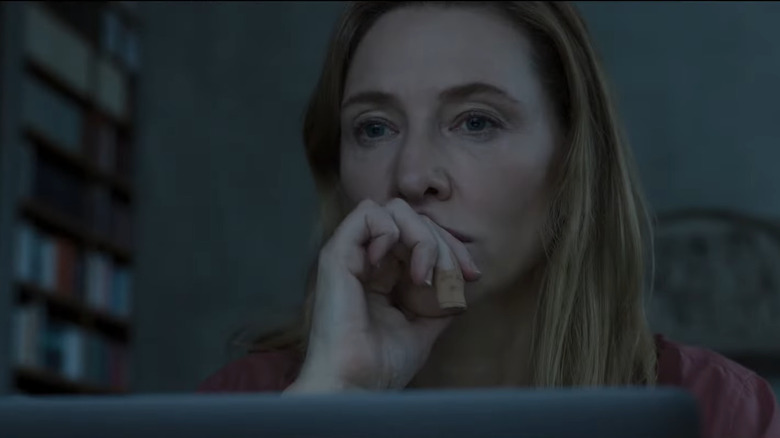 Focus Features
Cate Blanchett is one of those rare performers who seems like she can do almost anything, and the trailer for her latest film, "TÁR," looks like it's going to give her the chance to really show off her acting talents. The film was written and directed by Todd Field, who hasn't released a film since the Kate Winslet-starring "Little Children" in 2006. It's been 16 years since "Little Children," but the trailer for "TÁR" certainly sets the filmmaker up to return with a bang. 
The film follows an imaginary world-famous composer and orchestra conductor, Lydia Tár (Blanchett), who can control the soundscape of an entire room with just a flick of her wrist. Blanchett has played artists and musicians before, famously starring as an interpretation of real-world singer-songwriter Bob Dylan in Todd Haynes' "I'm Not There," as well as starring in her own "Documentary Now!" episode where she was a performance artist based on Marina Abramović and her documentary, "The Artist is Present." There are definitely hints of Blanchett's mad genius artist character from that episode in the trailer, they're just played for drama instead of laughs. 
Watch the trailer for TÁR
The trailer is surreal, mixing Blanchett's voice-over with a mix of beautiful and jarring imagery that, if nothing else, gives the viewer an idea of the tone of the film. Blanchett, as Tár, explains that she can "control time" with her hand, and we see her conducting an orchestra and bringing them to silence, stopping time in her own way. The trailer plays heavily with sound, combining cacophonous noises like children screaming into actual harmonies, and it's pretty stinking cool. There's also a lot of playing around with a metronome, which is that odd little triangular box that keeps time for musicians with its maddening clicking sounds. (I'm fairly certain that everyone who has ever played in a big band or orchestra has wanted to throw one of those things across the room. I know I have.) 
Here's the official synopsis from Focus Features: 
"The film, set in the international world of classical music, centers on Lydia Tár, widely considered one of the greatest living composer/conductors and first-ever female chief conductor of a major German orchestra."
Blanchett fans won't have too long to wait to see her latest, as the film will debut at the Venice Film Festival before making its American theatrical run beginning on October 7, 2022. If this doesn't earn her a third Oscar, I don't know what will.