Cool Hand Luke Taught Paul Newman That Method Acting Has Its Limits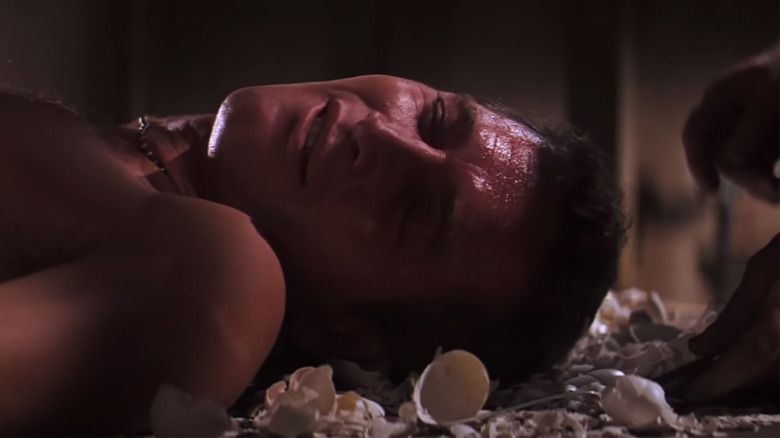 Warner Bros.-Seven Arts
When giving out movie recommendations for movie night with teens, one that might raise eyebrows is "Cool Hand Luke." But Stuart Rosenberg's 1967 prison movie makes perfect sense for the youths. Adapted from the 1965 book of the same name by ex-con Donn Pierce, the tale contains what Lee Adams calls "one of the great anti-authoritarian figures of American cinema." Paul Newman stars as war vet Lucas Jackson, dispatched to a muggy Florida road camp after vandalizing some parking meters in a drunken haze. An aggressive nonconformist, Jackson lands on the brutal prison warden's radar, takes his licks every time, and becomes a hero among the inmates as a result.
A member of the Actors Studio, the "Hud" star had no problem going above and beyond the pages of the script, where Method acting might enable a more genuine performance. The star drank with fellow cast members and helped foster the chain-gang camaraderie seen in the movie, even picking up the banjo and learning to play just to sell one scene.
Shawn Levy's book, "Paul Newman: A Life," chronicles the life and work of the celebrated actor and philanthropist. On the set of "Cool Hand Luke," Newman "thrived on the manly camaraderie and the outré pursuits in which his character indulged" like roughhousing, card games, and the occasional cold beer. However, one particular scene couldn't exactly be helped by Newman's use of Method acting.
A famous egg-eating scene focuses on a bet among the inmates, wherein Luke must consume 50 eggs in an hour without retching. He labors and sways under the gastric pressure, but the rebel barely manages to win the bet. Newman revealed in Levy's book that he never actually ate all those eggs. Asked whether Method acting was about "doing the real thing," Newman replied to the interviewer, "Not if you have to swallow eggs."
'Nobody ever eat fifty eggs'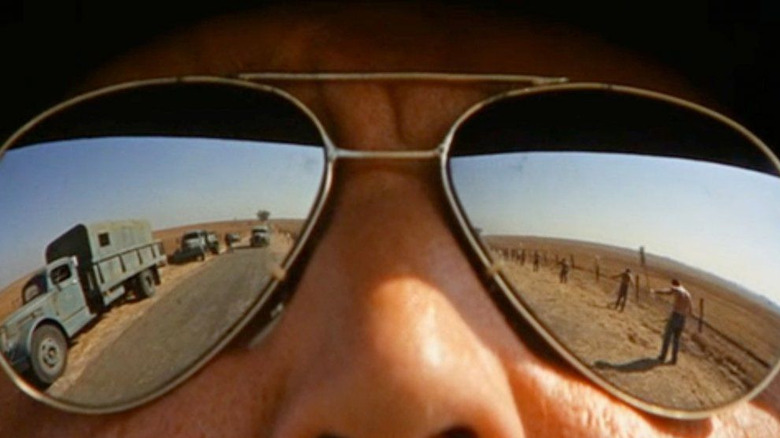 Warner Bros.-Seven Arts
Newman studied under renowned theater director and acting coach Lee Strasberg in New York City, sharpening his craft alongside the likes of Kim Stanley, Julie Harris, and Marlon Brando. He told the Actor's Studio, "I kept my mouth shut and my ears open, and that's the way I seemed to learn: more from observation than from trying." He goes on to describe himself as "tenacious," the kind of actor who had to work at getting into a character rather than slipping in and out like his wife Joanne Woodward (they met at the Studio), whom he labels a more "intuitive" performer.
For "Cool Hand Luke," that technical and emotional study would translate into a performance that oozes effortless anti-hero vigor. Newman was already an established star by 1967; Ethan Hawke's docuseries "The Last Movie Stars" showcases a clip of The Beatles naming Newman to the press as the Hollywood star they'd most like to meet. As Lucas Jackson, Newman would further establish himself as a magnetic rebel of Hollywood; Jackson would not "fit in real good" as the warden first predicts, but would bristle and squirm against authority figures as much as his rebellious cinematic kin Randle McMurphy in "One Flew Over the Cuckoo's Nest," nearly a decade later. It's a performance that would earn Newman his fourth Best Actor Oscar nomination, but it would be two decades before he'd bring home an Academy Award, thanks to his collaboration with Martin Scorsese for "The Color of Money" in 1986, a sequel to "The Hustler" from 1961
Could Newman have snagged the Oscar, had he downed all fifty eggs? Possibly. But the real-life repercussions to swallowing six pounds of eggs would've made it an unpleasant afternoon in Mr. Newman's trailer.