The Boys Scene That Briefly Ruined Pancakes For Chace Crawford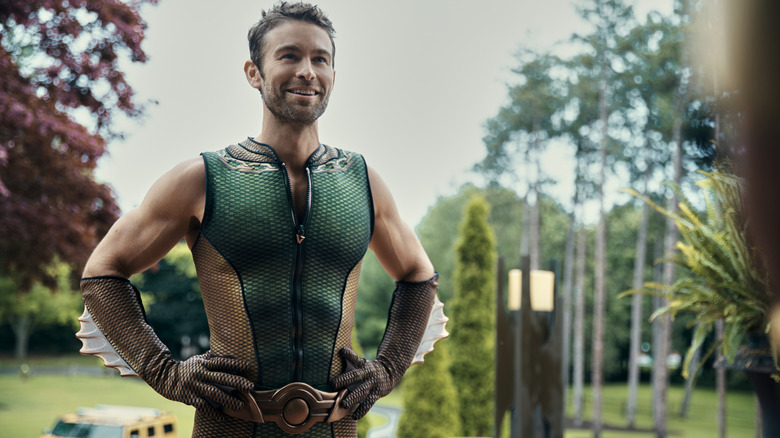 Prime Video
Generally speaking, it's sound advice to never take work home with you. That advice should probably be considered a requirement for the cast and crew of "The Boys." The superhero satire has never once pulled its punches from depicting some of the grossest, most disturbing, and abjectly violent imagery to grace (curse?) our television screens in recent memory. When the latest season focused on the increasing threat of a Superman analogue with a sociopathic thirst for validation and power (Antony Starr's Homelander), a spoof on Captain America who lacks any and all sense of morals (Jensen Ackles' Soldier Boy), and an Aquaman riff (Chace Crawford's The Deep) who comes with a laundry list of personal failings and flaws, well, that's just the nature of the beast.
The Deep started out as an utterly unsympathetic sexual predator and has since "progressed" to the butt of everyone's joke. He's still glaringly unlikable and hasn't done nearly enough to even approach the concept of redemption, but it's undeniable that the character has been paying for his many, many sins in excruciatingly karmic fashion. That journey probably reached its lowest point during the last season of "The Boys," as The Deep was subjected to a seemingly endless parade of indignities and hard-to-watch moments, much of which was of his own making, to be sure. But as much as the flawed "supe" had it coming, the actor embodying him found himself becoming collateral damage to all that misfortune.
Perhaps no sequence was more off-putting to viewers and performer alike than the horrific death of poor Timothy the Octopus.
'It kind of ruined pancakes for me for a minute'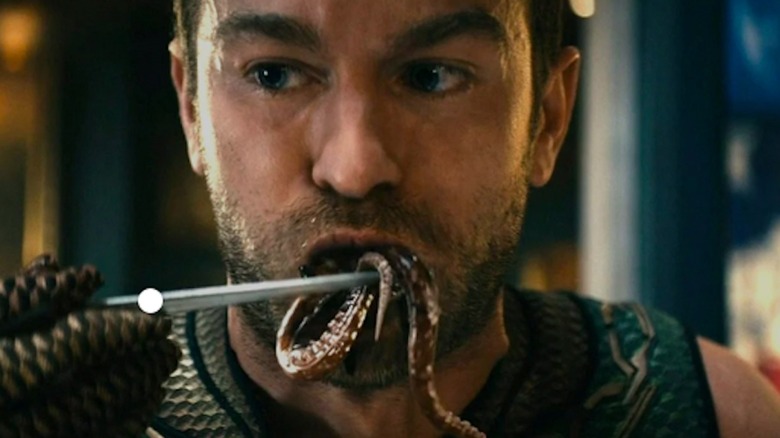 Prime Video
Count Chace Crawford's appetite as yet another victim of the carnage left behind in the wake of "The Boys" season 3. While much of the storyline followed Billy Butcher (Karl Urban) and Hughie Campbell's (Jack Quaid) increasingly self-destructive attempts to turn the unpredictable wild card Soldier Boy into a living weapon against Homelander, The Deep's simpering attempts to stay on Homelander's good side only led to darker and even more compromising places ... and that's not even including the unspeakably scandalizing acts depicted in the infamous "Herogasm" episode.
At one point, The Deep is forced to eat his own sentient octopus friend, Timothy, to prove his loyalty to Vought and Homelander in particular. In an interview with Men's Health, the actor spoke up about just how unpleasant an ordeal it was to film ... even if it took a bit of imagination.
"Stephan [Szpak-Fleet], our VFX supervisor, is incredible. When I saw it in the episode, I was like, 'Oh my god, it looks disgusting!' Because there was really nothing much on the plate when we shot it. It was almost like a mochi filled with syrup. It kind of ruined pancakes for me for a minute. And they just attached some scotch tape with strings to my face, and kind of pulled on my face a little bit. It was very analog. And then they added all the VFX and it looks so amazing. I mean, our VFX team was nominated for an Emmy last year, and you can see why."
'PETA gave us an award!'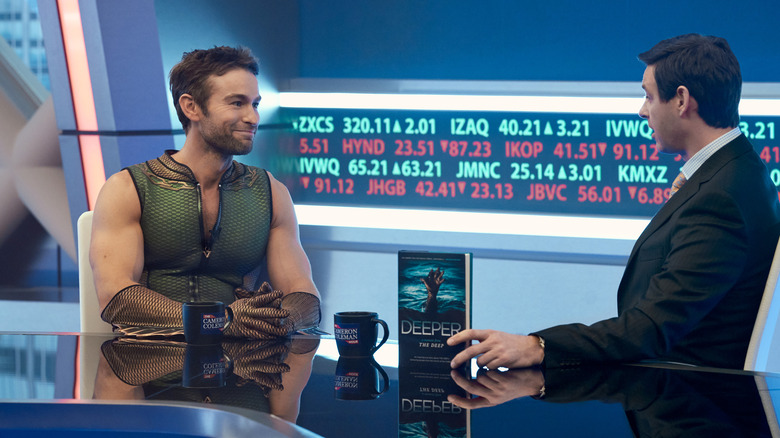 Prime Video
Not content to merely serve as a testament to the power of both CGI and practical effects when used in conjunction with one another, the scene of Timothy the Octopus' deeply (see what I did there?) tragic fate actually resulted in an amusing turn of events. In the same interview, Chace Crawford detailed how taking such efforts to film such a wildly uncomfortable scene without crossing any ethical lines resulted in praise from an unexpected source. As the actor put it:
"What's even funnier, though, is that I just got an email the other day that PETA gave us an award! [laughs] They gave it to me, [creator Eric] Kripke, and the VFX team for not using a live octopus in the scene! It's actually amazing ... but it's also funny. And it does take an immense amount of work! Stephan and the team go through scenes frame-by-frame to do s**t like that, to make sure those special effects are amazing. On a show like ours, that stuff really is make-or-break. You can tell when things look half-assed, and our effects are cinema quality."
Rest assured that no octopi, sentient or otherwise, were harmed in the making of "The Boys." Season 3 is currently available to stream on Prime Video.