Only Murders In The Building's Season 2 Killer Originally Auditioned To Play A Different Character [Exclusive]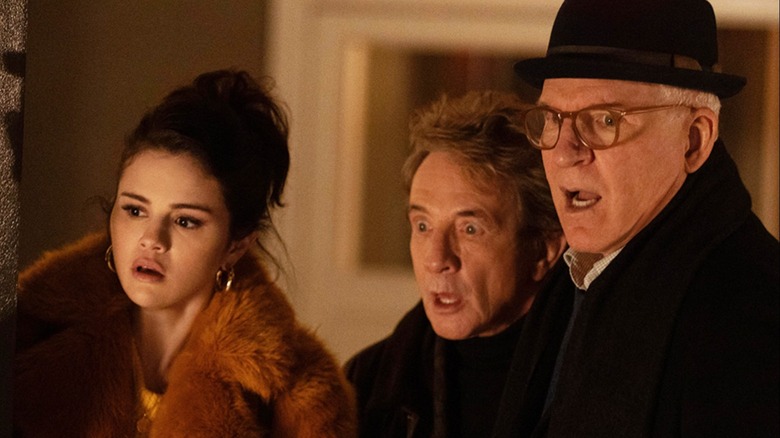 Hulu
This article includes spoilers for the season 2 finale of "Only Murders in the Building."
After 10 episodes of wild red herrings and carefully studied clues, the second season of "Only Murders in the Building" came to a close this week with a wonderfully over-the-top finale. The season's penultimate episode ended with what felt like a case-closed revelation: that NPR-like podcast host Cinda Canning (Tina Fey) was responsible for the death of poor Arconia president Bunny Folger (Jayne Houdyshell), with her crooked cop boyfriend Kreps (Michael Rapaport) by her side.
Only, that revelation was actually one last misdirect. Instead, the finale threw down a hilariously complex reverse card complete with a live podcast recording and Charles' (Steve Martin) surprisingly convincing fake murder. The real killer was revealed to be Cinda's undervalued assistant Poppy, who was really Becky Butler, the missing victim from Cinda's popular podcast. Poppy is played by Adina Verson, who has also appeared in shows like "Mozart in the Jungle" and "The Strain." According to series co-creator John Hoffman, Verson's audition was so good that she almost landed an entirely different role: that of Cinda herself.
A killer audition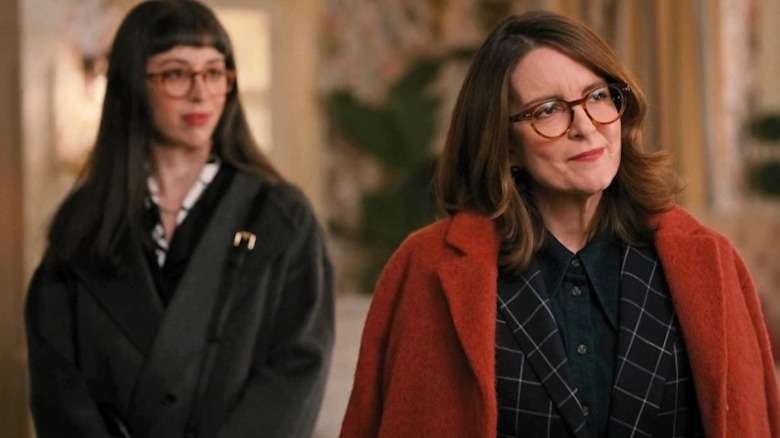 Hulu
Hoffman revealed this behind-the-scenes detail during an interview with /Film's Josh Spiegel. He explained that, while Fey was the dream casting choice for the shamelessly unethical yet wildly famous true crime podcaster, the "Only Murders in the Building" team wasn't sure she'd be free for the role, so they also auditioned other actors. "I don't know how much we've talked about this, but before Tina Fey said she would like to play Cinda Canning, [she] was our dream," Hoffman said. "We were thinking, 'Well, that might be hard. She's a very busy woman.' So we auditioned people for Cinda Canning and Adina auditioned for the part, and gave one of the great auditions that I've seen for the show."
The series co-creator, who made "Only Murders in the Building" with Steve Martin, was apparently blown away by Verson's audition. "It was just a flawless NPR, wildly smart, wildly funny, but really subtle performance," he shared. "It was like, 'Who is this young actress that I've never seen before?'" So when it turned out Fey was able to sign on as Cinda, Hoffman and the casting team made sure to give the actor who had most impressed them in auditions a role regardless. "We cast her as Poppy after Tina said yes to Cinda because I just wanted her in the show," Hoffman says. "I don't know about you, but I just think she's brilliant as Poppy."
Poppy and Cinda ended up perfectly cast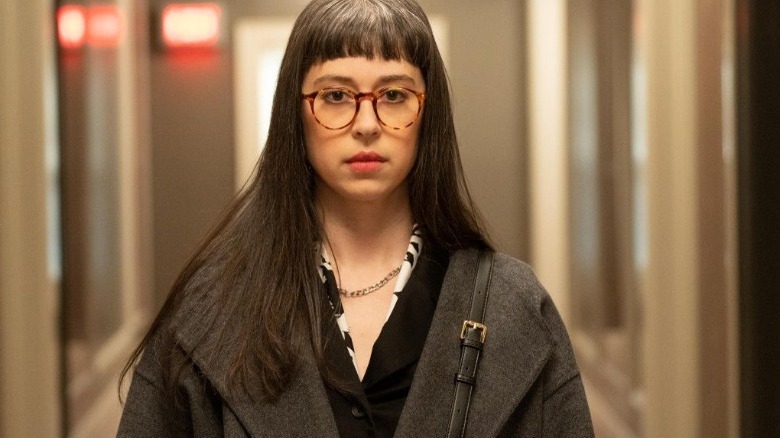 Hulu
While the writer-producer didn't say whether or not he imagined Poppy as a killer from the start, it sounds like he always had big plans for the character. "I just knew that there was more to her and I thought, 'That's an interesting character who I can lean into,'" Hoffman shared. "The actress is so versatile and I was excited to see the potential for where she could go."
By the end of season 2, Poppy went away in handcuffs, but not before Verson got to deliver a great, villainous monologue about the many indignities of playing second fiddle to Cinda. The killer reveal isn't just a clever twist, but also one of the show's best comments on true crime culture to date. The commodification of crime and the ambulance-chasing attitude of some podcasts makes a podcaster who would kill to create a story all the more believable. The fact that the culprit was a geeky hipster millennial character trapped in the ever-turning wheel of hustle culture makes the plotline all the more timely. It's clear that these casting choices worked out for the best, because not only is Verson as brilliant as Hoffman says she is, but she's also a pitch-perfect opposing force to Fey's Cinda Canning.
"Only Murders in the Building" season 2 is now on Hulu.