The Lord Of The Rings: The Rings Of Power's Biggest Power Couple Didn't Need To Fake Their Chemistry [Exclusive]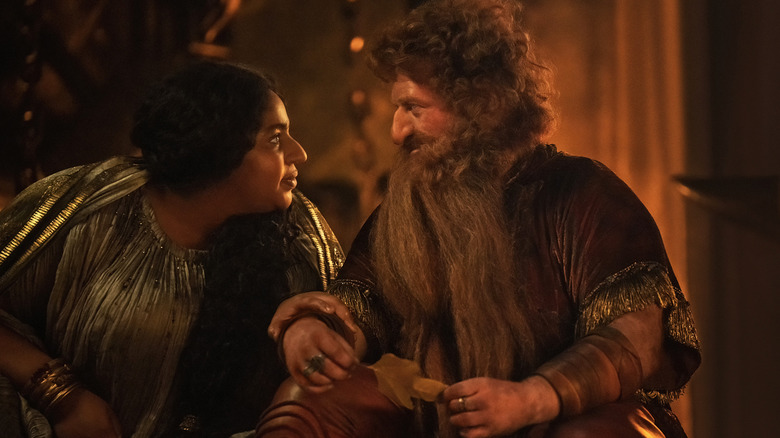 Prime Video
Epic-sized battle sequences, extensive backstory and lore, and an entire ensemble cast masterfully embodying their respective fantasy characters — these are just a few of the shared traits between the upcoming "The Lord of the Rings: The Rings of Power" and director Peter Jackson's giant-sized and incredibly influential "The Lord of the Rings" trilogy that came before, casting a long shadow on anything this series will try to accomplish. By all accounts, this Prime Video series will attempt to tell a very similar story (at least in terms of scope and scale) while still delivering everything fans loved about those prior adaptations. Though it's too soon to say whether "The Rings of Power" has succeeded in those goals, a brief chat with three particular members of the cast went a long way towards assuaging any such concerns over a significant subplot in the early going.
Owain Arthur, Sophia Nomvete, and Robert Aramayo (who has the unique distinction of portraying characters in both the "Game of Thrones" and "The Lord of the Rings" universes) respectively portray the feisty dwarven Prince Durin, his even-keeled wife Disa, and a younger, unproven version of the elf Elrond (played by Hugo Weaving in Peter Jackson's movies). The strong bond forged between all three actors certainly comes through in-person (or, at least, through Zoom) just as much as it does on-screen. And when it comes to Arthur and Nomvete specifically, their particularly charming dynamic will undoubtedly become a sensation when viewers around the world get to see it for themselves next month.
Throughout the course of our conversation, we discussed the challenges of standing out amid an ensemble, the use of various filmmaking techniques to account for vast height differences, and, of course, Arthur and Nomvete's abundance of chemistry as Prince Durin and Princess Disa.
'You look for the truth in your own character'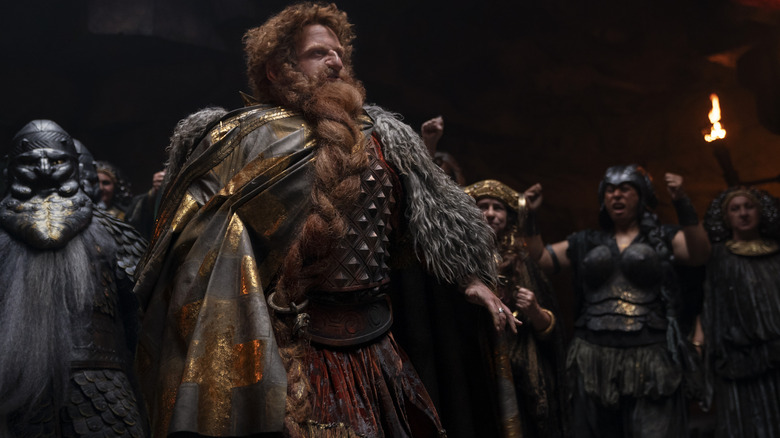 Prime Video
While watching these first two episodes, I found myself thinking, "I could watch an entire show about the storyline featuring these characters specifically." From your perspective as actors — in terms of process, approach, technique — did you sort of have to think of yourselves as the leads of your own specific story, even though you're part of a much larger ensemble?
Aramayo: It's an interesting question. Yes. I think what I liked so much about playing [Elrond] is that I get to interact with many different peoples, all sort of within the elven world and the dwarven world, and then Galadriel [Morfyyd Clark] before she's off on her mission. So I really enjoyed that element of the job, because I've just got to work with so many great people.
Arthur: Yeah. And I think, in answer to your question, you look for the truth in your own character, and you look at the world through your character's eyes. So in a way, yeah, you are the lead in your own little story, because you react to everything that's happening in front of your character's eyes. So it's true. That's what we do.
Nomvete: I think for me, definitely, first stop is the essence of you. You look at the immediate story around you, and you find out what the essence of the character that you've been given really is. And then you do the impact that it has on your immediate co-star, which for me was obviously Owain and Rob. But I think, definitely, always in the back of my mind, I would think about how the ricochet of her dynamic may affect the rest of the world. So there's an awareness, a ripple effect, starting from who and what Disa was.
Ladders and stools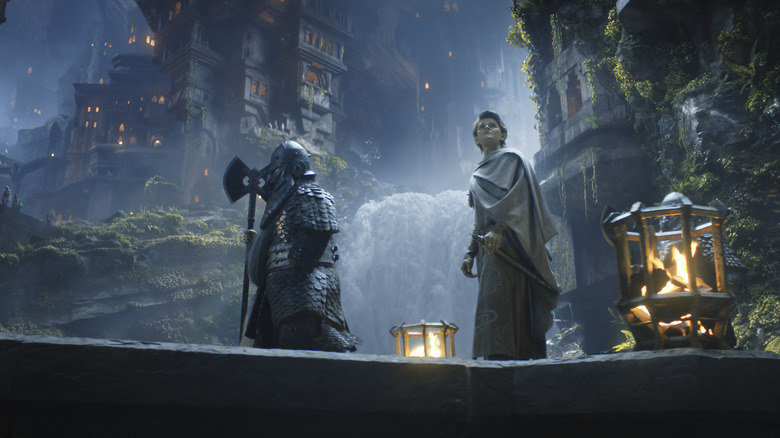 Prime Video
Was there a conscious effort on any of your parts to revisit "The Lord of the Rings" trilogy or even the books? Or, maybe on the opposite end of the spectrum, to stay away from them so that they wouldn't impact your performances in any way?
Arthur: Whilst we were in New Zealand, they actually showed the trilogy in the cinema in one day. It was a big session and it was the director's cut. That was the last time I saw the films. It was back in 2019, just before we started shooting. In terms of the books, I dived into it whilst I was out there and revisited them as well. It informed stuff. And I'm not sure if I will go further, because I don't want to discover something that might hinder where I am with Durin now [laughs]. So I'm not sure. I probably won't, but we'll see.
Obviously, this storyline features mostly elves and dwarves. Was there a lot of cinematic sleight of hand, so to speak, to get your heights to match up the way they do in "The Lord of the Rings," with either doubles or forced perspective or any of those sorts of techniques?
Arthur: All of the above.
Aramayo: Yeah, we did. We did a lot of that, but what was great about the scale team was that they only really used it when they absolutely had to. The technical aspect of it, the particular camera that we used, was for moments when we had to have it, as opposed to shooting entire scenes with tennis balls and not looking at Sophia or Owain's face [laughs]. It would be for moments, and they would be very clear about what those moments were. And if they could have Soph and Owain on stools and me on a ladder, they would do that in order for us to be able to still do the scene with each other. Which, for all of us, was the thing that we most wanted to protect. But yeah, we used all of those techniques.
Arthur: Yeah. Yeah. And, like he said, they were just very accommodating to get the best out of us.
'We have this triangle of love and fondness between the three of us'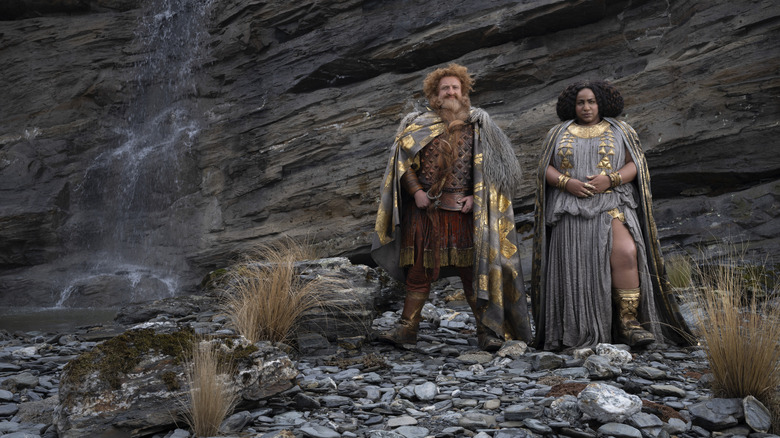 Prime Video
Now, Owain and Sophia specifically, I feel like the relationship between your characters will become a fan-favorite. As soon as the episode comes out, I think that's going to be a major hit. What was the process like of building that dynamic between your characters, even chemistry-wise, between you two while filming?
Arthur: [Sarcastically] Oh, I really had to act hard to be friends with Sophia.
Nomvete: That'll be the headline now! [laughs] No, look, what's really fun for the fans and the people to know, is what you are seeing on screen is an exact replica of Owain and I's chemistry. And it's rare, I think, to be able to — we were portraying a story of true love and true respect and true unity and friendship and listening and supporting. All of that, for all three of us actually, is hugely evident as much off the camera as it is on. So I think we have this triangle of love and fondness between the three of us, which was really great to play. And as far as the marriage is concerned, it's just really strong, as is our friendship. And so we're excited to let the fans know that, yeah [laughs], we like each other.
Arthur: The moment we met, Soph came down in the lift with her daughter in her arm. We locked eyes, and once you see the smile, it's just like, "All right. Okay. We're going to be okay." And it was just so easy, from then on, to feel that comfortable with your on-screen wife. I did have to remind her that I wasn't actually her husband [laughs], and she couldn't ask me to go get her, I don't know, a fruit from the fruit bowl or something like that. Oh, she's still got me wrapped around her little finger.
Nomvete: Oh, yes. [laughs]
"The Lord of the Rings: The Rings of Power" premieres on Prime Video on September 2, 2022.