Humphrey Bogart Went Tit For Tat With John Huston On The Treasure Of The Sierra Madre Set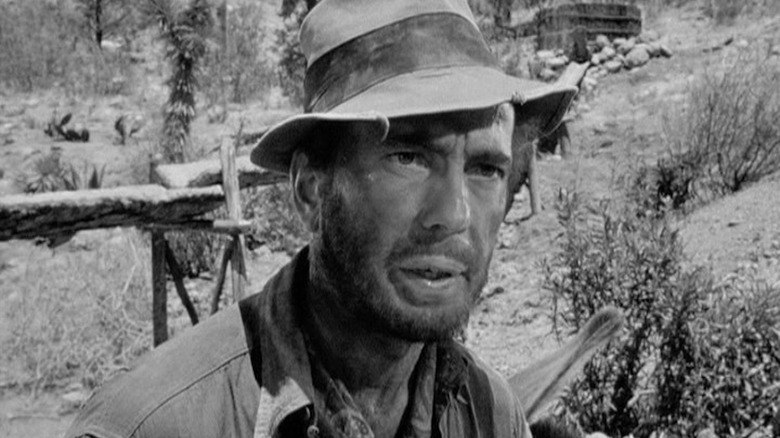 Warner Bros
There isn't a finer film about the self-destructive power of greed than John Huston's "The Treasure of the Sierra Madre." It's Huston at his rugged, fiercely unsentimental best. The tale of three down-on-their-luck Americans scrounging about a treacherous mountain region in search of gold features loads of quotable, hard-bitten dialogue and a boldly unflattering performance from Humphrey Bogart as the madly rapacious Fred C. Dobbs. Legendary author and film critic James Agee hailed it as "one of the best things Hollywood has done since it learned to talk." Three quarters of a century later, it still is.
But let's get back to Bogart, who dynamites his sympathetic, cynical hero image with his portrayal of a man who descends into full-on psychosis via his lust for a precious-metal mother lode. Audiences were stunned by the star's transformation, which may have played a role in the film's ho-hum box office performance. To get there, Huston had to ride Bogart awfully hard. Though the actor absorbed the punishment for the good of a great movie, when the opportunity for a little payback presented itself, Bogie leapt at it.
A mischievous game of one-upmanship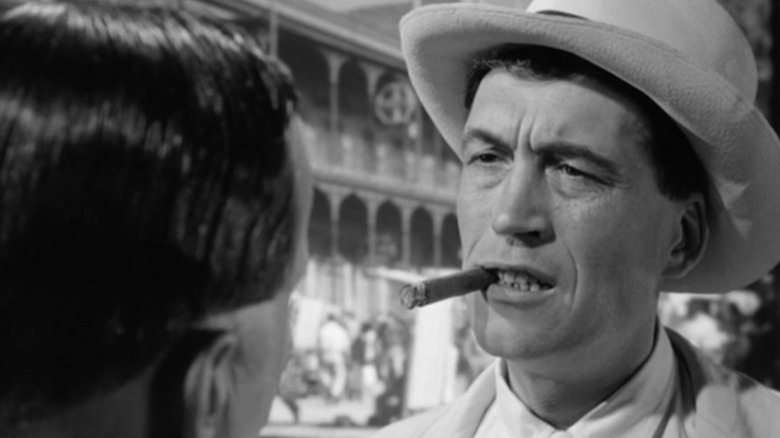 Warner Bros
Early in the film, Dobbs hits up an American on the streets of Tampico for a couple of pesos so he can get a square meal, only to learn he'd already "put the bite" on the man twice earlier in the day ("I never looked at your face, I just looked at your hands and the money you gave me"). Huston decided to make a cameo as the white-suited American, so he asked his star to direct his close-ups. According to Axel Madsen's "John Huston: A Biography," Bogart went above and beyond to get what he needed from his director. "I really gave Johnny the works. Made him do his scene over and over. Got him mad as hell!"
A known prankster himself, Huston took his lumps and bided his time, waiting for the perfect moment to get Bogart back. His time arrived when they were shooting a scene on location where the star had to plunge his hand into a hole surrounded by rocks. Prior to the first take, Huston cautioned Bogart that they'd seen a gila monster in the area earlier that day. As Bogart reached his hand into the hole, something snapped over his fingers. He freaked out, only to learn it wasn't a gila monster, but a camera clamp Huston had placed in the hole.
This was the second time over the course of a year Bogart and Huston had worked together (along with "Key Largo"), so they were both familiar and friendly enough that there were no hard feelings. It took the filming of the garish "Beat the Devil" in 1953 for Bogart to end his relationship with Huston, but that's a whole other (fascinating) story.