Which Episodes You Need To Rewatch Before Star Trek: Lower Decks Season 3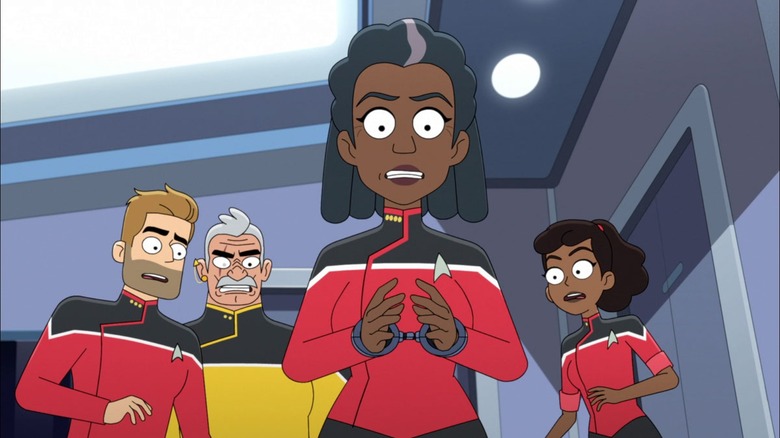 Paramount+
In its first two seasons, "Star Trek: Lower Decks" has already become one of the most mythology-rich entries in the "Star Trek" canon, as the crew of Starfleet geeks on the U.S.S. Cerritos often pull from the lore of all the beloved crews that came before then. But the animated Paramount+ series has also built up some impressive lore of its own by this point, fleshing out the world of "Star Trek" circa 2380 by introducing some hilariously on-brand new cultures and traditions.
Though "Star Trek: Lower Decks" is a situational comedy first and foremost, it's also given fans some great character development, turning pathological pot-stirrer Ensign Mariner (Tawny Newsome) into a still-rebellious hero and even letting rule-following pal Brad Boimler (Jack Quaid) loosen up a little. With the new season around the corner and the fourth already greenlit, the show will have plenty of chances to further expand its "Trek" mythology, all while paying homage to the shows that came before and cultivating its own unique cast of characters.
Some of the /Film team got a sneak peek at the new season, and without giving anything away, here are a few episodes from the series that we think are especially worth brushing up on ahead of the premiere.
This post contains zero spoilers for "Lower Decks" season 3, but major spoilers for seasons 1 and 2. 
Season 1, Episode 9: Crisis Point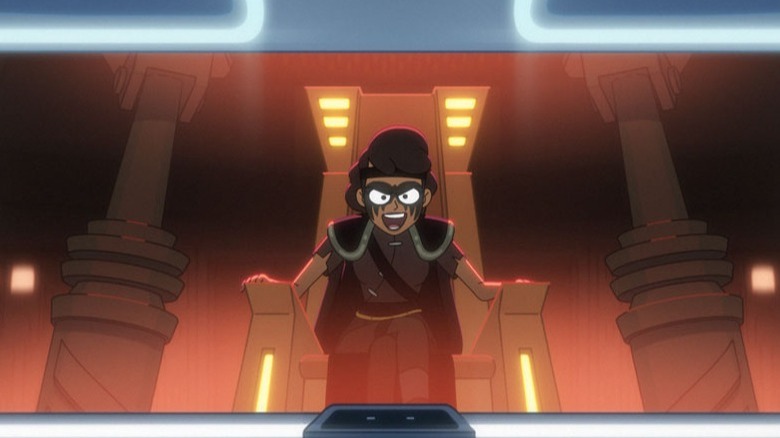 Paramount+
One of the first big character moments for "Star Trek: Lower Decks" came in the penultimate episode of season 1, when Mariner processes her angst around having her mom as captain by taking over a simulation Brad made as a study aid. The simulation uses the ship's logs to make holodeck replicas of the crew for an adventure that had all the spinning camera movements and lens flares of J.J. Abrams-era Trek. In the hologram space, Mariner gleefully takes on the role of Vindicta, a villainous leader with a Boimler knock-off assistant. Tundi (Noel Wells) quits the game after refusing to play into Orion stereotypes.
In the end, Mariner has a therapeutic breakthrough in the simulation after fighting her villain self, while the ship's actual mental health clinician, Migleemo (Paul F. Tompkins), also starts therapy with Mariner's mom, Captain Freeman. Meanwhile, Brad finds out about the familial connection between the two after overhearing the simulation version of Freeman mourning her daughter. Also, Leonardo da Vinci (yes, the one from "Voyager") kills Vindicta.
Season 1, Episode 10: No Small Parts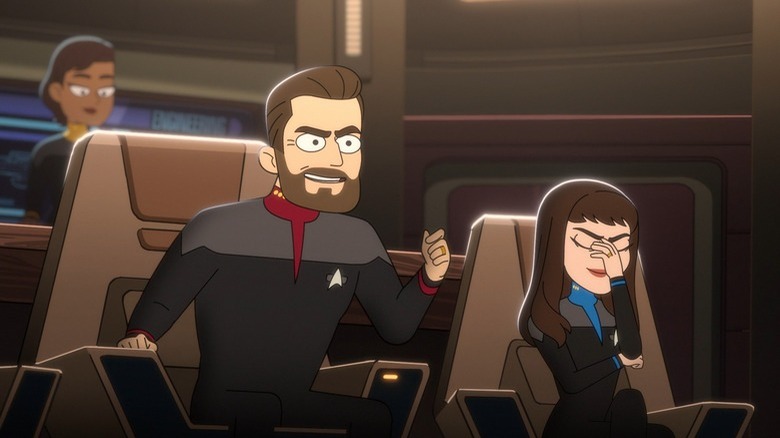 Paramount+
The first season finale of "Star Trek: Lower Decks" has a lot more plot going on than most of the show's episodes. In addition to killing off Shaxs (Fred Tatasciore), who is later resurrected through a mysterious process involving a place called the Black Mountain, the episode also wipes Rutherford's (Eugene Cordero) memories and moves Boimler to the U.S.S. Titan, where classic "Trek" characters Deanna Troi (Marina Sirtis) and William Riker (Jonathan Frakes) are working.
"No Small Parts" also re-introduces audiences to the Pakled, a species that has popped up before in "Trek" lore but is particularly important in this show. This episode reveals that the usually unintimidating Pakleds have grown more formidable since Starfleet last checked in, and while the Cerritos crew fends them off this time, they end up coming back again in season 2 (see below). This episode also features one of the show's most entertaining non-legacy guest stars, "You're the Worst" actress Kether Donohue. She plays a particularly unhelpful Exocomp called Peanut Hamper that is last seen hurtling through space after abandoning the Cerritos crew.
Season 2, Episode 2: Kayshon, His Eyes Open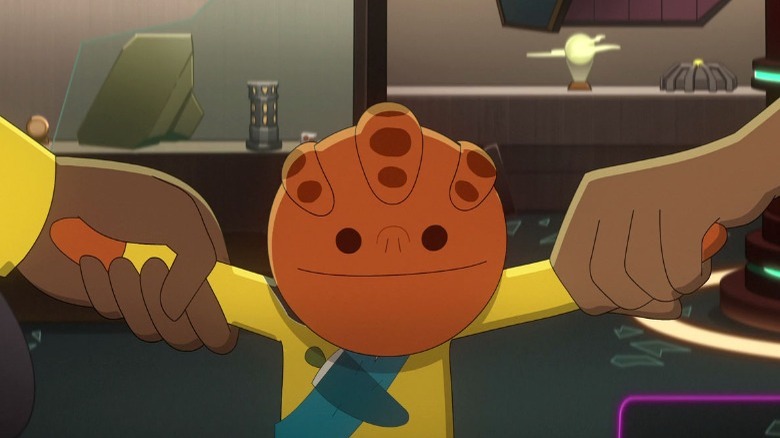 Paramount+
The second episode of season 2 finally gives us a look at what Boimler's been up to on the Titan, and in short, it's been stressful as hell. Upper deck life isn't all it's cracked up to be, especially when the crew ends up engaged in conflict with a group of Pakleds. Riker explains that they're after Varuvian ore, and while Boimler is able to best them when they attack a mining colony, he ends up accidentally being duplicated by the transporter on his way back. That's how we end up with William Boimler, the transporter clone who stays on the Titan doing cool hero stuff while Boimler heads back to Cerritos.
Meanwhile, this episode introduces three other characters. There's the Tamarian lieutenant Kayshon (Carl Tart), who is introduced as the new chief of security but gets turned into a puppet by the end of the episode. There's also Jet Manhaver (Marcus Henderson), an eager ensign who we'd seen but never known very well before, who joins the Rutherford, Tendi, and Mariner on their mission. Finally, there's Siggi, the tentacled collector who tries to steal a mask and, in a great "Star Trek: The Animated Series" deep cut, ends up killed by Spock Two's skeleton.
Season 2, Episode 7: Where Pleasant Fountains Lie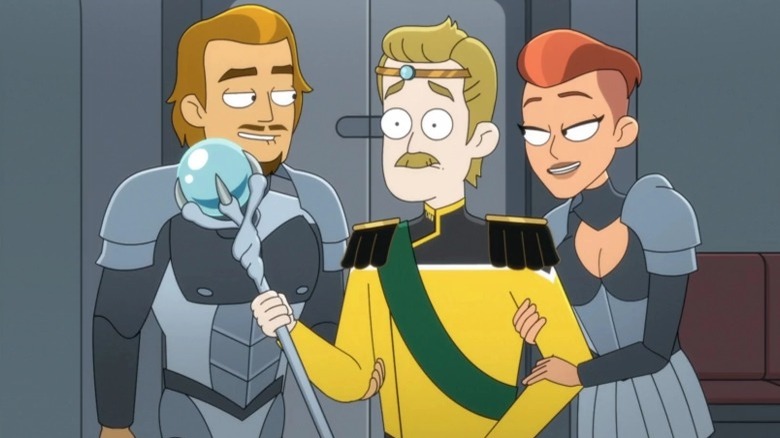 Paramount+
One of the funniest "Star Trek: Lower Decks" episodes to date involves the introduction of a totally new-to-Trek planet, Hysperia. The planet is a mash-up of some of the best and most inexplicable Trek tropes. On the one hand, it has a distinctly Earth-like aesthetic, specifically inspired by Rennaissance style. On the other, its monarchy employs a very silly, very "Star Trek: The Original Series"-reminiscent cultural practice in which a prince only becomes a king once he loses his virginity. Oh, and also, the U.S.S. Cerritos' Commander Billups (Paul Scheer) is the prince in question.
This is a delightful episode that ends with Billups nearly deciding to purposely "destroy his virginity" and ascend the throne. At the last minute, he realizes he was being duped by his mom, Queen Paolana. Meanwhile, Boimler and Mariner end up trapped on a desolate planet with an evil computer called AGIMUS. The tech tries its best to get Boimler to help it in what turns out to be a nefarious plan involving a drone army, but he and Mariner ultimately outsmart it. The pair also hash out some of their unresolved feelings about Boimler's time on the Titan in the process.
Season 2, Episode 10: First First Contact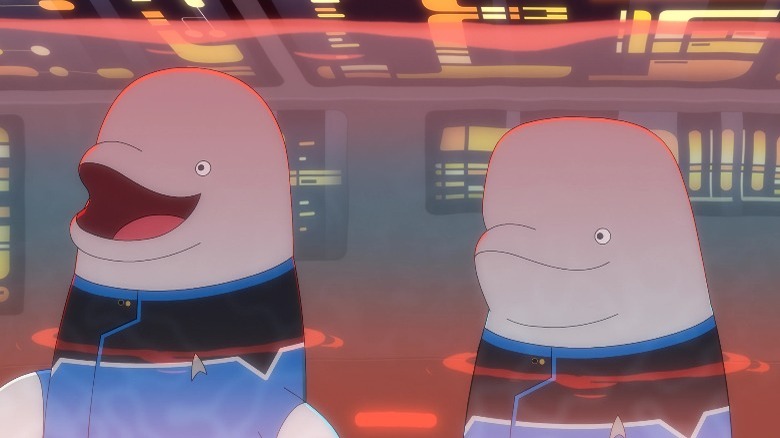 Paramount+
Of course, the best way to prepare for the premiere of season 3 of "Star Trek: Lower Decks" is by revisiting the end of season 2. "First First Contact" is actually pretty light on memorable mission stuff. Its main plot involves the Cerritos' attempt to help recover the Archimedes, which means we get to see Captain Sonya Gomez (Lycia Naff)! The solution involves a pair of space whales and takes way longer than it should because Mariner decides to meddle after finding out her mom might be getting promoted to another ship.
Captain Freeman decides to stay with the Cerritos, but in a twist, the season ends with her in handcuffs, arrested for the destruction of Pakled Planet. That's not the only cliffhanger, either. We also get a quick look at Rutherford's memories, including one that hints at the shady origins of his cyberkinetic implant. On the bright side, the finale also plants some seeds of romance (or at least very cute friendship), as we find out he's been storing his memories of Tendi in triplicate and Mariner seems to be getting close to Sh'reyan (Lauren Lapkus).