Prepping For Platoon Was Especially Punishing For Forest Whitaker And Willem Dafoe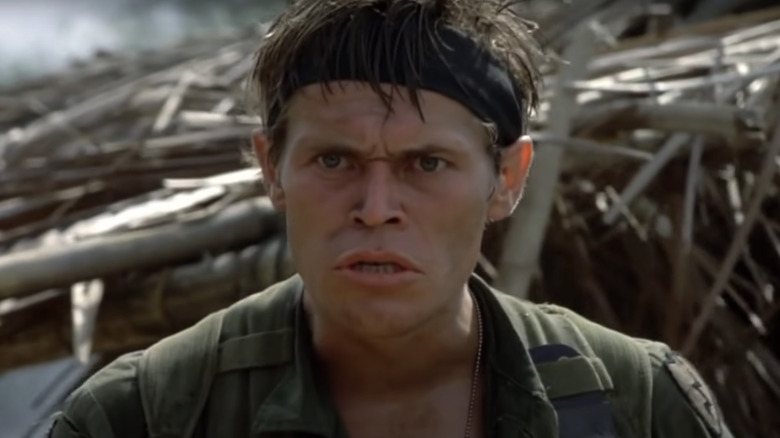 Orion Pictures
It's not uncommon to hear of actors being put through boot camp to prepare for war movie roles, but when Oliver Stone made his long-gestating, Academy Award-winning Vietnam film "Platoon," he had his actors undergo training in the real jungle. "Platoon" was inspired by Stone's true-life experiences as a soldier in the U.S. Army during the Vietnam War, and he wanted the cast to learn survival and bond like an actual military unit. This was harder for some cast members than others.
In a 2022 interview with The Guardian, Charlie Sheen related how he reached the end of his first day of location shooting for "Platoon," only to realize that "there was no bus pulling up" to take him and his castmates back to the hotel. "I looked at Johnny Depp and Forest Whitaker and said: 'I guess we're just staying here,'" he recalled. While out in the jungle, Sheen said, "You had to be treated according to your rank. Willem [Dafoe] and Tom Berenger, playing two sergeants, were in command and I was an FNG — a 'f****** new guy.'"
More than one accident involving blades occurred. Sheen remembered:
"Everybody was tired and angry. At one point, we found a coconut grove and Forest somehow got a coconut. I can still see him now, trying to line it up with his machete. Before I could say, 'Your thumb is too close!' he swings and hits his thumb dead center. He popped it into his mouth and two thick streams of blood poured out both sides. It was a 'scream for the medic' moment — and that was still in training camp."
That time when Willem Dafoe got medivacked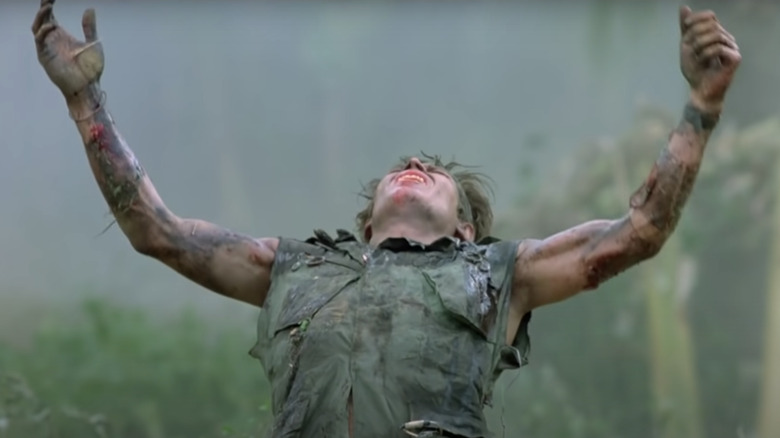 Orion Pictures
"Platoon" was shot in the Philippines, where the production was threatened by political revolution. The actors were a long way from home, and though Dafoe and Berenger later received dual Oscar nominations for Best Supporting Actor — and they had men answering to them like real sergeants on the "Platoon" set — they were not immune to the hardships of the jungle. John C. McGinley, who played their fellow sergeant, O'Neill, told The Guardian:
"Willem drank water from a river when there was a decomposing oxen downstream and he got medivacked, Tom dropped a knife in his f****** foot – it was just all getting terribly real. And there were snakes. Two weeks earlier, we were running around New York's West Village having coffee, bagels and talking about 'Hamlet.' Now we're in the jungle with bamboo vipers."
One can only imagine the insurance nightmare that a movie like "Platoon" might have caused, but at least Dafoe had the medevac there and was able to get to the choppa in time, unlike his doomed character, Sergeant Elias.
"Platoon" certainly isn't the last time we would hear stories of actors running into trouble in the jungle while shooting Vietnam War scenes. Mykelti Williamson, for instance, was also a snake magnet on the set of "Forrest Gump." However, when the closing credits roll on "Platoon," and the words, "Dedicated to the men who fought and died in the Vietnam War" come up — and you see each actor's face onscreen along with his name — it's clear that Stone, a real Vietnam veteran, had them running around in the jungle in service of an authentic vision of a band of brothers.