Why Two Earlier Versions Of Oliver Stone's Platoon Fell Through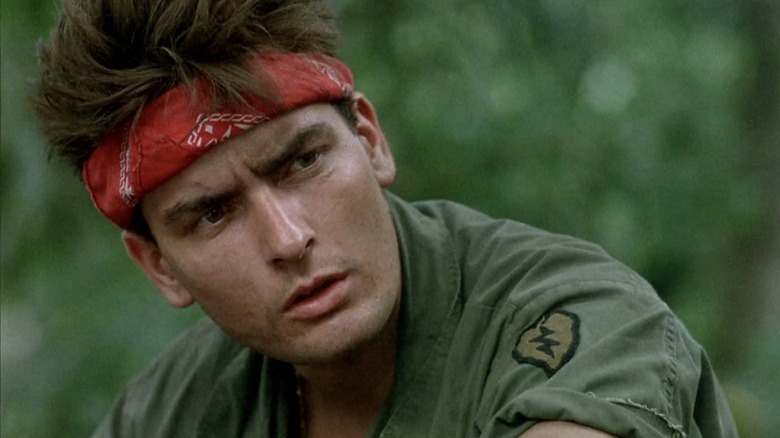 Orion Pictures
Oliver Stone's "Platoon" had a long road to the screen, and when it finally got made, it was only after a couple of false starts. Stone began writing about his experiences in the United States Army as soon as he came back from Vietnam in 1968, but his initial attempt at channeling them into a semi-autobiographical narrative yielded a different screenplay called "Break," according to the book "Oliver Stone: The Making of His Movies." It is this script Stone would later redevelop and rewrite into the one that became "Platoon."
Stone was hoping to use the music of The Doors and have the band's lead singer, Jim Morrison, star in "Break." He sent the script to Morrison, and it was found with the singer in Paris after his death in 1971. Years later, Stone would cast Val Kilmer as Morrison in his own Doors movie, but before that happened, he needed to get "Platoon" off the ground. Stone told Entertainment Weekly it almost happened in 1976 and then again in 1984, but the project hit a roadblock both times.
At one point, Al Pacino and director Sidney Lumet (who collaborated on films like "Serpico" and "Dog Day Afternoon" in the '70s) were attached to Stone's script, but that version of "Platoon" obviously never came together. Stone told EW:
"The '76 version was just not considered upbeat enough. It was too realistic, which is why Sidney Lumet liked it. So who knows? And then I wrote 'Midnight Express,' which was my big breakthrough in Hollywood. And at that point, 'Platoon' was stashed away in a closet because no one wanted to make a realistic movie. And then you had films like Apocalypse Now and 'The Deer Hunter.' And the feeling was our moment had passed."
'It's a miracle it eventually got made'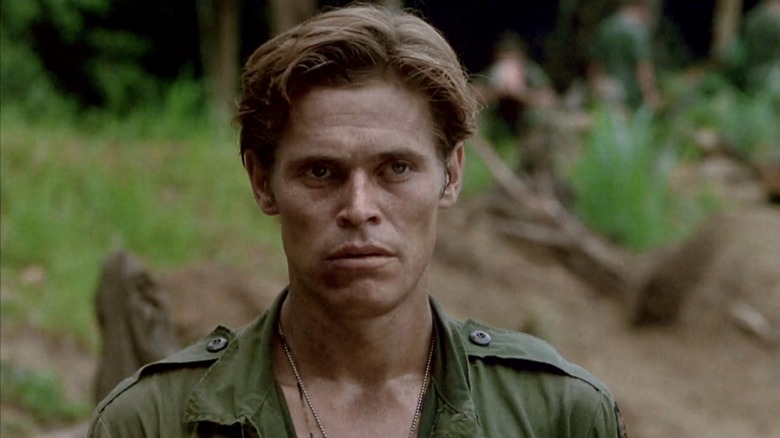 Orion Pictures
Stone mentioned "The Deer Hunter," and that film's director, Michael Cimino, subsequently became involved with the '84 iteration of "Platoon." It had been 10 years since Stone made his own directorial debut with the horror film "Seizure," and while a number of his scripts, such as the aforementioned "Midnight Express," as well as "Conan the Barbarian" and "Scarface," had made it to the screen, he had only directed one other movie — again, a horror film — called "The Hand."
The failure of the movie left Stone open to co-writing "Year of the Dragon" with Cimino, under the stipulation that producer Dino De Laurentiis would finance "Platoon" next. Cimino was also on board as a producer at one point, with Emilio Estevez set to star in the role that would ultimately go to his real-life brother, Charlie Sheen (opposite Willem Dafoe and Tom Berenger in Oscar-nominated supporting roles).
De Laurentiis had no luck in securing distribution for "Platoon," and in his interview with EW, Stone said he "had to threaten to go to court to get the movie back" from the producer, who was holding onto the script until he made his money back. "It's a miracle it eventually got made," Stone observed.
Given how much trouble the project went through, it is indeed a miracle "Platoon" not only got made, but went on to win four Academy Awards, including Best Picture and Best Director for Stone. "Platoon" is now in the National Film Registry and is considered one of the greatest war movies of all time. So it just goes to show that the world of filmmaking is fraught with many challenges, but tenacity pays off sometimes — especially if you're soldier-turned-director who's already been through a much worse hell than Hollywood.