Al Pacino Bit Off More Than He Could Chew Preparing For Serpico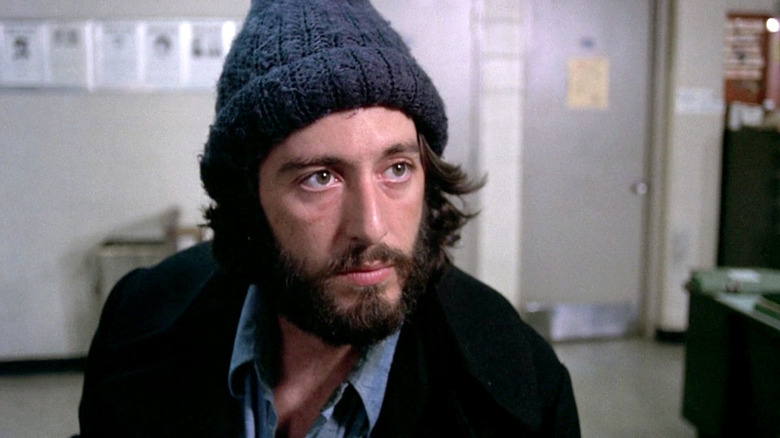 Paramount Pictures
Thanks to Sidney Lumet's classic 1973 film "Serpico," starring Al Pacino, the Serpico name has become shorthand for a lone honest cop struggling against a corrupt system. This trope of the individual versus the system is a recurring one in Lumet's films, with Pacino's bank robber in "Dog Day Afternoon" and Peter Finch's "mad-as-hell" newscaster in "Network" being two other prominent '70s examples.
With "Serpico," however, there was an element of danger inherent in making a movie about a real-life whistleblower within the New York City Police Department who had been shot in the face after his fellow officers failed to come to his assistance.
When he first read the treatment for "Serpico," Pacino thought it was going to be just "another cop picture," as he explained in a 1979 interview with Playboy magazine (via Interviews 11). He was initially hesitant about signing on for it until he read the screenplay and met the real Frank Serpico.
You might expect that a fastidious method actor of Pacino's nature would want to go on ride-alongs and do intense preparation for the role of the bearded plainclothes cop who put his life on the line and later testified before a government commission on police corruption.
Pacino tried some of that, only to find that he had bitten off more than he could chew. He told Playboy:
"I went out with the cops one night, did about five minutes of that and said, 'I can't do this stuff.' So I would just sort of hang around Frank, long enough to sort of feel him. One time we were out at my rented beach house in Montauk. We were sitting there looking at the water. And I thought, well I might as well be like everybody and ask a silly question, which was, 'Why Frank? Why did you do it?' He said, 'Well, Al, I don't know. I guess I have to say it would be because ... if I didn't, who would I be when I listened to a piece of music?' I mean, what a way of putting it! That's the kind of guy he was. I enjoyed being with him. There was mischief in his eyes."
'Don't get too close to him. Because he's going'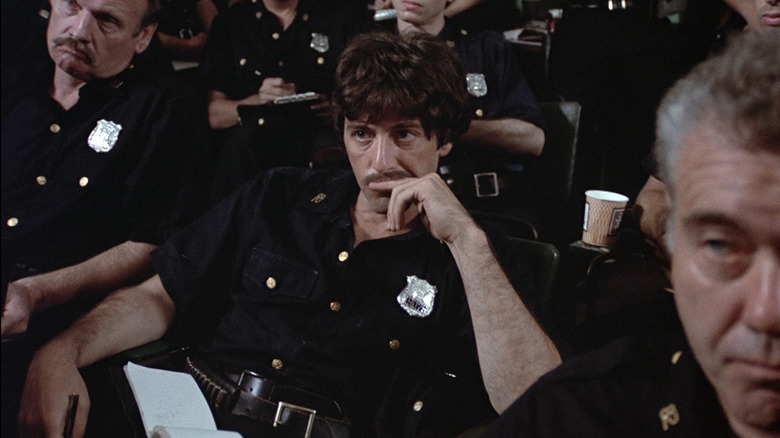 Paramount Pictures
While Al Pacino enjoyed some quality time with the real Frank Serpico and came to admire his integrity, Lumet boarded the project late and was reluctant to have Serpico hanging around. He viewed him as a rebel who "would've behaved that way if he'd been a baker," and he seemed to think Serpico's presence could potentially interfere with Pacino's acting, since Pacino would be taking a bullet in a scene with Serpico watching.
Speaking to Cinephilia & Beyond, Lumet said:
"It was very sad, because Al hung around with him for about a month, before we started shooting. And I came on the picture late, I replaced another director. So I only had five weeks of preparation. No locations had been picked, nothing had been done. But I knew one thing. I said to Al, 'You know, Al, don't get too close to him. Because he's going.' And Al said, 'What do you think?' I said — 'you're going to get whacked, with him watching from the sidelines?' And of course, he saw the point of that. And when I told Frank, I said, 'Frank, I can't have you there during the shooting, or the rehearsals. It would just make everybody, including Al, so self-conscious.' And I broke his heart. He walked away. He hasn't talked to me since."
It's understandable that being barred from the set of a movie about his life would've put a strain on Serpico's relationship with Lumet. If Lumet was concerned about Serpico "going" or Pacino getting "whacked," in the sense of a witness being silenced (permanently), he need not have been, as both Serpico and Pacino wound up outliving Lumet, who passed away in 2011 at the age of 86.
The influence of "Serpico" can be felt on scores of other movie cop characters like James Gordon (Gary Oldman) in "Batman Begins," a Christopher Nolan blockbuster that was preceded by "Insomnia," another film where Pacino played a police detective who was a kind of corrupt anti-Serpico.
While Pacino's time with Serpico and the preparation he did might have been limited by artistic concerns, it was ultimately enough for him to deliver a convincing portrayal of the prototypical honest cop on celluloid.