John Wayne Didn't Think His Name Would Be Enough To Save The Shootist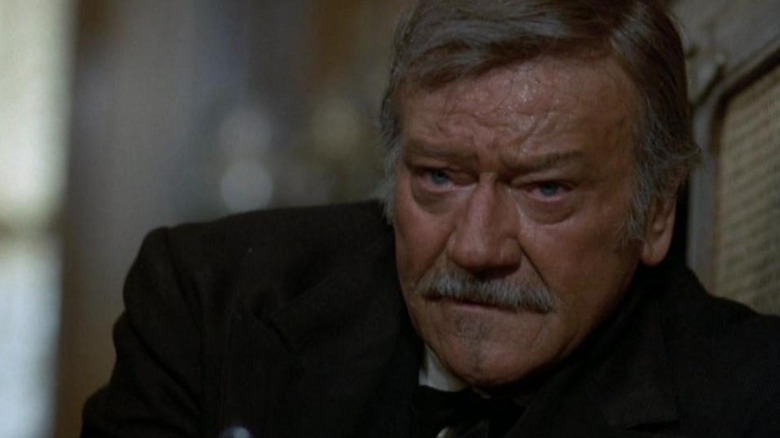 Paramount
The year was 1976, and John Wayne was cheesed but good at King Kong.
The gargantuan ape with a fatal penchant for blonde starlets was all the rage at Paramount, and for good reason. The studio had sunk $24 million (equivalent to $124 million in 2022) into the John Guillermin-directed remake, and desperately needed it to hit the box-office jackpot when it opened in December. Though studios have huge marketing departments that, when professionally run, know how to manage multiple releases at once, Wayne felt the film that was to be his big-screen swan song, "The Shootist," was getting ignored by Paramount's advertising team. And it was all because of that big, stupid monkey.
The Duke vs. King Kong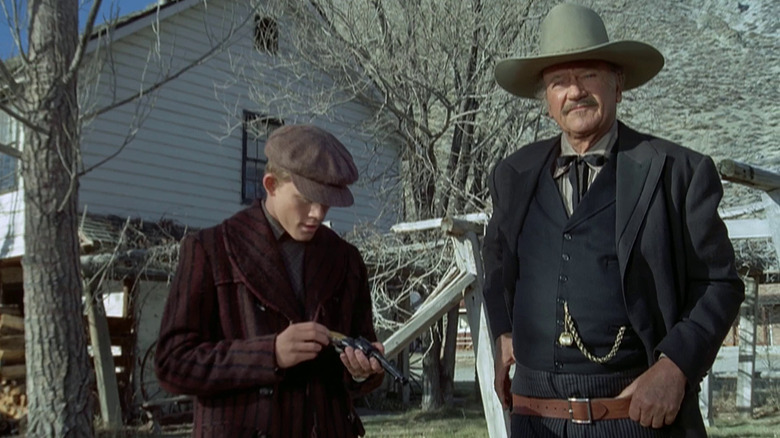 Paramount
According to Scott Eyman's "John Wayne: The Life and the Legend," Wayne groused to his former secretary and then present companion Pat Stacy, "Those people are putting all their damn time into King Kong." What's interesting about his irritation is that Wayne, once arguably the biggest star in Hollywood, was acutely aware that he was no longer an automatic box office draw. As he explained it to Stacy:
"They think the Wayne movie will make it on its own. Well, it won't. People don't go to see a movie just because my name is on the marquee. Those bastards don't understand that. It used to be the case, but it's not the case anymore."
John Wayne rides out on a winner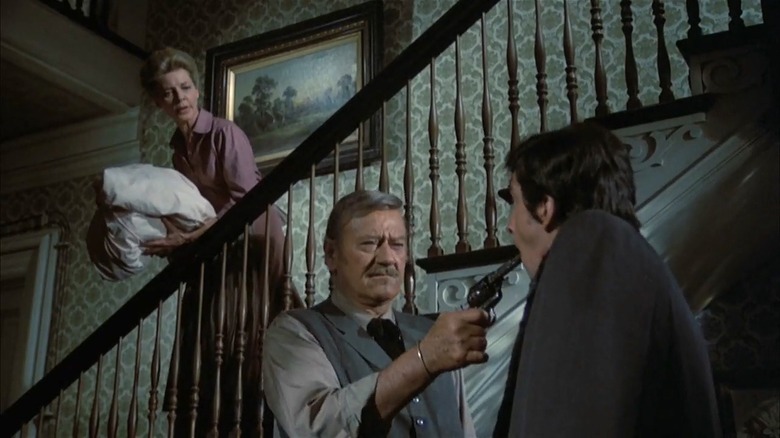 Paramount
Despite his swaggeringly tough demeanor, Wayne could be a supremely insecure man (especially when it came to his lack of service in World War II). Of his previous five films, only the limp "True Grit" sequel, "Rooster Cogburn," had made a dent at the U.S. box office. He was a golden age relic struggling to carve out an old-school niche in New Hollywood, and the majority of moviegoers weren't in a terribly nostalgic mood coming out of the Vietnam War.
His annoyance was understandable. The Don Siegel-directed film was not only the best thing Wayne had been associated with since Mark Rydell's "The Cowboys," it was also a wistful reflection on the star's career that featured contemporaries like James Stewart and Richard Boone. Wayne was not long for this world, so if this was going to be it, he wanted his public to enjoy one last ride.
"The Shootist" ambled into theaters on August 20, 1976, and grossed a respectable $13.4 million domestically. Perhaps most important to Wayne's legacy, he received his best reviews in years. Though this didn't translate into any major awards nominations, the movie did turn up on numerous top 10 lists, and has aged better than just about anything he made in the last decade of his career. Given how badly out of step he was with the times, he couldn't have asked for a more graceful and moving send-off.