John Wayne Once Taught Ron Howard A Very Important Lesson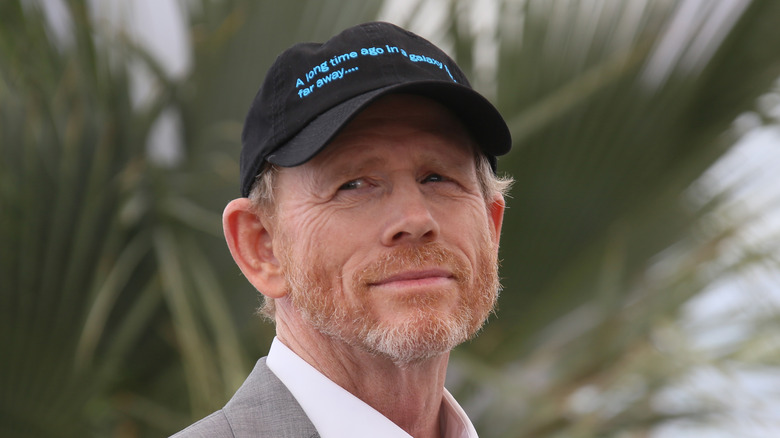 Denis Makarenko/Shutterstock
It's a story that could only happen in Hollywood: an American tough-guy film icon, nearing the end of a storied career, a plucky former child star just getting started, and their chance encounter. The meeting left an indelible mark on one of Hollywood's most accomplished figures.
Ron Howard is by no means an intimidating man. He's known by earlier generations as "Opie" for his role as the freckled Opie Taylor in the 1960s "Andy Griffth" TV series. Later he would play the squeaky clean, all-American Richie Cunningham in the popular "Happy Days" series in the 1970s. Howard's real-life personality is not that far from his on-screen persona. This, coupled with his age, left him admittedly nervous about meeting co-star John Wayne just before working together on the 1976 film "The Shootist."
I'm Screwed Here on Day One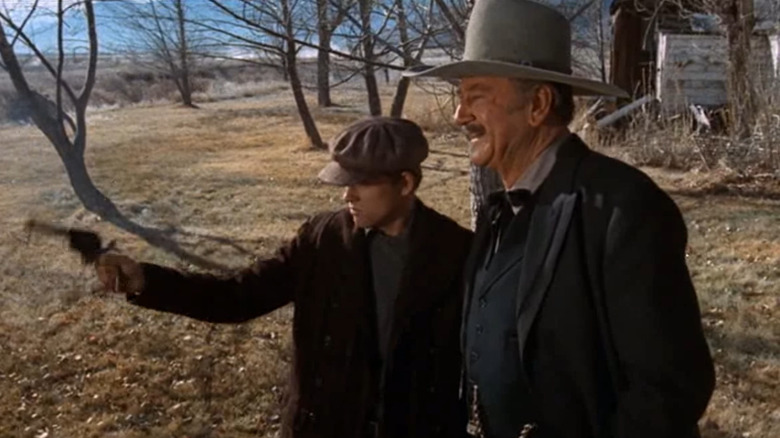 Paramount
When recalling his initial meeting with the Western hero known as The Duke, Howard told The Oklahoman newspaper, "I went into 'The Shootist' expecting not to have a great time. Wayne was notorious for not getting along with young actors." Their initial meeting did not begin well. Howard says that he walked into Wayne's hotel room and found him playing chess without his hairpiece. It sounds like the beginning of a bad joke: Ron Howard and hairless John Wayne walk into a bar...
Howard would explain to UPI that it got worse, as Wayne didn't even look up from his chess game until someone showed him a TV Guide with Howard and Henry Winkler on the cover. When Wayne finally spoke, sarcastically calling Howard a big shot, Howard thought, "Oh man. I'm screwed here on day one."
However, that wouldn't be the end of the fateful meeting. After the chilly reception by Wayne, the two bonded over Howard's television experience. In typical Howard fashion, he sat and listened to The Duke's words of wisdom:
"But it turned out my television background was something he really related to because those Westerns were sort of his version of being a television actor. He felt like with that kind of background, a person would know how to get it done."
A New Tough Guy Emerges
In perhaps an example how the tough-guy image has evolved, Men's Journal recently turned to Howard, rather than the action star of the month, for input in an article titled "Life Advice from Ron Howard." While offering words of wisdom, one of the hardest working men in Hollywood again turned to Wayne to recount perhaps the most important lesson learned in his career:
"John Wayne used a phrase, which he later attributed to John Ford, for scenes that were going to be difficult: 'This is a job of work,' he'd say. If there was a common thread with these folks – Wayne, Jimmy Stewart, Glenn Ford – it was the work ethic."
In classic Howard fashion, he would go on to call Bette Davis "The toughest of them all."
"The Shootist" is the story of a dying gunfighter looking to die with dignity. It was fittingly John Wayne's final film, and he would pass away just three years later in 1979. After co-starring with Wayne, Howard transitioned to behind the camera as a director, writer, and producer. Since then, he's won two Oscars, four Emmys, two Golden Globes, a Grammy, and a myriad of other awards and nominations. Could it all be thanks to the wise words of the gruff, hairless, chess-playing Western icon?