The Important Lesson Robert Redford Taught Meryl Streep On Out Of Africa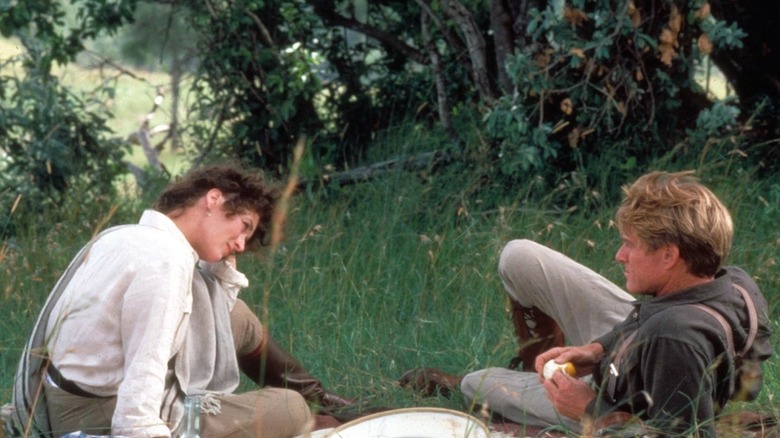 Universal
Meryl Streep was at the peak of the first phase of her career in 1985. She was a mere eight years removed from her big-screen debut in Fred Zinnemann's "Julia," yet she had already racked up five Academy Award nominations and two wins (Best Supporting Actress for "The Deer Hunter" and Best Actress for "Sophie's Choice"). It seemed like her range as a performer was limitless — ergo, she was going to be highly in demand for years to come.
This is every actor's dream, but it grows complicated as you grow older and start a family. Making a movie is a demanding task that often requires people to spend months on a far-flung location away from their families. For the 36-year-old Streep, who had two young children by this point (and two more on the way over the next decade) as she prepared to shoot "Out of Africa," this was very much a concern. Her co-star, Robert Redford sensed this, and thus imparted his wisdom as to managing the work-life balance of a movie star.
The celebrity guide to child rearing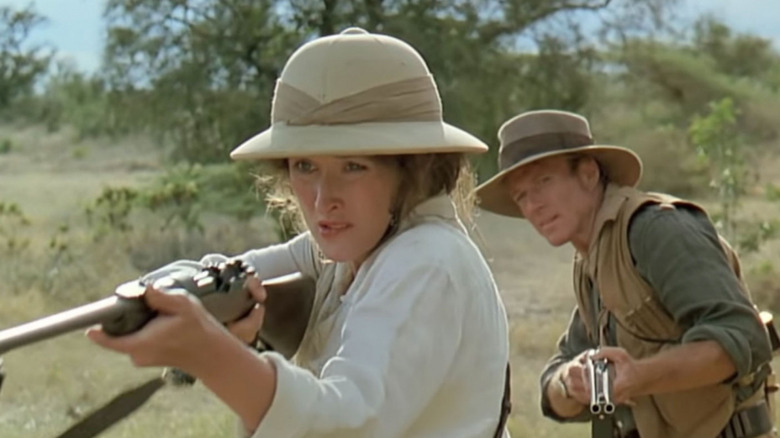 Universal
Redford was 13 years older than Streep when they made the Best Picture-winning drama based on the autobiography of author Isak Dinesen. He had two adult children, and knew a thing or two about shielding children from the glare of the superstar spotlight. In an interview with Oprah Winfrey, Streep revealed that she found his advice incredibly helpful.
"Motherhood, marriage, it's a balancing act. Especially when you have a job that you consider rewarding. It's a challenge but the best kind of challenge ... Robert Redford taught me that when they were babies. 'They are not your props.' I really admired the way he protected his family. It's something I consciously emulated.'"
There are no guarantees in parenting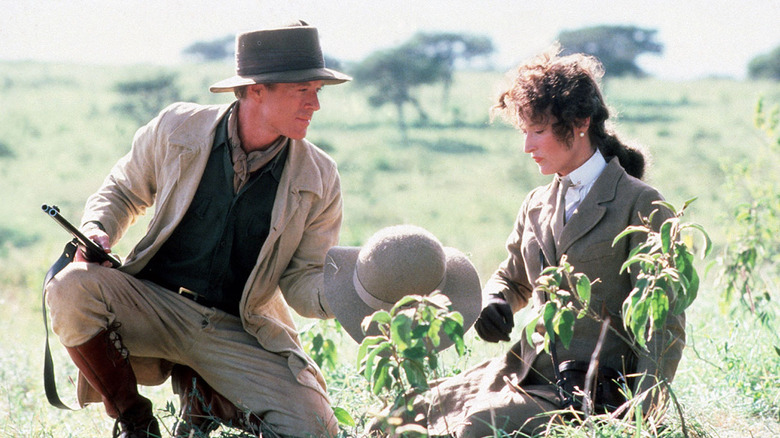 Universal
Whatever Redford and Streep did, it definitely worked. Redford's son, James, became a well-regarded documentary filmmaker and philanthropist prior to his death in 2020, while his daughter Amy has enjoyed a modestly successful acting career. You never read about them in the tabloids. This is also true of Streep's four children, all of whom became performers. It's admirable that none of them used her last name for nepotistic purposes. Her daughters Mamie Gummer, Grace Gummer and Louisa Jacobson are hard-working actors who've turned in exceptional work in both theater and film. Her son Henry Wolfe has also acted, but is best known as an indie rock artist.
Growing up in the shadow of a movie star can't be easy. There are so many tragic tales of lives ruined or cut short by substance abuse, which gets magnified through the sleazy scope of gossip mags and websites. And, as is true of life in general, being an attentive parent is no guarantee that your children won't stumble. So while it's nice to see the spawn of Redford and Streep excelling on their own terms, it's important to remember there's a bit of luck at work here, too.