Here's When You Can Watch Thor: Love And Thunder At Home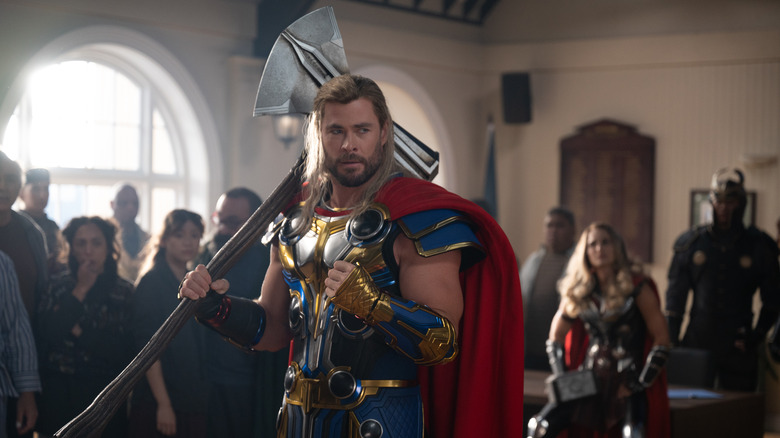 Marvel Studios
The God of Thunder returned to theaters recently with Chris Hemsworth gracing the silver screen in his fourth solo Marvel Cinematic Universe film, "Thor: Love and Thunder." But when can Marvel fans watch the movie from the comfort of home? We need no longer wonder, as Disney has revealed the official streaming date for the blockbuster, and it is going to be one of several big releases on a very big day for the company.
Director Taika Waititi's sequel to "Thor: Ragnarok" is set to arrive on Disney+ Day, which is the company's annual celebration of its flagship streaming service. At least part of the festivities will revolve around fans being able to stream the latest MCU adventure with just the few clicks of a button.
Stream Thor: Love and Thunder on Disney+ Day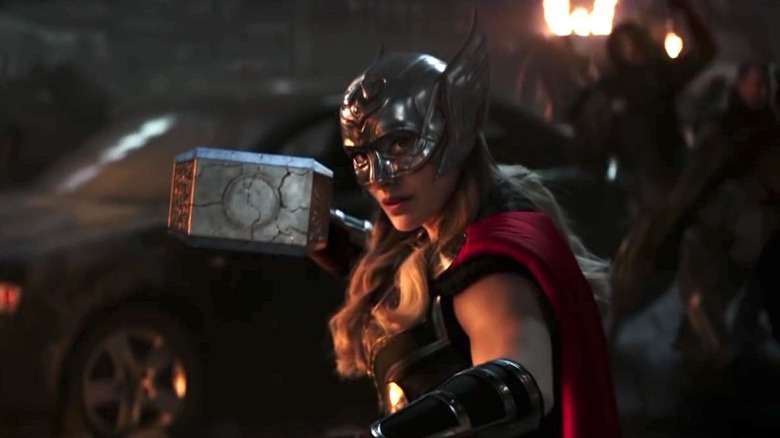 Marvel Studios
Disney+ Day 2022 is taking place on Thursday, September 8, 2022, meaning that is the day that you can officially stream "Thor: Love and Thunder." It will be included with a standard subscription to the service, meaning that you won't have to pay any extra to watch it at that time. Previously, Disney had released some movies like "Black Widow" through something known as Disney+ Premier Access, which required an additional fee in the $30 range to watch these movies when they were first made available. Though, in those cases, the movies were available on the same day that they hit theaters.
In this case, "Love and Thunder" has made its money to the tune of nearly $740 million at the global box office (as of this writing). That being the case, Marvel Studios and Disney are happy to let this benefit Disney+ subscribers in the near future rather than try to milk more money out of moviegoers.
But what about the Blu-ray?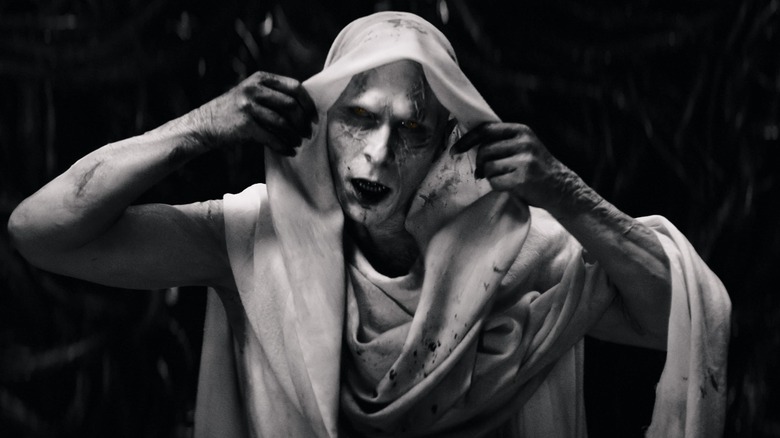 Marvel Studios
"Thor: Love and Thunder" arrives on Digital on September 8, followed by 4K Ultra HD™, Blu-ray™ and DVD on September 27.
While sales of physical media are not what they used to be, there are still a great many Marvel fans out there who like to actually own a copy of the movie. Like the case of "Doctor Strange in the Multiverse of Madness," in which the MCU film that arrived just before Thor's latest cinematic adventure, it arrived on Disney+ and Digital on June 22, with the Blu-ray hitting shelves a full month later on July 26, the Digital release marks the same day as its Disney+ debut, with the Blu-ray/DVD release following about a month later.
Thor: Love and Thunder finds the God of Thunder (Chris Hemsworth) on a journey unlike anything he's ever faced – one of self-discovery. But his efforts are interrupted by a galactic killer known as Gorr the God Butcher (Christian Bale), who seeks the extinction of the gods. To combat the threat, Thor enlists the help of King Valkyrie (Tessa Thompson), Korg (Taika Waititi) and ex-girlfriend Jane Foster (Natalie Portman), who – to Thor's surprise – inexplicably wields his magical hammer, Mjolnir, as the Mighty Thor. Together, they embark upon a harrowing cosmic adventure to uncover the mystery of the God Butcher's vengeance and stop him before it's too late.