Once Upon A Time In America Sparked An Obsession For Sergio Leone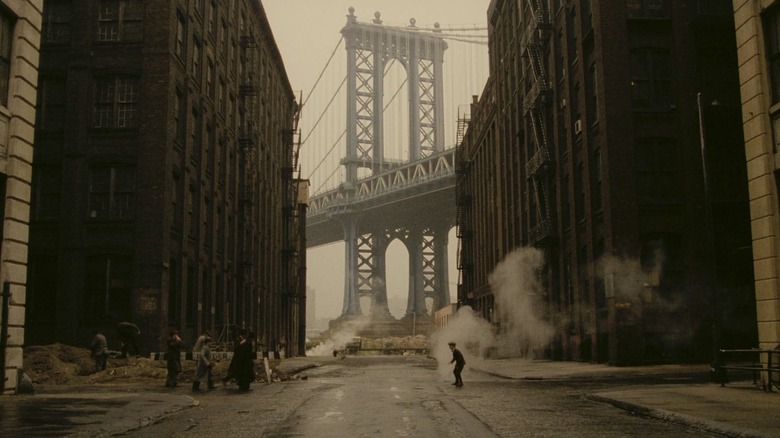 Warner Bros.
Sergio Leone began the long road to his final film, "Once Upon a Time in America," as far back as the late 1960s, when he was in New York to meet about the marketing for "Once Upon a Time in the West." Leone had read the 1952 novel "The Hoods" by Harry Grey — believed to be the pen name of Herschel Goldberg, a real-life Jewish American gangster who had written the book as a fictional autobiography of sorts during a prison stint. Names were (to quote "Dragnet") "changed to protect the innocent," as Grey was concerned about endangering his family by writing something that might involve thinly veiled versions of real mob events that took place in the 1920s and '30s.
Owing to this, perhaps, Leone initially had a hard time getting ahold of Grey, who was obviously protective of his identity and the circumstances under which he would meet people. The biography "Sergio Leone: Something to Do with Death" by Christopher Frayling relates how Leone first tried to contact Grey's literary agent, only to be rebuffed several times. Leone wanted to buy the movie rights to "The Hoods," but he was not interested in making a "straightforward adaptation," so he felt it was essential to talk to Grey:
"Could I start thinking about this project without knowing Harry Grey? Yes, easily. Of course I could. This wasn't an issue. I just wanted to get to know the man. Curiosity, at that moment, obsessed me. I'm obsessed about detail, as everyone knows, and I wanted to reconstruct the America of Harry Grey exactly as it was, through his eyes. Speakeasies, synagogues, opium dens and everything. Only Grey, or some New York archivist who had a hot line to the Almighty, could help me. I preferred Grey."
'A labyrinth of monosyllables'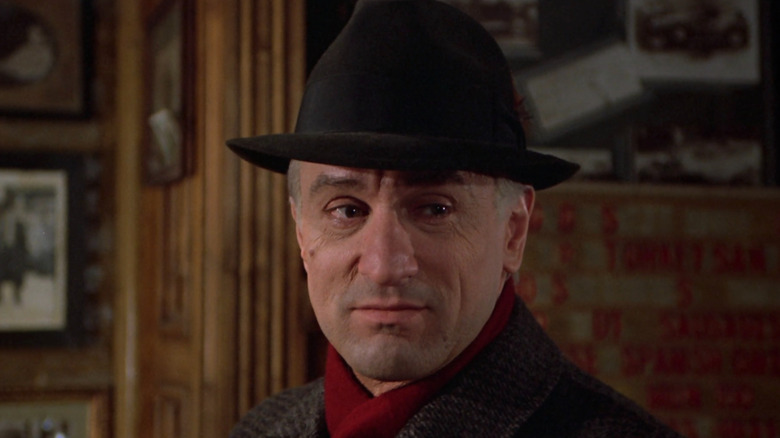 Warner Bros.
Eventually, Sergio Leone's persistence paid off, and he received a phone call in his hotel just as he was getting ready to return to Italy. Harry Grey was on the other line, and as luck would have it, he was a fan of Leone's Dollars Trilogy of Westerns starring Clint Eastwood.
According to the book, this opened up the door for Leone and Grey to meet in person that evening — "provided there were no witnesses." It wasn't just the mob Grey was worried about; he also did not want the police catching up with him for any of his old criminal activity. The only problem was Leone needed someone to interpret Grey's English for him in Italian. He enlisted his own brother-in-law to do it, but as it turned out, Grey did not have much to say, anyway. When they met, the aging mobster-turned-writer sat mostly silent as Leone gushed to him through his in-law:
"We managed to get a couple of answers out of him as if drawing teeth without anesthetic. Yes, no, maybe. He answered as if talking tortured his throat muscles. [...] But after 50 minutes of this we had certainly entered the dark American night of Harry Grey. Half the film — I'm serious about this — had formed itself in my mind that night. We had outlined this idea to him, projected it on to him, while he, the old man, guided us with monosyllables, through a labyrinth of monosyllables."
Despite Grey's reticence, Leone realized just by being in his presence who the character of Noodles, eventually played by Robert De Niro, would be in "Once Upon a Time in America." Over a decade later, his meeting with Grey would finally bear fruit as one of the greatest gangster movies of all time.