What You Need To Remember Before The Handmaid's Tale Season 5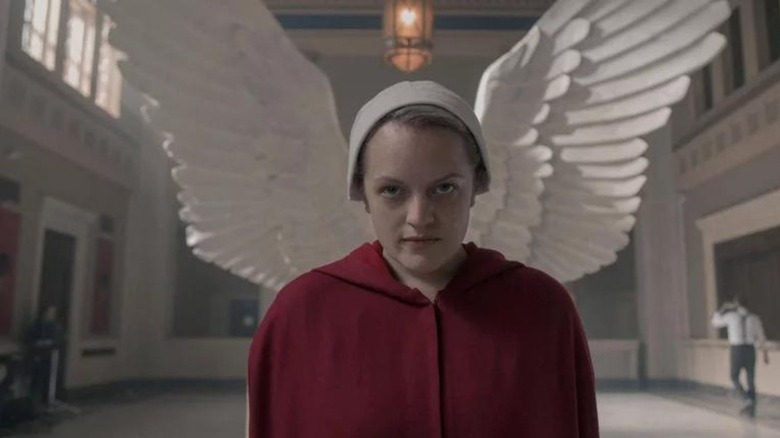 Hulu
It has been nearly a year since "The Handmaid's Tale" season 4 ended with the most shocking cliffhanger of all time, surprising viewers with its jaw-dropping conclusion. The series is based on author Margaret Atwood's dystopian novel of the same name and is the first production from Hulu to win significant accolades, including being the first series on a streaming service to win an Emmy for Outstanding Drama Series. "The Handmaid's Tale" has been lauded for its addition of seemingly real-life metaphors and has become synonymous with the unsettling political climate in the United States. The show has come a long way since season 1. It depicts dystopia at its most tragic state, unraveling the story of Gilead, a totalitarian patriarchal society with rigid systemic beliefs that take away women's rights and treat them, basically, as baby-making machines.
Season 4 concluded a while ago, and it was the show's most noteworthy season yet. A lot happened that spells uncertainty for June's (Elisabeth Moss) future, so here's a reminder of all you need to remember before the show's fifth season hits the streaming service on September 14, 2022.
Fred Waterford is gone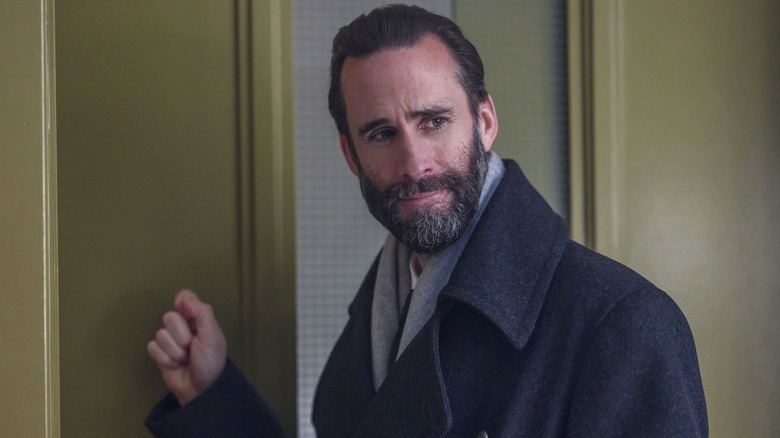 Hulu
Despite being stuck in Canada, Fred Waterford (Joseph Fiennes) rose to power and managed to cut a deal for freedom in exchange for his intelligence on Gilead's laws and regulations. He was very close to succeeding with his plans, but at the right time, Commander Lawrence's (Bradley Whitford) assistance helps June push back. As her slow-bubbling vengeance rose to the surface, June orchestrates her revenge, so her abuser could get what he deserved. 
Along with her fellow Handmaid refugees, June chases after Fred in No Man's Land. What ensued next is the most suspenseful sequence the series has seen yet: Fred runs for his life as he is chased after, beaten up, and brutally murdered. In the end, we see his decapitated body hanging on the wall. Fred's gone — and this won't sit well with Gilead's population, or even Canada (since June sought asylum there), and she'll have to face the music for what she's done. Fred was a central character, so the ripple effect of his death is sure to be seen in season 5. It's an important event to remember before watching the new season!
Serena doesn't know what's coming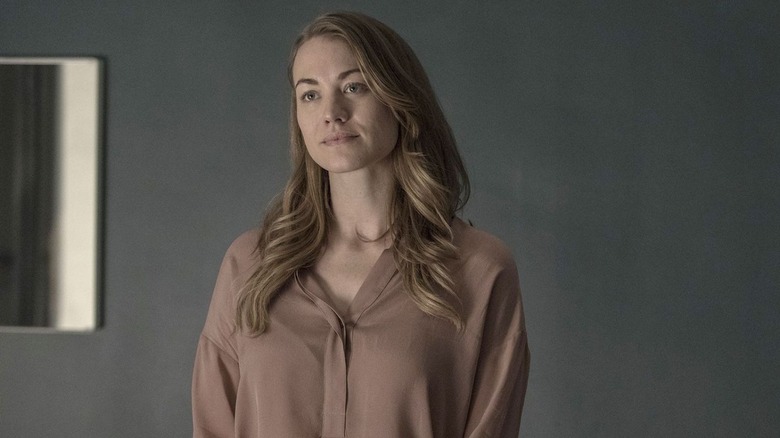 Hulu
Last we saw Serena (Yvonne Strahovski), she was pregnant, not a big fan of her husband, and trying to stir up something with Mark Tuello (Sam Jaeger), a representative of the U.S. Government-in-Exile. After June murdered her husband, she mailed Serena his ring and severed finger — a show of power as if to threaten her about who's in charge.
While season 4 doesn't suggest Serena has learned of her new status as a widower yet, the trailer for the fifth season hints she's not going to take it well. Her husband had captured the attention of the Gilead government for revealing their system's secrets, and now that he's dead, and Serena's widowed and pregnant, there's a possibility of her repenting for her husband's betrayal. She could be forced to become a handmaid upon her return to Gilead. It's uncertain how brutally the government of Canada will treat Serena — and even if she's awarded freedom, it won't be easy for her to live in peace, knowing her husband's murderer is on a vengeful rampage and could come for her next.
Commander Lawrence supports June ... for now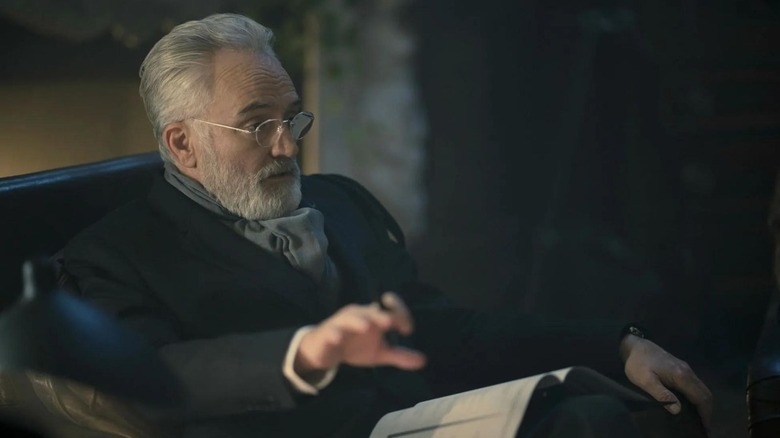 Hulu
If we've learned anything from "The Handmaid's Tale" season 4, Commander Joseph Lawrence appears to be on June's side for some reason. We've already witnessed that Lawrence is well known as the architect of Gilead's closed economy and had a hand in forming the severe colonies. So why would he help June and save 22 women from their fate of oppression in exchange for Fred?
Whether this resulted from his indifference toward Fred or his desire to help June remains to be seen. The storyline for season 5 explains that Commander Lawrence will be working with Aunt Lydia (Ann Dowd) to "reform Gilead and rise in power." Whatever path that takes, we'll have to wait and see. But for now, it's safe to say it is possible Commander Lawrence may aid June in her quest to save her daughter Hannah, who has been living in Gilead since the beginning of the series.
In the eyes of the law, June is a criminal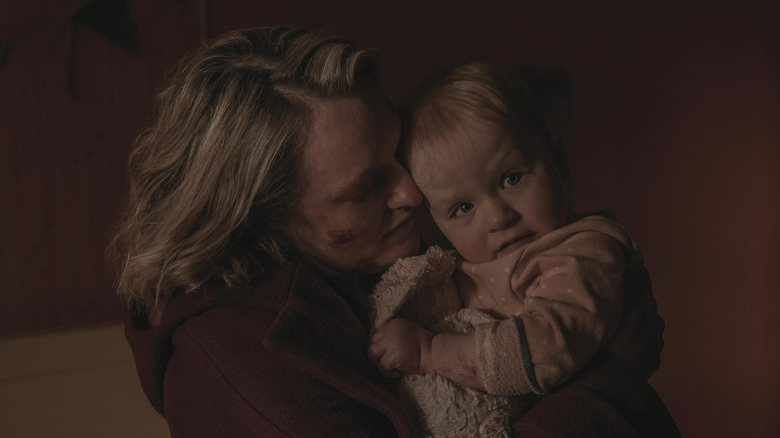 Hulu
There's simply no way June can get away with murder — it feels impossible that Gilead won't do anything about it. Their sentiments toward Fred Waterford might be nonexistent, but the patriarchal society will not sit by and watch a woman take matters into her own hands. As Gilead's influence creeps into Canada, June will have to face the aftermath of what she's done.
The end of season 4 had the show's biggest cliffhanger yet: June returns home, bloodied from the events of Fred's murder, and cradles baby Nichole in her arms. When her husband, Luke (O-T Fagbenle), witnesses the scene, a realization hits him — there's no going back from the choice June has made for herself. June then informes Luke she would be leaving home soon, she just needed five minutes to bid her daughter goodbye. This signals that June knows she needs to disappear before her crime catches up to her, but whether it leads her back to Gilead is yet to be seen. The plot for season 5 has suggested June will continue fighting Gilead "from a distance" as she embarks on a mission to reunite with and save her daughter Hannah, so maybe there's some hope for her after all.
June has chosen Nick over Luke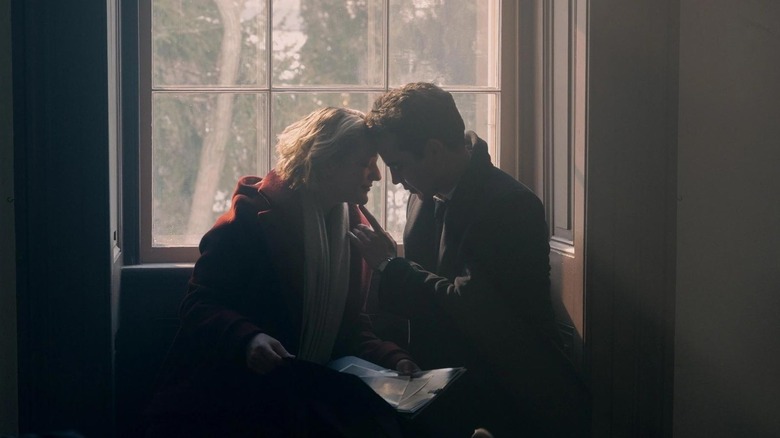 Hulu
June made some big decisions in "The Handmaid's Tale" season 4 finale — not just about life and death, but also about her love life. Her romantic life has long represented the split in her narrative: Nick represents her present, and her husband, Luke, represents her past — and maybe a safer future. The only disparity is Luke cannot see June for who she has become, and her thirst for revenge is pretty off-putting to him.
Nick might not know who June used to be, but he knows and understands her now, which is something she desperately needs. She doesn't need a reminder of her past life — nor does she have the strength to think about a bright future unless she gets what she wants: to save her daughter from the clutches of Gilead. It's not like Nick and June can have a life together, either — he's married now (we saw him wearing a wedding ring, remember?) and lives in Gilead, and cannot do much but support her from there. The season 4 finale ended by illustrating a rift between June and Luke, so they may need to put some distance between each other and figure things out on their own for now.
Janine is doing what it takes to survive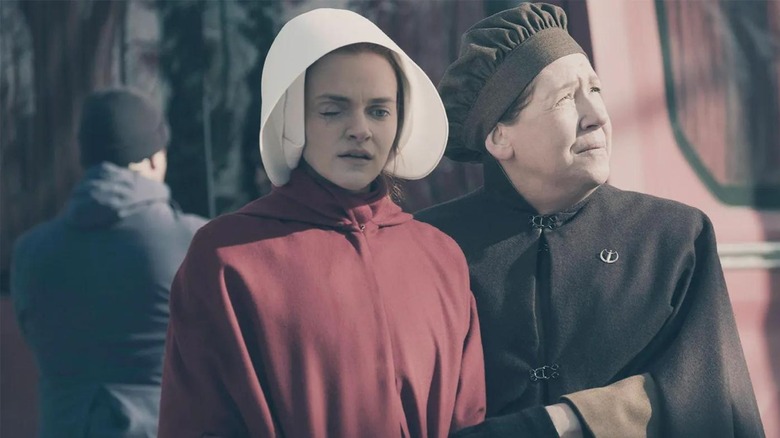 Hulu
Janine's (Madeline Brewer) season 4 journey ended with her cozying up to Aunt Lydia (who, by the way, has a strange soft spot for her) and doing what it takes to survive in Gilead. She's taken Esther (McKenna Grace), a former wife-turned-handmaid, under her wing, and there's something mysterious going on there. Janine hasn't forgiven Aunt Lydia for her crimes against her; she has lost two children (and an eye) to Gilead, and there must be some reason for her increasingly close association with Aunt Lydia.
There's always been a rebellion in Gilead — albeit hidden from the eyes of those who might harm them. Seeing Janine and Esther lead a revolution of their own in season 5 would be very interesting. We've already seen what Esther is capable of, and for Janine, well, anger is a great motivation. It's also essential to note that nobody's nice to Aunt Lydia unless they have an agenda of their own.
"The Handmaid's Tale" season 5 will premiere its first two episodes on Hulu on September 14, 2022.