Jack Nicholson Always Had A Third Chinatown Movie In Mind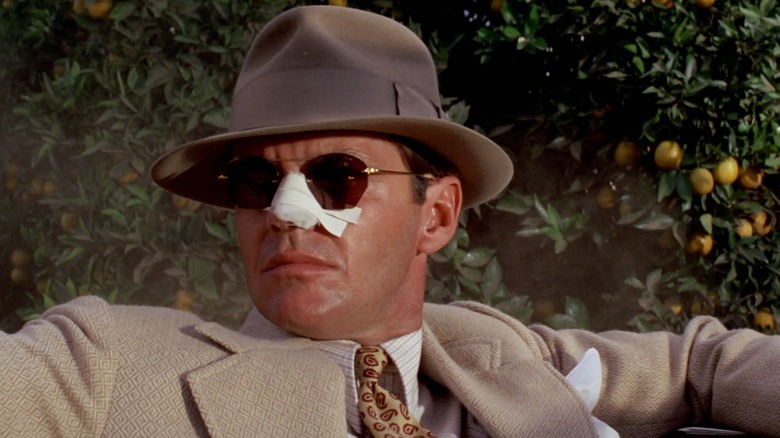 Paramount
There isn't a chance "Chinatown," written by Robert Towne and directed by Roman Polanski, would get made as a feature film today. Its detail-dense narrative about water rights in Southern California, intertwined with the vile dealings of incestuous industrialist Noah Cross (John Huston), would likely be expanded into a series or not made at all. It's a terrific neo-noir, and it works spectacularly for viewers with attention spans, but Towne's slow-burn narrative feels like the kind of material that gets meted out over twelve too-long episodes nowadays.
Interestingly, Towne and star Jack Nicholson did have a long-term plan for nosy private detective Jake Gittes. Unfortunately, it blew apart spectacularly when Jack Nicholson muscled through the production of the "Chinatown" sequel, "The Two Jakes." After numerous delays, Nicholson directed and rewrote portions of Towne's script, infuriating his former collaborator to the point where they did not speak for many years. None of this would've mattered for the future of the Gittes series had the film performed well at the box office. Alas, the convoluted yarn centered on mineral rights in the San Fernando Valley, was a massive bomb when Paramount dumped it into theaters in August 1990.
It's a massive bummer because not only is "The Two Jakes" a much better film than people realize, there was a planned third chapter that sounds like it would've been absolutely fascinating.
The third, thwarted Jake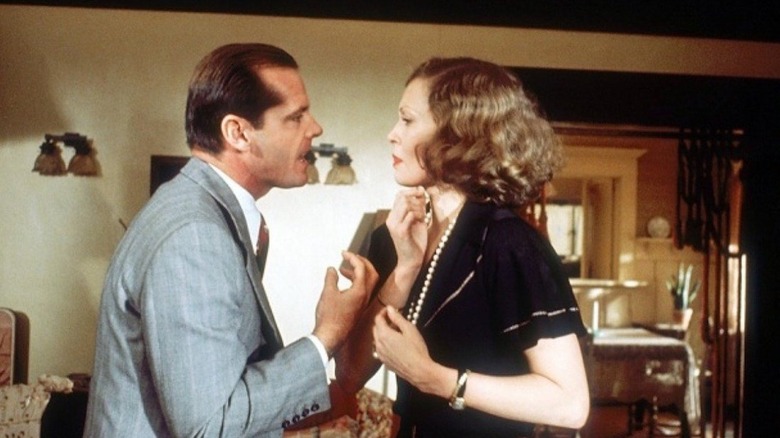 Paramount
Had "The Two Jakes" not turned into a money pit of a movie, largely undermined by producer Robert Evans who derailed the production in 1985 when he insisted on reviving his long-dormant acting career in the role of businessman Jake Berman (eventually portrayed by Harvey Keitel), Nicholson and Towne would've sat tight for a couple of decades and returned with "Gittes vs. Gittes."
In a 2007 interview with MTV, Nicholson explained "We always planned on making three films. We wanted it all to be tied into elemental things. 'Chinatown' is obviously water. 'The Two Jakes' is fire and energy. And the third film was meant to be about Gittes' divorce and relate to air."
The air element is intriguing, and it sounds like it could've been a doozy had they pulled it off. As Nicholson told MTV:
"[I]t was meant to be set in 1968 when no-fault divorce went into effect in California. It was to be about Gittes' divorce. The secrecy of Meg Tilly's character was somehow to involve the most private person in California, Howard Hughes. That is where the air element would have come into the picture."
Leave the past alone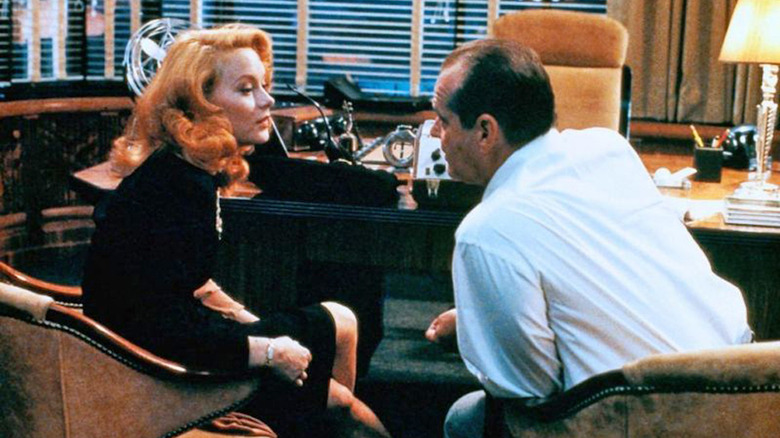 Paramount
Tilly was key to the whole enterprise, given that she played Katherine Mulwray, the incestuous spawn of Evelyn (Faye Dunaway) and Noah Cross. She gives one of her best performances in "The Two Jakes," and her final scene with Nicholson leaves you wanting some kind of closure to the Gittes-Mulwray-Cross entanglement. Again, this is a very emotionally complex situation that gets more disturbing the further it goes. Gittes will never be able to unsee Noah pulling a young Katherine away from her dead mother in the final scene of "Chinatown," and neither will we.
"The Two Jakes" is good enough to leave you clamoring for ... something. But what? Towne and Nicholson are too cynical to give us anything approaching a happy ending (though Towne wanted Noah to go down at the end of "Chinatown," only to be overruled by Polanski). And Nicholson, at 85, has long since aged out of the role. Jerry Goldsmith is dead. Polanski is a pariah. Forget it, kids. It's "Chinatown," and it was destined to leave you feeling gutted. You can't pave over the past.