Warrior's Fights Weren't Always Fake For Joel Edgerton And Tom Hardy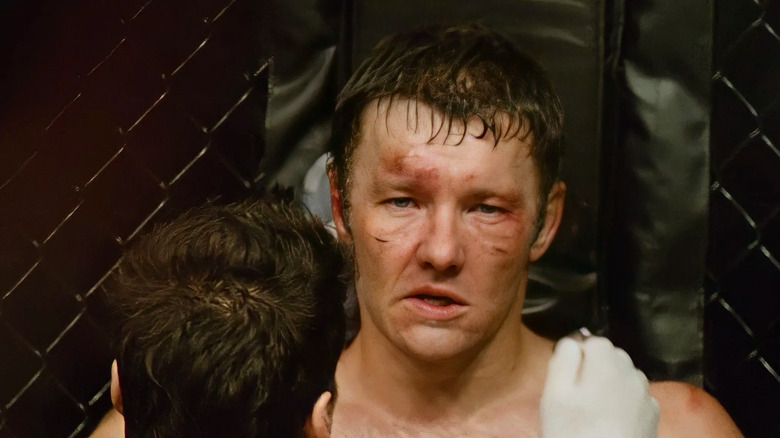 Lionsgate
No sensible actor signs onto an action film with the hopes of getting roughed up. Unfortunately, though, that's always been an occupational hazard for anyone in a combat-heavy role. It can be difficult to avoid injuries when you're required to train for your own stunts, and Tom Hardy is no stranger to the process. Hardy is perhaps best known for his roles as grizzled, hulky warriors — after his turn as Bane in Christopher Nolan's "The Dark Knight Rises" and, of course, "Mad Max: Fury Road" — but his 2011 film "Warrior," alongside Joel Edgerton, is still up there with his most intense projects.
In "Warrior," Hardy and Edgerton play two estranged brothers who find themselves facing off in the final match of an MMA tournament. Their story is just as emotional as it is physical, but that doesn't mean that either actor got off easy when they stepped into the ring. Hardy, for his part, spent five months training for his role — and in that time, he sustained several injuries. "I broke my ribs, I broke my foot, I tore ligaments in my right hand, and I took a real smashing," he told Interview after the fact. When shooting began, Hardy and Edgerton continued to train — both to portray the fights with accuracy and to hold their own against the real-life fighters they faced in the film.
'I want to act, but he keeps hitting me!'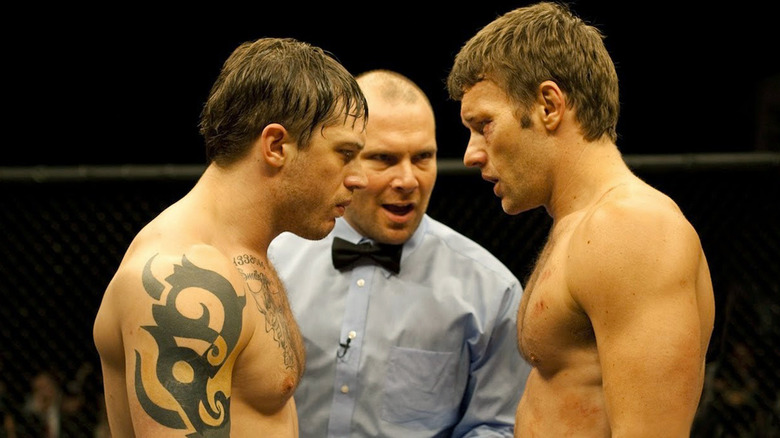 Lionsgate
"You couldn't really be an actor in this process without getting knocked around," Edgerton told Den of Geek in 2011. No one walked off the "Warrior" set unscathed; the "odd elbow or punch in the face" was commonplace for the actors. "My shining moment was getting my MCL ligament torn on a grade three tear," Edgerton recalled. "I had six weeks of rehab for that."
Funnily enough, Hardy seemed more perturbed with staying in the scenes through the fights. "There wasn't any room to act, was there? It was so annoying," he joked. "I want to act, but he keeps hitting me! Not my face!"
Of course, both knew the risks before signing on to the project — but understanding the expectations for the film and actually committing to them are two different things entirely. Either way, both Hardy and Edgerton gave their all to director Gavin O'Connor's vision, and made one of the greatest sports dramas this side of "Rocky" in the process.