She-Hulk's Nod To Edward Norton's Incredible Hulk Was Improvised On Set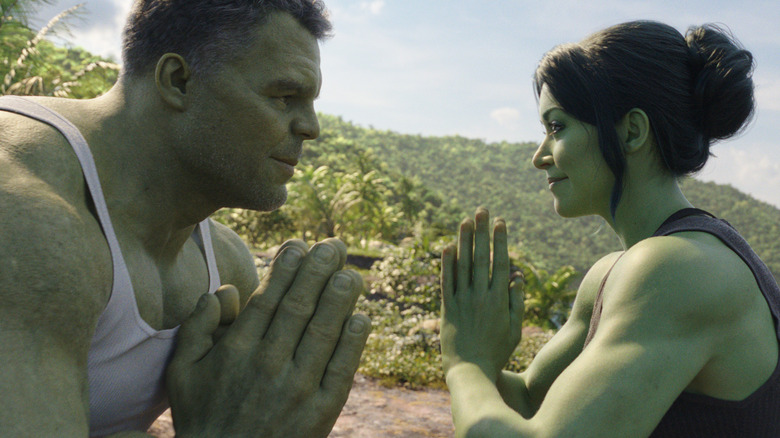 Marvel Studios
When you have a fictional world as complex and long-lasting as the Marvel Cinematic Universe, some cast changes are inevitable. The 2008 movie "The Incredible Hulk" is technically part of the MCU, featuring everyone's favorite green guy who smashes up enemies. But that version of the character looks a little different from the one we're seeing in the Disney+ series "She-Hulk: Attorney at Law," as he's played by a different actor. Mark Ruffalo is the Hulk/Bruce/Smart Hulk, etc. now, but in that film, he was played by Edward Norton. 
"The Incredible Hulk" storyline is a part of the new Disney+ series in a big way, with the film's Tim Roth back to play the role of Emil Blonsky, aka Abomination, after reappearing in "Shang-Chi and the Legend of the Ten Rings." Jennifer Walters, aka She-Hulk, is tasked with taking him on as a client, helping him try to secure parole.
If you're going to acknowledge the fact that Blonsky tried to kill Bruce Banner's Hulk all those years ago — 15 years, to be exact, according to the MCU's in-universe timeline — it opens the door to a joke about the current Bruce being played by a different actor. 
The second episode of "She-Hulk" does, with a quick nod that star Tatiana Maslany spoke about in an interview with THR, and how it ended up happening.
Breaking the fourth wall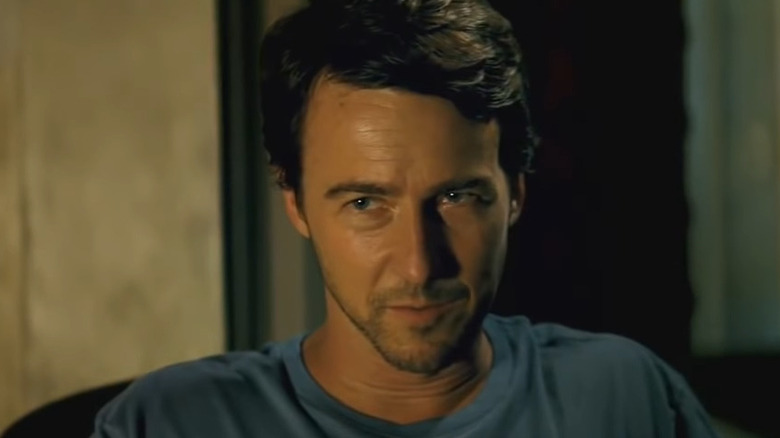 Universal Pictures
In the scene, Jennifer calls her cousin Bruce to let him know she's taking Blonsky's parole case for her new law firm, a condition of the new job she's been offered. Bruce tells her it's okay, and that Blonsky actually wrote "a really nice letter a while back, and a really heartfelt haiku," and that he's put it all behind him. He says, "That fight was so many years ago. I'm a completely different person now. Literally." 
Jennifer breaks the fourth wall (something she often does in the comics) and says, "Ha!" to the camera, as many viewers likely said to their screens while watching. 
In the interview, THR asks if Maslany was surprised that they were able to get away with mentioning the recasting. She said that this was actually an ad lib from Ruffalo. 
"That's truly the world of this show. It's as meta as you can possibly get, and what's more meta than discussing the fact that the Hulk in [The Incredible Hulk (2008)] was played by a totally different actor? There are so many layers to it." 
It's a great moment, and a really nice use of Jennifer addressing the audience. Also, Marvel, please release a book of Blonsky's haiku, or at the very least, a Funko Pop! figure with Emil holding his haiku notebook. I must own this.
"She-Hulk: Attorney at Law" is streaming on Disney+ with a new episode each week.