Angelina Jolie's Daughter Appeared In Maleficent Because Other Kids Were Too 'Afraid'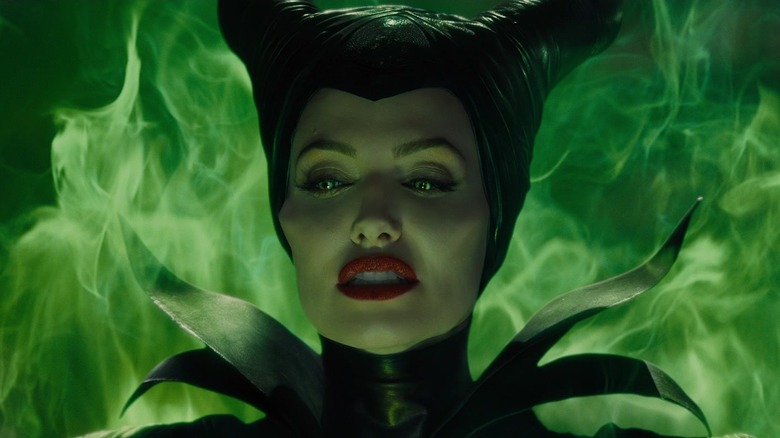 Disney
The Hollywood trend of taking characters who are primarily seen as villains like "Venom" and turning them into anti-heroes goes well beyond the world of comic books, as Disney has also been turning to some of its own animated antagonists for the same kind of treatment over the past decade or so. Just last summer saw Emma Stone devour the screen with her unique portrayal of "Cruella" (which is a lot more fun than a lot of folks give it credit for), but it was Angelina Jolie as "Maleficent" that got the ball rolling.
The 2014 reimagining took the "Sleeping Beauty" villain down a much different path than her animated counterpart, positing the mistress of all evil as more of a tragic figure done wrong by Sharlto Copley's duplicitous King Stefan. The movie lacked a certain spark that would have made it truly stand out as a villain story, but for everything "Maleficent" had working against it, Jolie was definitely not one of them.
Jolie is a case of perfect casting, as she was practically born to play this role. When it came time for the "Eternals" actress to recreate the grand entrance at young Aurora's christening, Jolie commanded the screen in all of her mischievous glory. With the significant changes made to the animated film, "Maleficent" saw the titular fairy developing more of a kinship with Aurora (Elle Fanning) throughout her childhood, which of course required Jolie to interact with the character while she's very young. But there was just one problem.
When in doubt, bring in the sprout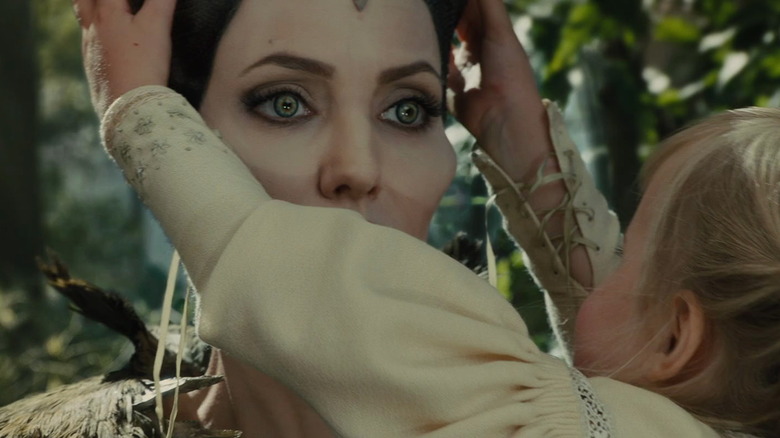 Disney
In a piece for Vanity Fair, Jolie speaks on how her daughter, Vivienne Jolie-Pitt, was circumstantially chosen to play young Aurora after other children were too afraid to interact with her while she was cloaked in full "Maleficent" garb:
"We think it's fun for our kids to have cameos and join us on set, but not to be actors ... But the other three- and four-year-old [performers] wouldn't come near me. It had to be a child that liked me and wasn't afraid of my horns and my eyes and my claws. So it had to be Viv."
If anything, having Jolie-Pitt interacting with her mother really works for the scene. Maleficent is already playing a pseudo-motherly figure to Aurora, so the cuteness that comes with the mother-daughter duo having a moment where she isn't afraid of the horned fairy fits is a hilarious touch. It especially works considering the three fairies are shown to be incompetent parents in this version; it makes sense that young Aurora would gravitate towards the first person to express a sliver of interest in her.
"Maleficent" is currently streaming on Disney+.