'Cruella' Review: Disney's Latest Live-Action Reboot Is Better Than You'd Expect, But Still Lacking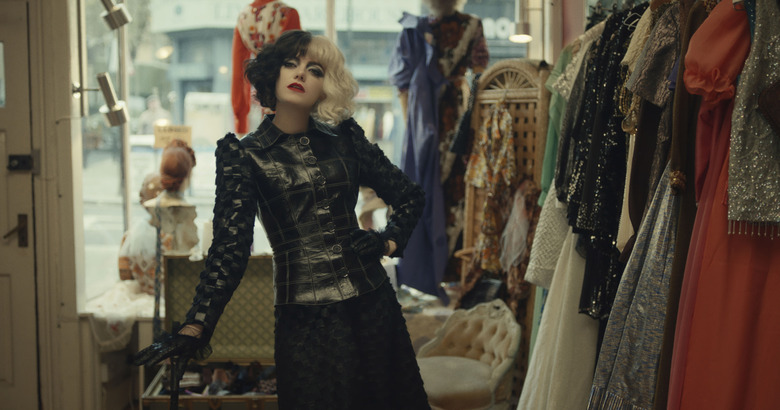 Each of Disney's live-action/CGI remakes, reboots, revivals, and re-imaginings has run up against the same challenge. Whether they're about a boy growing up in the jungle, a young woman falling in love with a beast, or a girl falling through a rabbit hole to a magical fantasy world, these films must resolve a question their sources didn't: how original can these films truly be? Are they going to be carbon copies of beloved animated classics, which themselves were adaptations of prior source material? Or are they going to truly overhaul old-fashioned stories for modern audiences?
In short, the question is, how beholden are these remakes to the films they're remaking? For every Pete's Dragon, which used the title and basic premise to tell a completely different story, there's...well, every other remake, which hints at being creatively risky before doing exactly what their sources did. The new film Cruella, purportedly the origin story of one of the most memorably terrifying Disney villains ever, wants very badly to overhaul its main character for an edgier, presumably pre-teen and teenage crowd, sometimes seeming more inspired by the Joaquin Phoenix-starring Joker than by 101 Dalmatians. But while Cruella is bursting with style and features two very arch, fun performances, it's never really able to avoid the spectre of all those spotted puppies and the image of a terrifying woman trying to kill those dogs to make a fur coat.
This time around, "Cruella" is just a nickname for Estella (Emma Stone), a young woman growing up in London in the 1970s who wants nothing more than to be a daring fashion designer. She idolizes the imperious but brilliant Baroness von Hellman (Emma Thompson), and is soon fortunate enough to work for Hellman's team. But fate is a funny thing, and it soon becomes clear that Estella – whose mother died when she was younger, and who now relies on her criminal friends Horace and Jasper (Paul Walter Hauser and Joel Fry, respectively) – has a darker connection with von Hellman, leading her to embrace her darker side as Cruella. 
At its core, the problem with Cruella is only a problem half the time – this movie would much rather not be a direct origin story of Cruella De Vil. This film is at its most enjoyable when it's depicting Estella and Baroness von Hellman trying to one-up each other. But when the film has to pause to explain why Cruella started driving slick luxury cars (and drive them badly), or her connection to Dalmatians, or acknowledge how strange it would be for a person to call themselves "Cruella De Vil", everything screeches to a halt.
This film, credited to a handful of writers for both script and story (including Tony McNamara of The Favourite, also co-starring Stone), wants very badly to be a Disney version of The Devil Wears Prada with a dash of Phantom Thread (though some of the plot twists feel directly lifted from Joker) thrown in for size. In those moments, though its inspirations are worn very clearly on its strikingly designed sleeve, Cruella is mildly fun. The writers had to work overtime to ensure that "a terrifying criminal who wants to kill hundreds of defenseless dogs for their fur" could turn into someone even slightly sympathetic, but they do so some of the time.
Only just, though. As Estella/Cruella, Stone is dryly funny without ever truly hitting the manic heights that either voice actress Betty Lou Gerson did in the original One Hundred and One Dalmatians or Glenn Close did in the 1996 live-action remake. Either as Estella or Cruella – a helpful wig and glasses helps separate the two in a touch that's as hard to believe as people not realizing the bespectacled journalist Clark Kent could also be Superman – Stone has her requisite sarcasm about her, serving her well. However, in getting her own, much meaner version of Miranda Priestley, it's Emma Thompson who's the sly and nasty showcase. 
Where the film avoids any of the outrageous performative notions of Cruella De Vil's initial incarnation, it amps up in both the costume design and the soundtrack. Jenny Beavan, who rightly won an Academy Award for her masterful work on Mad Max: Fury Road, does a genuinely stunning job with the fashion; there are few aspects of such a story that you have to get right, and this is one of them. The biggest star of Cruella, aside from Thompson, is Beavan. And since the film is set in the 1970s, that means that it's wall-to-wall with needle drops from Nancy Sinatra to ELO to Tina Turner, artists who aren't often heard in Disney fare, possibly assuring that younger audiences may get their first listen in this film. (Some of the needle-drops are absolute groaners. Consider that this movie tries to create sympathy for the character named De Vil. You do not need to wonder if a certain Rolling Stones song appears on the soundtrack. It's there.)
If Cruella's first problem is that it can't quite decide how bad it wants to make its lead character, or how much it wants to hew to the story it's retelling, then its second and most pressing is simple: this movie is 134 minutes long, and you feel every one of them. While most of the technical design is spot-on, the pacing is awfully plodding. If this movie was 90 minutes long (or hell, if someone wanted to be clever and make it 101 minutes long), it could much more easily be seen as a surprisingly not-terrible affair. At 134 minutes, it's a taxing affair because director Craig Gillespie is too willing to luxuriate in the costumes and music to just move things along.
Cruella could have – and frankly should have – been a lot worse. But after a few years' worth of remakes, it's become exhausting that this is the bar for a film to clear. So many talented artists have worked on these films, their creativity hemmed in because they can only push the creative limits so far lest they offend a perceived audience. Pete's Dragon was so exhilarating because it was a remake of a film few people adore. Cruella isn't so lucky. Yes, it could've been worse. But as daring as this film's costumes are, and as fun as Stone and Thompson (and Hauser and Fry, to be fair) can be, it can't help but give into its lazier instincts. 
/Film Rating: 5 out of 10