Why Sharon Stone Considers Casino The Highlight Of Her Career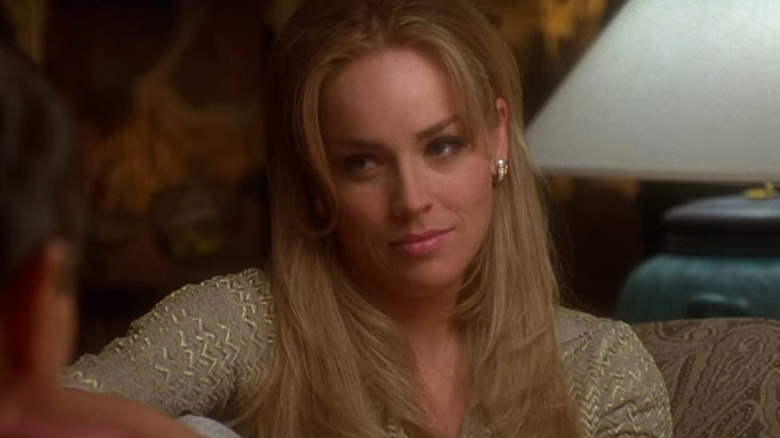 Universal Pictures
For her role as Ginger McKenna in "Casino," Sharon Stone earned her sole Academy Award nomination (to date) for Best Actress, so it should come as no surprise that the movie holds a special place in her heart. By 1995, Stone had already achieved fame through her performances in the Paul Verhoeven films "Total Recall" and "Basic Instinct," with the latter catapulting her to a new level of global stardom. The mob epic "Casino," however, presented a fresh challenge for Stone, as it saw her linking up with Martin Scorsese and Robert De Niro, perhaps the greatest director and actor collaboration in movie history.
Scorsese and De Niro came into "Casino" with an array of classic films, such as "Taxi Driver," "Raging Bull," and "Goodfellas," under their belt. It was their eighth collaboration overall and it would be their last for 24 years until "The Irishman" finally came together. Speaking to Dateline, Stone likened the experience of working with the legendary duo to "going to the Olympics." She alluded to how it tested her acting range and was the fulfillment of a lifelong dream, saying:
"Getting them to let me play, let me [be] part of it, and achieve... Thinking, 'Can I get to be one of the guys? Can I be good enough? Can I keep up?' Because they like to work 20 hours a day. They're like work maniacs. And can I get Marty to actually really talk to me? [...] That was it for me. There are other directors I super admire like that that I'd like to work with. But, that was it. When I started acting, I was asked, 'What's your dream? What would you like to achieve?' I would say, 'Oh, I'd like to sit opposite De Niro and hold my own.'"
'It's deeply gratifying'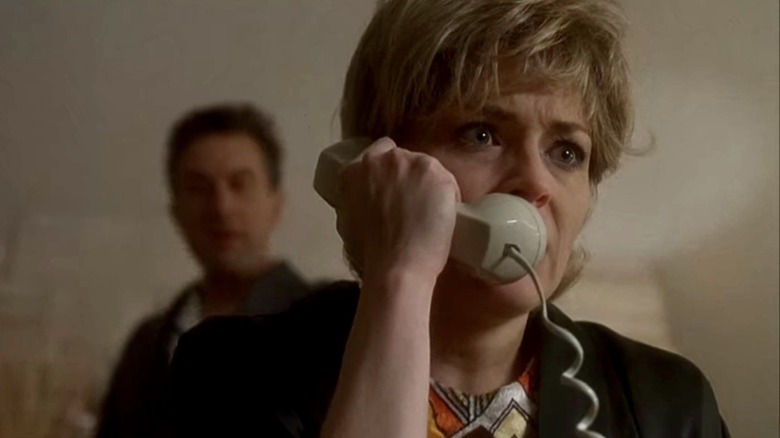 Universal Pictures
Over the course of three hours, Ginger McKenna proves to be much more than a trophy wife for De Niro's protagonist, Ace Rothstein, in "Casino." His underestimation of her and misguided attempts to buy her affection and control her through their "arrangement," or marriage, eventually leads to more than one person's downfall, as Ginger becomes involved in a love quadrangle with Ace, her old pimp Lester Diamond (James Woods), and gangster Nicky Santoro (Joe Pesci).
The scene where Ginger and Ace have a shouting match, and he physically drags her through their Las Vegas house and empties her closet, required Stone to go toe-to-toe with De Niro in a heightened emotional state. It's just one of the moments that allowed the actress to prove herself as more than a "potted plant" or "Barbie doll," as she put it, on the "Casino" set. In a 1996 interview with The Guardian, Stone said:
"It's deeply gratifying in two ways. One, because I see the film and I realize... it's true! I haven't been deluding myself all these years. I really can do it. And because I got up to bat with my dream people, the one actor that all my career I strived to work with, that was the apex for me... and then Marty... And then to get the pat on your back from your peers is always pretty great. You know, you don't get a lot of that."
Scorsese's films have sometimes been criticized for being heavily skewed toward male roles, but Stone's performance in "Casino" is right up there with Lorraine Bracco in "Goodfellas" or Ellen Burstyn in "Alice Doesn't Live Here Anymore." Though "Basic Instinct" may have first lodged Stone's image in the popular imagination, "Casino" remains the true crown jewel of her acting career.