Ted Lasso's Authentic Sound Effect You Probably Never Noticed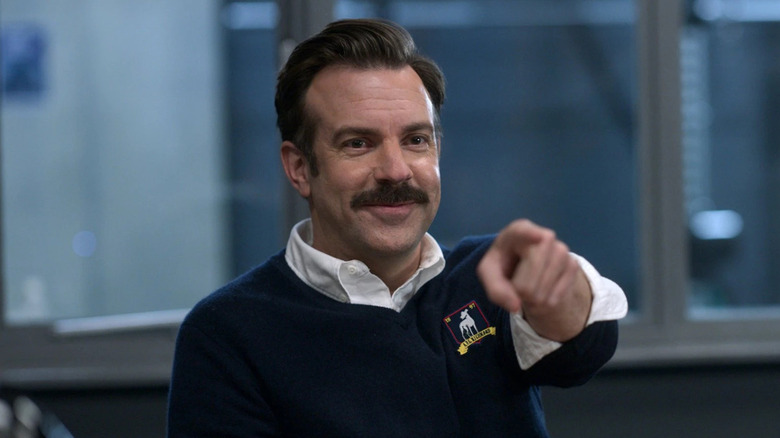 Warner Bros. Television/AppleTV+
It still surprises me to no end how much "Ted Lasso" has become one of the most authentic shows on television. This endlessly charming ensemble, with Jason Sudeikis as its effervescent ringleader, has worked its way into my heart. The titular football coach is a man who knows what he does and doesn't like, but is always open to gaining a greater understanding of his new environment, except for tea.
When you have the weight and responsibility of an entire football team's success on your head, I imagine coaching can be pretty stressful. But while Lasso sees thousands of folks in the arena watching his every move, you may be surprised to learn that behind the scenes, the Richmond stadium is filled with fake crowds. Having to create over 26,000 folks from scratch is difficult enough, but creating the collective roaring sounds of thousands of roaring football fans is a strenuous task all its own.
The "Ted Lasso" sound team has put a lot of work into details you may not have even noticed, such as the pinball machine that Lasso considers "one of the most entertaining forms of meditation."
Jason Sudeikis' Wizard of Oz pinball machine had to sound just right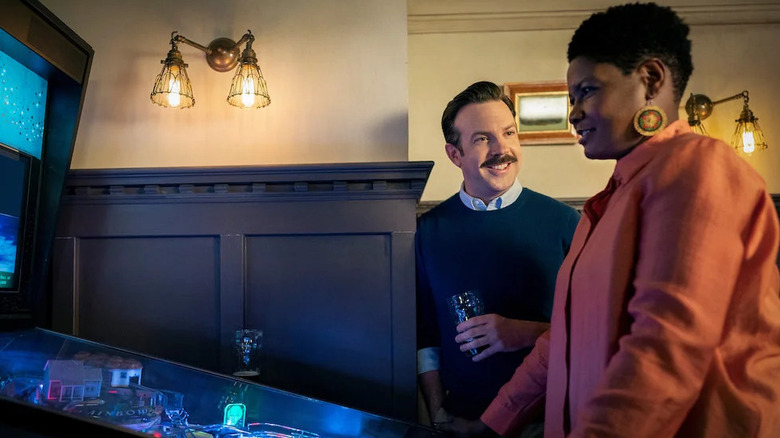 Warner Bros. Television/AppleTV+
One of Lasso's favorite spots after a long day of coaching the AFC Richmond team is the Crown and Anchor Pub, which is home to pints, darts, and an obsessive group of AFC fanatics. The pub oddly acts as a safe space of sorts for Lasso whenever he needs it. Also within the pub is a "Wizard of Oz" pinball machine, which actually belongs to Sudeikis.
On the latest episode of Twenty Thousand Hertz, a podcast dedicated to the ingenuity of the most interesting sounds, "Ted Lasso" sound editor Brent Findley talked about Sudeikis' personal request to replicate the sounds of the pinball machine. Not only did Sudeikis actually reach out to the game's manufacturer, but he also licensed all of the sound effects needed to make it sound as close to his machine as possible:
"This was a huge amount of effort, and it took weeks to make this happen. At least two lawyers were involved. And it's not a feature of the show. We don't spend time in the video game. It's not even that big of a deal. But to the degree of authenticity that Jason wanted, there's no shortcut on anything."
All this piece of trivia makes me think about is when "Ted Lasso" inevitably gets its own pinball popup. Funko put out a board game earlier this year, which is actually a lot of fun once you're able to figure everything out, so there's room to let Sudeikis be the face of his own machine.
The first two seasons of "Ted Lasso" are currently streaming on Apple TV+.