God's Creatures Trailer: There's A Deep, Festering Darkness Inside The Belly Of Guilt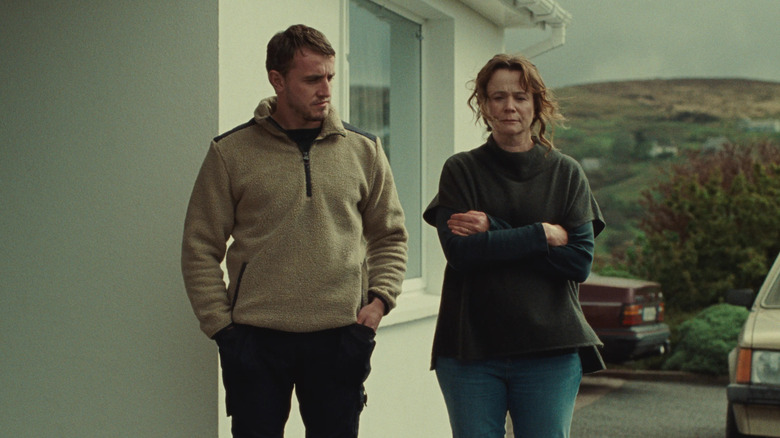 A24
There is a deep, festering darkness inside the belly of guilt and love — and there is no film that quite sets that tone like the new A24 psychological drama, "God's Creatures." The upcoming movie now has a trailer, and it seems as though A24 is continuing to capitalize on works of ruthless cinema that force us to take hard looks at ourselves, the choices we have made, and the ones we have yet to make. 
The film follows Emily Watson as a fishing worker in an Irish village who is faced with the realization that her estranged son (Paul Mescal) has returned to their village, but holds a sinister secret inside him — and for her, the familial bonds and the power of a mother's love will be tested upon his return. "God's Creatures" made its world premiere at the 2022 Cannes Film Festival in the Director's Fortnight section and earned a standing ovation (I know because I was there, and it was beautifully deserved).  According to A24's social media accounts, the movie's tagline is "Loyalty is a tragedy," and if this doesn't sum up what viewers are in for while watching this haunting film, nothing will. 
Watch the God's Creatures trailer
In this glimpse of the movie, we see that Watson's character leads a muted existence in a quiet fishing village, but her world starts to light up again when Mescal's character, Brian, returns home to her. However, Aisling Franciosi, the star of the terrifying 2018 revenge drama "The Nightingale," brings Watson's world crashing down when she reveals that Brian has transgressed against her in a manner I won't give away. It's then up to Watson to wrestle with her own demons as she goes to bat for a child she barely knows anymore. It's the perfect picture of modern, rural gothic storytelling, and it will live within your heart long after you watch it. I know from experience: I still think about this film months after seeing its premiere, and I hope more people will connect with it and be crushed under the weight of its devastating message. 
"God's Creatures" was directed by Anna Rose Holmer (director of the breakout 2015 film "The Fits") and Saela Davis (Holmer's editor on "The Fits" and one of her collaborators on that film's story). It is their first project together as a directorial team, and boy, is it a promising one. The movie was written by Irish screenwriter Shane Crowley, based on a story he developed with Fodhla Cronin O'Reilly, the Irish producer behind Florence Pugh's stunning debut, "Lady Macbeth." She also produced this film, which will be released on September 30, 2022.