Pixar's 'Hyperreal' Animation Convinced Tom Hanks To Take A Chance On Toy Story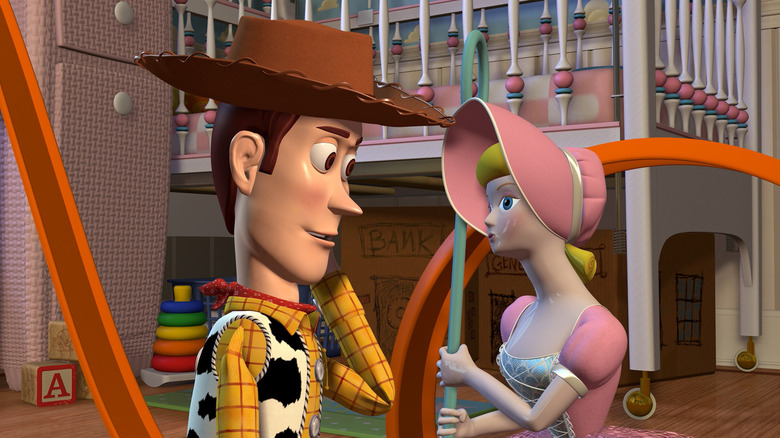 Pixar Animation Studios
The tale of how "Toy Story" came to be is greatly tied up in the start of Pixar Animation as well. After director John Lasseter was fired for pushing for an entirely computer-animated feature at Disney, he moved on to Lucasfilm and helped found the animation house in 1986. It was there he created an animated short titled "Tin Toy," which gained the attention of Lasseter's former employers after it won an Academy Award in 1989. When Disney failed to draw him back into their ranks they struck a deal to have Pixar produce films on their behalf. Of course, "Tin Toy" eventually became "Toy Story," though not without extensive rewrites and behind-the-scenes turmoil.
Luckily, despite all the hiccups, "Toy Story" stayed afloat thanks to its groundbreaking status as the first computer-animated feature film. Apart from the audience, no one was more amazed at the life-like creations than its cast of voice actors, such as Tom Hanks. At one point everyone from Paul Newman, Robin Williams, and Clint Eastwood were all eyed for the role of Woody — and that might've been the case had the "Forrest Gump" actor been unimpressed with Pixar's digital renderings. But like every little kid with a special place in their childhood memories reserved for the adventures of a group of animated toys, Hanks was completely blown away by the magic of it all.
Hanks is wowed by Woody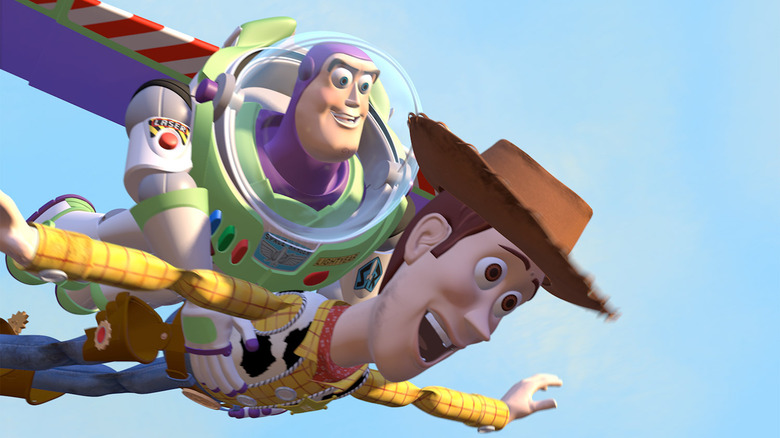 Pixar Animation Studios
It's hard to maybe imagine the frame of mind Hanks was in when he was first shown what his character would look like in "Toy Story." This is a time before Pixar's ground-breaking leaps in animation or the waves of fully computer-generated films that have become a norm.
"There were two things about it. One: it was like, 'I'm not sure what this is,'" Hanks told BBC Radio 1. "The computer-generated animation itself had a look that was hyperreal, you know?" Though what really sold the actor on "Toy Story" was just how seamlessly his voice acting felt fulfilled by his animated character's actions and mannerisms. Hanks continued:
"But then also the marriage of the outraged voice of mine inside this outraged body of a toy was — I mean, it was just undeniably great. So I was in from the get-go. They invited me over to sort of explain this odd unknown quantity of something that may or may not work. And I said, 'Well, it looks fine to me. Let's do it!' And thus it began."
I've always believed Pixar found some cave hidden inside the uncanny valley where they discovered the secret of creating shockingly realistic animations that weren't "The Polar Express" style nightmare fuel. Which also ironically starred Hanks and remains his only other role in an animated feature — maybe the uncanny motion-capture creations sealed the deal on him sticking to just voicing Woody?