How Pete Davidson Ended Up On Saturday Night Live (And Why He Didn't Expect To Stick Around)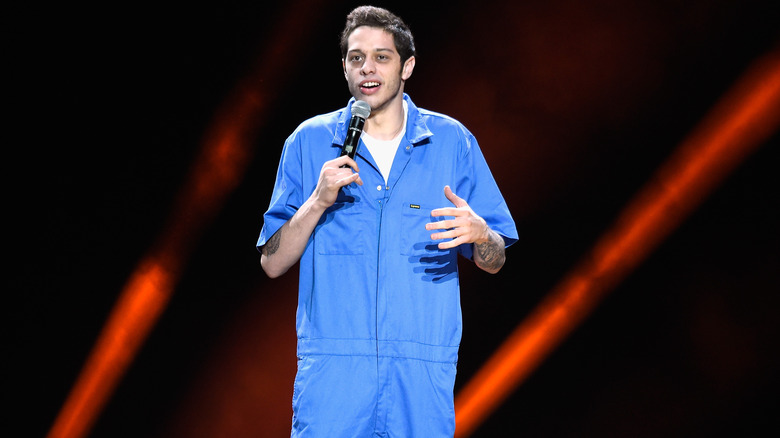 Kevin Mazur/Getty Images
Pete Davidson is a prolific comedian whose goofy personality has charmed the entertainment industry. Earlier this year, Davidson announced he was retiring from "Saturday Night Live" after an eight-season run. He joined the iconic show in 2014 at only 20 years old, one of the youngest cast members in "SNL" history. With feature films like "The King of Staten Island" and A24's "Bodies, Bodies, Bodies," Davidson's career has flourished in recent years. However, his roots are in stand-up comedy, which made him think not only would be not make the cut for "SNL," but he also wouldn't stick around for as long as he did.
On "Hart to Heart," Davidson revealed that his start on "SNL" was mostly due to luck. In New York City, he met comedian Amy Schumer, who let him open for her on the road. Later, when Schumer was filming "Trainwreck," she got Davidson a small part as a patient of her love interest, played by Bill Hader. After hanging with Hader and Judd Apatow on set, Davidson got a call from his agent the following day telling him Hader recommended him for "SNL." Davidson responded, "Why the f*** would he do that?" He told Hart, "I mean, I was terrified. I don't really do characters so I thought I could maybe be a writer or something." Davidson said his audition consisted of jokes about living with his mom and he thought, "There's no f****** way that I would get this."
A lack of character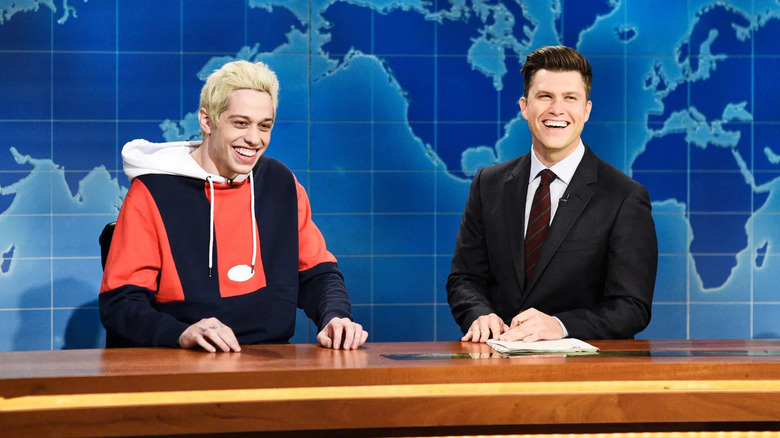 NBC
Like most comics, Pete Davidson's bits are primarily self-deprecating. But to his surprise, he got brought on for the show's 40th season premiere, which aired on September 27, 2014. It was still a challenge to find the right place for Davidson in "SNL" sketches. Collaborating with Lorne Michaels, the two explored Pete's talent with a few rap videos here and there, as well as other pre-tapes and "Weekend Update" segments. Davidson thought the limited airtime would result in maybe a year on the show and then he would go on to write for other shows, thanks to the "SNL" credit to get other work.
However, several writers looked out for Davidson and tried to write him into sketches. He explained to Hart that he doesn't know how to write a sketch but was able to watch the best people at the job do it, despite him having zero experience. Eventually, Davidson got into a groove with the writers and learned how to write more character-based sketches. When Hart asked him if he is now finally getting a grasp on this thing called entertainment, Davidson jokingly responded with "I have no idea what the f*** is going on ever."
Pete's world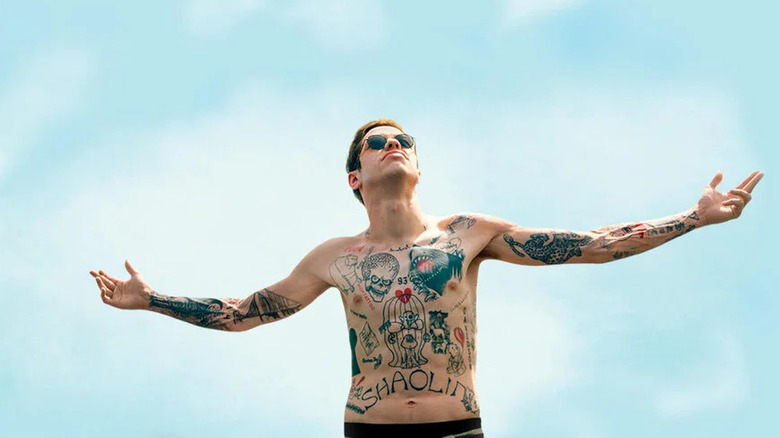 Universal Pictures
It appears that Pete Davidson knows more than he lets on though, and audiences are receptive to Davidson and his style of comedy for several reasons. He sort of grew up on "SNL" by starting out so young, and viewers have seen his skills improve with various new projects. Davidson also has a humble sincerity that shines through his comedy. He gives off the vibe that he's appreciative for his opportunities and is aware he's been lucky. Davidson also doesn't take life or responsibility too seriously, which could potentially be because of the tragic loss of his father, a firefighter who died in New York during the September 11 terrorist attacks, at a young age. It takes an incredible amount of strength to not only laugh after such a loss, but to put yourself in the public eye and make them laugh as well is that much more impressive. Davidson is candid and vulnerable with his personal stories, which can be refreshing to witness.
Once you are immersed in the world of entertainment, you can start to see how absurd the expectations can be and how society's focus can be single-minded and often cruel. It seems like Davidson understands this and tries to either dodge or laugh at the toxic traits the entertainment industry can produce. He knows what audiences enjoy and dislike about him, which allows him to embrace both sides in his bits. Whether you love him, hate him, or just don't understand him, he's still bringing a playfulness and relatable self-expression to the screen I think people crave these days.