'Trainwreck' Outtakes: Watch The Hilarious Improvised Riffs That Didn't Make The Cut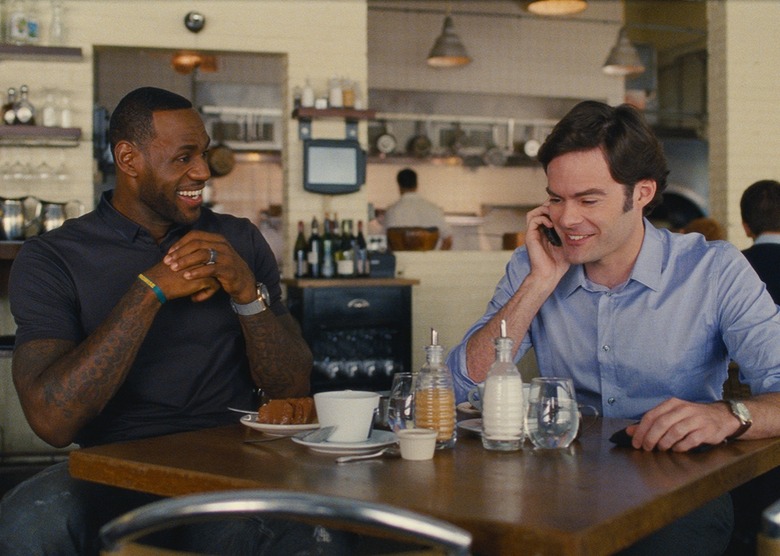 In typical Judd Apatow fashion, Trainwreck runs a bit long, thanks in part to its lengthy improvised riffs. But even at 125 minutes, Trainwreck had to leave a few bits of comedy gold on the cutting room floor. So Universal has released some of the best unused lines in a hilarious Trainwreck outtakes video. Watch it after the jump.
The Trainwreck outtakes went up on YouTube. There aren't any major spoilers (not that you could really spoil a movie like this anyway), but be warned it's very much NSFW for nudity and language.
LeBron James was the surprise scene-stealer of Trainwreck, and he's the surprise scene-stealer of the Trainwreck outtakes as well. You'd expect comedy veterans like Amy Schumer, Bill Hader, Vanessa Bayer, Randall Park, and Mike Birbiglia to be comfortable improvising, but James more than holds his own. If he ever gets tired of that whole basketball thing, maybe he can try auditioning for Saturday Night Live. His BFF Hader could probably put in a good word for him.
That last scene of him gushing about Cleveland might be the best part of the whole video, though some of the pitches from that S'Nuff staff meeting are pretty spectacular as well. I'd totally read "Get Your Girlfriend's Pussy That New Car Smell," if only out of morbid curiosity.
Trainwreck is in theaters now.
Since she was a little girl, it's been drilled into Amy's (Amy Schumer) head by her rascal of a dad (Colin Quinn) that monogamy isn't realistic. Now a magazine writer, Amy lives by that credo — enjoying what she feels is an uninhibited life free from stifling, boring romantic commitment — but in actuality, she's kind of in a rut. When she finds herself starting to fall for the subject of the new article she's writing, a charming and successful sports doctor named Aaron Conners (Bill Hader), Amy starts to wonder if other grown-ups, including this guy who really seems to like her, might be on to something.