TV, Interrupted: Amy Sherman-Palladino's Bunheads Had Its Dance Recital Cut Short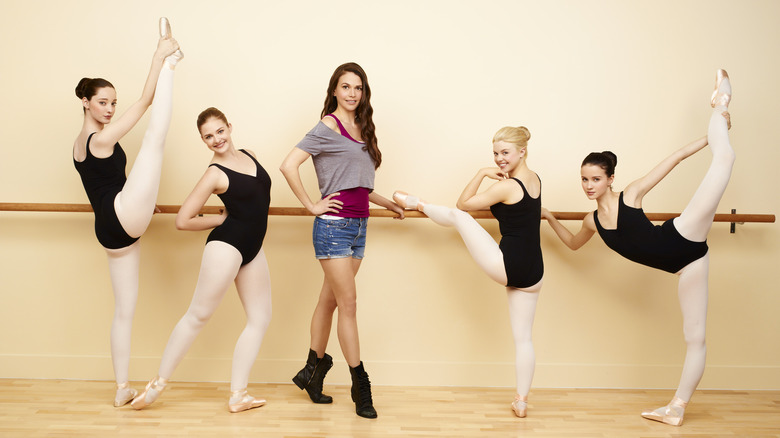 ABC Family
For one delightful yet short-lived season from 2012-2013, Amy Sherman-Palladino's "Bunheads" appeared on ABC Family. According to Fast Company, the network was searching for their own version of the hit musical series "Glee," but Sherman-Palladino convinced them to focus on dance instead. The title "Bunheads" is based on an obscure slang term for ballerinas, and perhaps it was this niche perspective that led to the series' swift cancellation. 
Broadway legend Sutton Foster stars as Michelle Simms, an unhappy Las Vegas showgirl who impulsively marries one of her earnest fans, Hubbell Flowers (Alan Ruck). She moves with him to his sleepy hometown on the coast of California, but their marriage only lasts for a day before he is killed in a car accident. The meandering thirtysomething decides to settle down for the first time and teach alongside her mother-in-law, Fanny Flowers (Kelly Bishop) at her local ballet school. Michelle also helps a group of her students with their adolescent struggles while she navigates adulthood.
"Bunheads" echoes Amy Sherman-Palladino's hit "Gilmore Girls" in the idyllic charm of a small town and its quirky community events, the rapid quips and obscure pop culture references, and the score's guitar strums and soft singing. Michelle has the same bubbly intelligence as Lorelai, but is more sardonic and unsure of her place in the world. The series was greenlit for the first ten episodes and then received a renewal for the "back end" of the first season, eight additional episodes that returned on January 7, 2013. The show did not receive an official cancellation until July 22, 2013 — and the news was devastating to many fans.
Why Bunheads was great
ABC Family
 "Bunheads" offers a fierce and funny depiction of women experiencing the growing pains of life, work, and love. Female characters take the center stage while a revolving door of supporting male characters stand in their shadow. Sutton Foster is just as dynamic on screen as she is on stage. With her thousand-watt smile, Foster brings her well-rounded character to life; her Michelle is wild, goofy, jaded, and compassionate all at once. 
Foster's effervescent performance works well alongside Kelly Bishop, who is less cold but just as regal as Emily Gilmore. Fanny is a wise and artistic mentor with a touch of eccentricity that makes her connect with Michelle so well. Together, Bishop and Foster make their characters' journey from strangers to family and respected colleagues engaging. 
The teenage ensemble showcased many different aspects of girlhood: the cynical Sasha grappling with her parents' divorce, the innocent Boo dealing with body image, Mel discovering how to channel her rage, and Ginny falling hard for different beaus. There's a sweetness and authenticity to their interactions that gets viewers invested in their adolescent struggles.  
"Bunheads" is just as much of a comfort show as "Gilmore Girls" with the added excitement of gorgeously choreographed dances (ranging from an angsty modern number set to They Might Be Giants' "Istanbul (Not Constantinople)," a disastrous "Nutcracker," and one piece inspired by recycling). The series is perfectly poised between biting comedy and emotional drama. Although it has a bit of an odd premise and speaks to very specific interests, its slice-of-life style is a joy to watch. 
Why Bunheads was canceled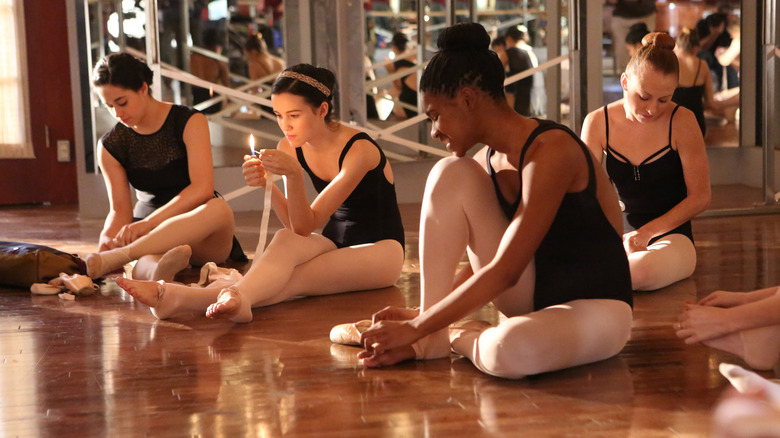 ABC Family
After its last episode aired in February 2013, "Bunheads" was selected to receive California's Film and Television Tax Credit of $5.82 million to fund the second season. When rumors started flying that the Paradise town sets had been torn down, several critics published pleas to renew the show. The gauntlet was finally laid down with the following statement from the network (via Playbill): 
'Bunheads' is a wonderful series that we are very proud to have aired. The series had amazing storytelling, the most talented cast and a passionate and loyal fan base. Recognizing all of this, we took extra time to try and find ways to bring the series back for another season, but in the end it simply wasn't possible. We wish the cast and crew the best in their future endeavors.
Why did ABC Family cancel "Bunheads" after such glowing praise and receiving millions? The series had trouble landing on its feet. It did quite poorly in the ratings, starting with 1.64 million viewers and ending with barely over a million. It was also a difficult show to film. The leads had to learn choreography in just two or three days while shooting the rest of the episode. 
This was also difficult because Sherman-Palladino scripts are notorious for being longer than most shows. While most hour-long shows are 50 pages and take over a week to film, "Bunheads" had to film 75 to 80 pages in one week. Since the majority of the bunheads were minors, they could not work long hours, requiring extra coordination for the shooting schedules.
Unfinished business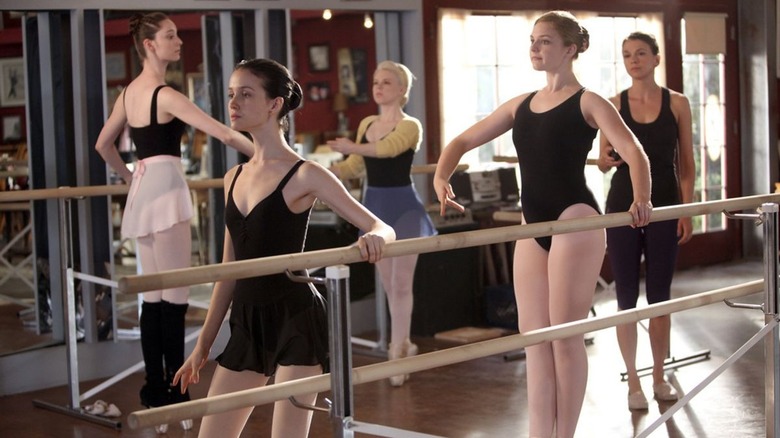 ABC Family
Since "Bunheads" only had one season, there was a lot left unfinished. The most significant storyline would have been the girls' exploration of sexuality and how it would affect their friendship. The final episode ends with Ginny tearfully confessing to Michelle that a boy has been ignoring her after losing her virginity to him. While Sasha and Boo were contemplating taking their relationships to the next level, Mel found herself unexpectedly falling for her brother's friend. The final dance, a modern performance set to "Makin' Whoopee" that juxtaposes their wholesome 1950s costumes with sensual moves, suggests a major shift in their innocent dynamic.
Michelle's storyline was left wide open. Would she find a way to get in touch with the piano player who was interested in her audition? How would Fanny react to the idea of her possibly leaving the studio? It would have been interesting to see Michelle growing into her role as an authority and mother figure to her students. Her romantic life was also left uncertain after she had several flings that never seemed to stick. 
We also never really got a feel for Paradise as a town — not as much as the saccharine Stars Hollow. Sherman-Palladino could have explored more of the environment outside of the ballet studio and oyster bar and the colorful townies that populated them. There were so many possibilities for "Bunheads" and it's a shame we were robbed of seeing these women discover more about their identities. 
Will Bunheads ever return?
ABC Family
Amy Sherman-Palladino was able to revive her beloved "Gilmore Girls" and give it the ending she felt it deserved after contract negotiations pushed her out of the final season. Unlike "Bunheads," "Gilmore Girls" lasted for seven seasons and was a cultural phenomenon. Its return after nearly ten years allowed audiences to see how Rory grew into adulthood and Lorelai and Luke lived as a couple. While "Bunheads" had devoted fans, it never got to establish the same type of rabid attachment. However, Sherman-Palladino doesn't completely write off returning to "Bunheads," telling Entertainment Weekly, "Look, in a heartbeat if they wanted to do something like that. Just to sit in a room with Sutton Foster, I'd do in a second."
It's hard to say how "Bunheads" could return and what that story would be, especially considering that the original teenage girls are now adult women and Sutton Foster may not be able to return with her Broadway schedule. Would Michelle and Fanny still be running the studio? Would the original girls live in Paradise or would they have gone off and pursued their ballet dreams? Would there be a new set of young, hopeful ballerinas to teach? "Bunheads" is a clever, endearing, and slightly weird show that celebrates all different kinds of women. It deserved to be in the spotlight for so much longer.