Why The Marvelous Mrs. Maisel Scripts Are 10-15 Pages Longer Than Most Shows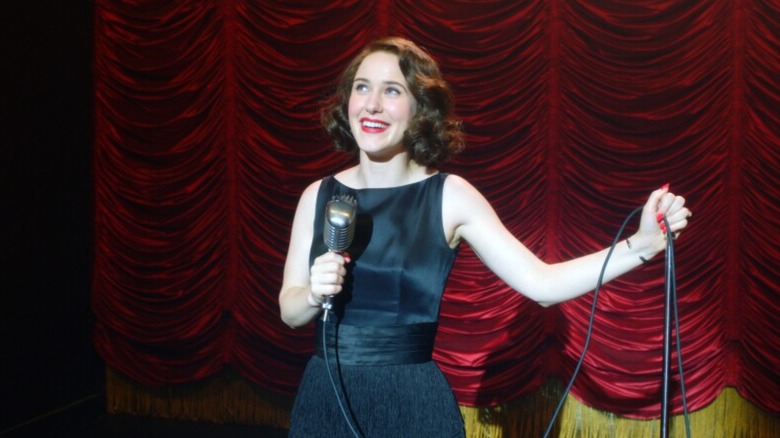 Amazon Studios
Amazon's critical darling "The Marvelous Mrs. Maisel" is memorable for a many reasons. The Amazon original series features decadent late 1950s design that makes the show and its stylish stars look like cake toppers come to life. The show about also features attention-catching performances, especially from Rachel Brosnahan as motor-mouthed housewife-turned-comic Midge. Midge can set up and knock down a punchline before you know what hits you, and steamroll onto the next one at top speed.
Gilmore Girls Set The Stage (And Speed)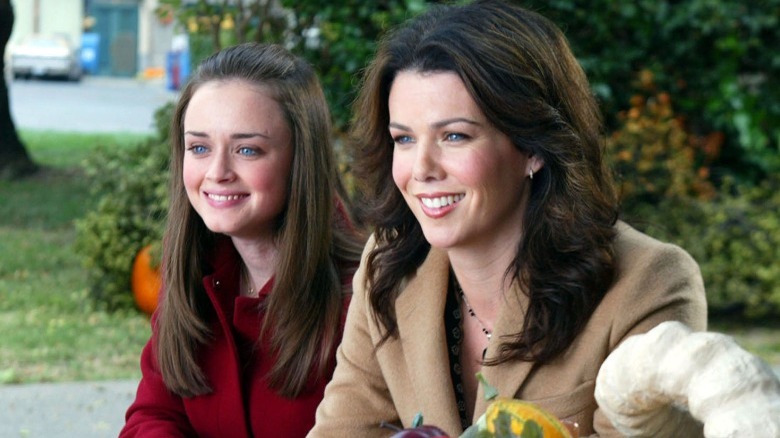 Warner Bros. Television
In fact, everyone in "The Marvelous Mrs. Maisel" talks fast, as is the signature of series writer-creator Amy Sherman-Palladino. Sherman-Palladino has been working in TV writing since the '90s, and cut her teeth on "Roseanne" before moving on to create, write, direct, and executive produce "Gilmore Girls." When the Connecticut-set mother-daughter series hit the airwaves, its actors quickly became known for their lightning-speed line deliveries.
As Vox points out, the series ended up with scripts that were nearly double the expected page count for the typical runtime of "Gilmore Girls." The cast even had to work with a dialogue coach to maintain the breakneck speeds required by Sherman-Palladino's scripts. In a backstory that sets up a sort of chicken-egg scenario, the women of "Gilmore Girls" are pop culture addicts who are addicted to coffee, so their quick quips and references make sense in context. Did the lengthy scripts inform the characters' speedy personalities, or vice versa?
It's hard to say, but given that the lengthy scripts continued in Sherman-Palladino's future projects, they appear to simply be her style of storytelling. The characters in the series develop a conversational rhythm that's unyielding and constant, with tonal shifts and jokes layered within the forceful flow of the rapid-fire script. Many of the most disorientingly fast scenes take place between Midge and her overbearing parents, Abe (Tony Shaloub) and Rose (Marin Hinkle) Weissman.
Testimonies From The Amy Sherman-Palladino School Of Fast Talkers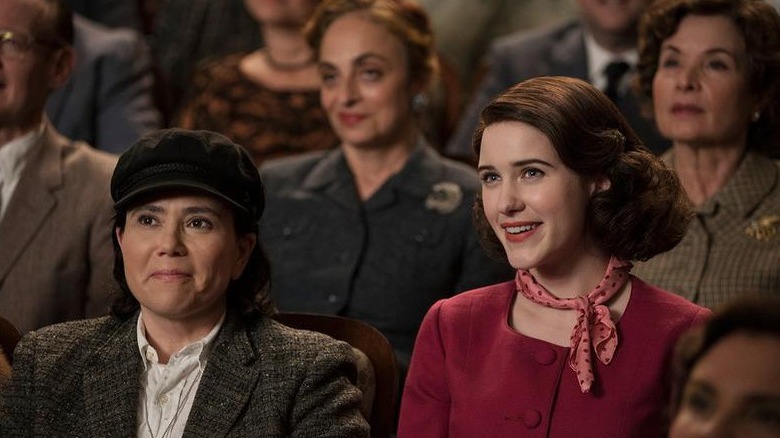 Amazon Studios
Shaloub called the quick speaking his biggest challenge on the show, telling The Wrap "You don't have a lot of time for psychology and reflection. You just go. It was a bit of a learning curve to get up to that speed." He also points out that the pace and rhythms of language require "a way of listening at high speed," one that surely applies to both actors and viewers alike.
Brosnahan told Harper's Bazaar that "The Marvelous Mrs. Maisel" has scripts that run longer than most other TV productions, though as of season one, they hadn't quite hit "Gilmore Girls" status yet. "Our scripts are about 10-15 pages longer than normal," she shared, "and a lot of those ten pages typically are taken up by a gigantic stand-up set of some kind. It's a lot of talking." Midge's gift of gab translates perfectly into standup, a surprise skill-set she didn't know she had when the series began. She delights audiences, even as she offends the more traditional sensibilities of some of her family and friends.
The actress says she didn't notice the length of the pilot script until mid-way through production, but her co-star, Alex Borstein, thinks Sherman-Palladino scouts actors who have a handle on rapid-fire dialogue. She seems to have thought about the dialogue speed a lot, given that she cites it as a commonly asked question while speaking with Entertainment Weekly. Her theory? "I think Amy tends to hire people she already knows are fast talkers. I've always been a big mouth and a fast talker, and I think Rachel's the same," Borstein explains.
Sherman-Palladino may not have foreseen the mile-a-minute dialogue that makes up "The Marvelous Mrs. Maisel" when she wrote her first extra-length script, but it's clear what she's doing is working. The series has won a whopping 20 Emmys to date, including one for that phone book of a pilot script.