The Marvelous Mrs. Maisel Season 4: Release Date, Cast, And More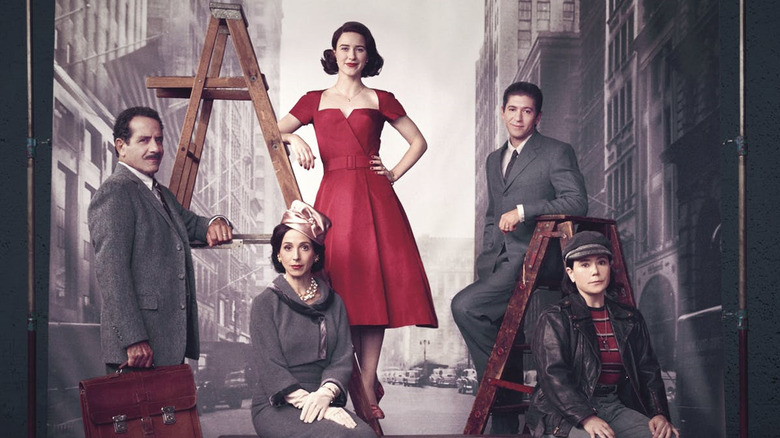 Amazon Studios
(Welcome to ...And More, our no-frills, zero B.S. guide to when and where you can watch upcoming movies and shows, and everything else you could possibly stand to know.)
The last time a new episode of "The Marvelous Mrs. Maisel" aired, it was on December 6, 2019, mere months before the U.S. would go into lockdown. The season 3 finale has its titular lead kicked off of her comedy tour after she casually flirts with outing the main act. After a pandemic-long wait, Midge is back and ready to continue the journey. Amazon's hit original series returns for its fourth season, to premiere two episodes weekly starting on February 18, 2022. The show, which charts the professional arc of housewife Midge Maisel's mid-century stand-up career, has enjoyed critical praise ever since its 2017 debut. Showrunner Amy Sherman-Palladino has received a Golden Globe Award for Best Television Series – Musical or Comedy and Emmys for Outstanding Comedy Series, Outstanding Directing, and Outstanding Writing, with stars Rachel Brosnahan, Alex Borstein, and Tony Shalhoub earning awards for their performances, as well. There's plenty to look forward to for the next season, especially if you're a "Gilmore Girls" enthusiast.
The Marvelous Mrs. Maisel Release Date and Where To Watch It
"The Marvelous Mrs. Maisel" comes back around for its fourth season early in 2022, with two episodes dropping every week starting on February 18, 2022. The streaming service continues to take a different approach from competitor Netflix, which drops entire seasons at once for maximum binge-watching efficiency; instead, Prime Video originals release one or two episodes at a time with the aim of hooking viewers to return week after week. Last season, Nielsen reported that the show's viewership is up by 60% from season 2; an average of 3.2 million viewers tuned in to the first batch of season 3 episodes within the first week of their release. On average, "Maisel's" third season had over 600,000 viewers engaged on each premiere date, and the hype has folks ready to tune in again for season 4.
What Is The Marvelous Mrs. Maisel About?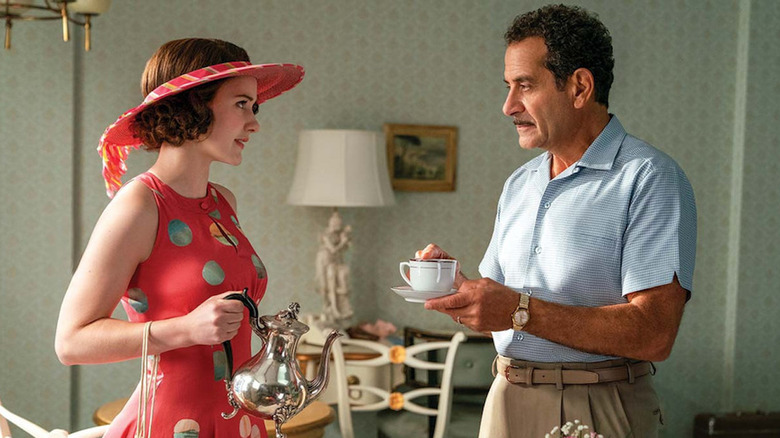 Amazon Studios
"The Marvelous Mrs. Maisel" is set in late 1950s/early 1960s New York, and it stars Rachel Brosnahan as housewife Miriam "Midge" Maisel, an upper class Jewish American woman who learns that she can tell a joke pretty well, and pursues a career in stand-up comedy with the help of manager Susie (Borstein). Weathering the jealousies of mediocre men and the pitfalls of the show business industry, Midge spends the first few seasons finding herself and committing to a stand-up career, despite a lack of support from many in her life.
Season 3 saw Midge embarking on a USO tour with singer Shy Baldwin (Leroy McClain), whom she uses for material in her act, nearly outing the closeted gay artist. This results in the series cliffhanger that left Midge at the airport after Shy dropped her from the tour. Meanwhile, manager Susie has squandered much of the stand-up money on sports betting, and decides to pull an insurance scam to make things square again, setting her late mother's house aflame. There are a lot of loose ends to tidy up, including those of Midge's ex-husband Joel (Michael Zegen), whose new flame Mei (Stephenie Hsu) may or may not be pulling him into a racketeering scheme. Here is the synopsis for season 4:
It's 1960 and change is in the air. Looking to hone her act, Midge finds a gig with total creative freedom. But her commitment to her craft – and the places it takes her – creates a rift between her and the family and friends around her.
The Marvelous Mrs. Maisel Cast and Crew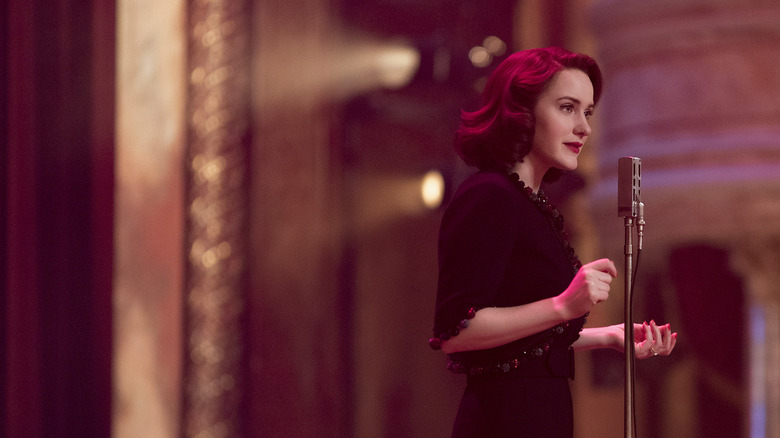 Amazon Studios
In addition to Brosnahan and Borstein, playing their starring roles as Midge and her manager Susie, Michael Zegen, Marin Hinkle, Tony Shalhoub, Kevin Pollak, Caroline Aaron, and Jane Lynch also reprise their roles from previous seasons. Fan-favorite Luke Kirby returns as the infamous comedian Lenny Bruce, and Mrs. Maisel's ex-husband Joel (Michael Zegen) comes back alongside Joel's girlfriend Mei (Stephanie Hsu). The familiar faces are joined by fresh-to-the-show talent including "Gilmore Girls" alum Kelly Bishop and Milo Ventimiglia, and Jason Alexander ("Curb Your Enthusiasm").
While it's unknown the exact role Ventimiglia is playing, he appears to be either a love interest or a rival for Midge — or both. Meanwhile, Susie is still struggling with growth; a teaser shows her renting out a new office under the business name Susie Myerson and Associates. At the same time, Susie's family relationships continue to get a look under the microscope as she reconciles with her sister in the wake of their mother's death. Tune in on February 18 to see the next chapter in the marvelous story.