Steven Spielberg Didn't Have To Look Far For His War Horse Research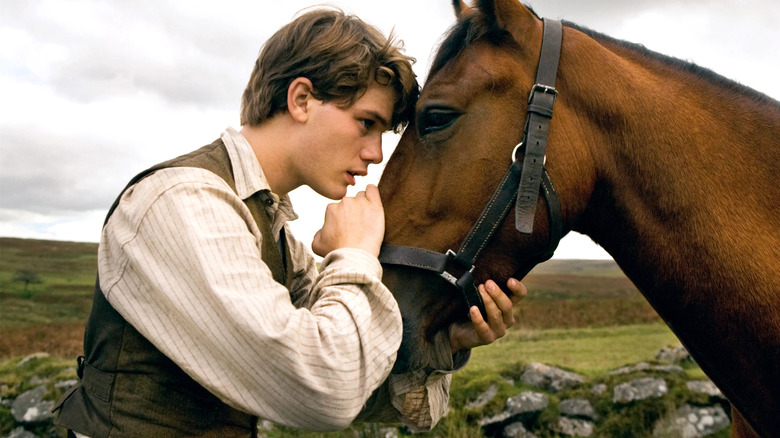 Disney
In Hollywood, they say it's all about who you know. In Steven Spielberg's case, that mantra rang true in his bid to make the historical war drama "War Horse." The 2011 film, based on Michael Morpurgo's best-selling novel of the same name, offers a unique perspective of World War I. The narrative is told through the eyes of Joey, a horse, who is purchased by a poor farming family in the English countryside. When the war begins, Joey's owner sells him to the army, much to the chagrin of the owner's son, Albert (Jeremy Irvine). We follow Joey's horrific journey on both sides of the battlefield until he miraculously returns to Albert.
Spielberg is no stranger to war dramas, with iconic films like "Schindler's List" and "Saving Private Ryan" in his filmography. But "War Horse" serves another purpose. It is the filmmaker's homage to classic cinema, with sweeping landscapes that resemble a John Ford western, and a final scene ripped straight from the iconography of "Gone with the Wind."
Although the film's style is different from his other movies, historical accuracy was still paramount to Spielberg. Painstaking efforts were taken to ensure an accurate portrayal of World War I. That's where a new friend of Spielberg's came into play. Many of the artifacts for the period piece came from an unexpected source — one that he'd only recently met.
Peter Jackson provided many of the film's artifacts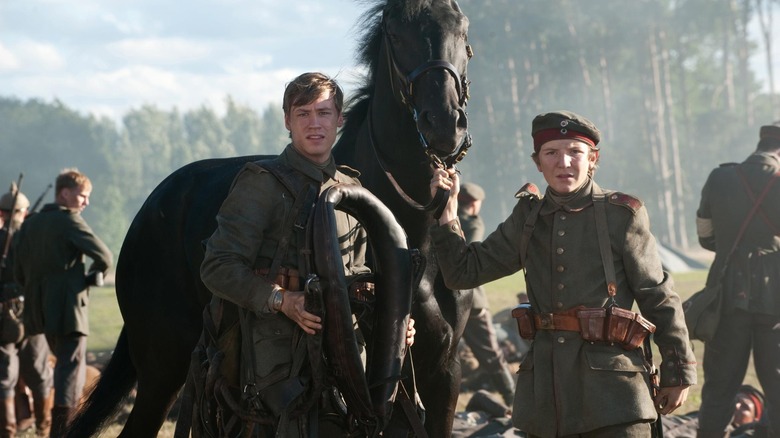 Disney
One big challenge was re-creating the aesthetic of the Great War. After all, it's not like you can find tons of World War I memorabilia just laying around. Thankfully, Spielberg had to look no further than the producing partner on his prior film. Earlier that year, Spielberg directed and co-produced the animated film "The Adventures of Tintin" with Peter Jackson. It was the first time the Hollywood giants worked together, a partnership that would pay immediate dividends for Spielberg.
As it turned out, Jackson is an avid war memorabilia collector, and is especially interested in World War I — he even made his own documentary about the subject several years later called "They Shall Not Grow Old." When it came time to acquire artifacts for the production of "War Horse," the creator of "The Lord of the Rings" trilogy was happy to oblige. As Spielberg recalled:
"[Jackson] sent about three cargo containers to the U.K., free of charge. He pretty much lent me his entire World War I collection."
It was always about the horse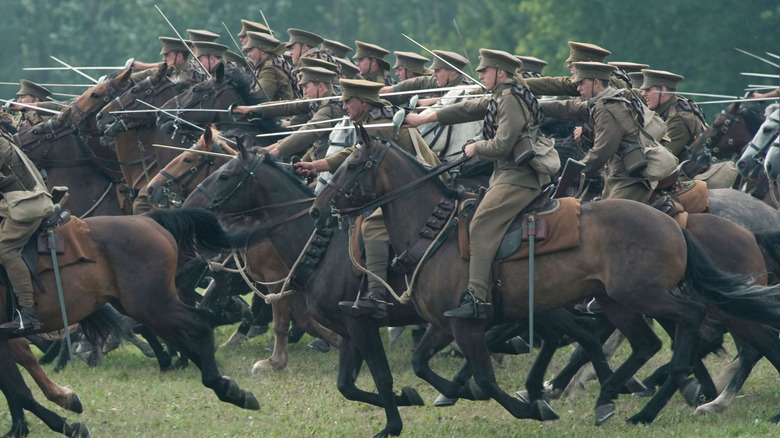 Disney
Like most Spielberg movies, "War Horse" was a monumental undertaking from a production standpoint. According to The Hollywood Reporter, the film featured 5,800 extras and 300 horses. To research the era, Spielberg's team scoured materials from England's Imperial War Museum. The director was surprised at what they found:
"I was not prepared for how many millions of horses perished during the Great War – it was over 4 million. And it wasn't all in close combat; a lot was just through malnutrition and mistreatment."
Spielberg said he wasn't drawn to the story because of the World War I setting, but rather the horse, Joey, and the relationship with his owner. "It was how Joey linked disparate characters together and the length to which Albert went to find him," the director said.
That blend of human-level connection with period-accurate details was integral to the film's success — as was the movie's preference to utilize practical effects wherever possible. The movie's production designer, Rick Carter (who won an Oscar for his work on "Avatar"), told Deadline that "War Horse" was the "polar opposite" of effects-laden sci-fi films like "Avatar."
"The job was not to create a new reality, but rather to take a living landscape and make it as much a character in the film as any human being," Carter said of re-creating World War I in the film. The production team's dedication to verisimilitude, thanks largely to Spielberg's new friend Peter Jackson, paid off. "War Horse" grossed nearly $178 million and was a critical success, garnering six Academy Award nominations, including Best Art Direction.