Visiting Weta: An Exciting Look At The Making Of 'The Adventures Of Tintin'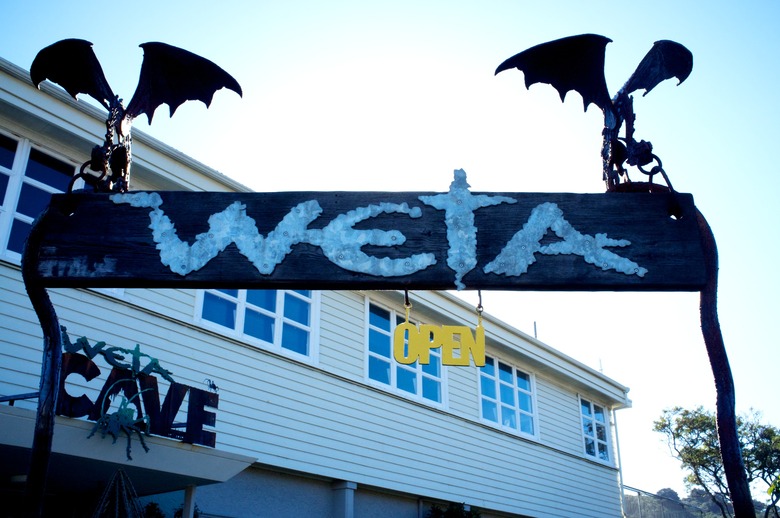 I admit to having been pretty skeptical when I first saw the trailer for The Adventures of Tintin: The Secret of the Unicorn. We've seen on several occasions how advanced motion capture technology can fail even the most talented of directors, and the teaser trailer did nothing to assuage my fears that this would happen again with Tintin. But then I heard good buzz about the film coming out of Comic-Con, and I started to get excited by this Spielberg/Jackson collaboration.
This week, Paramount Pictures invited /Film on a trip to Wellington, NZ to visit Weta and see a presentation on the film. I accepted this opportunity and made the brutal flight to New Zealand from Boston, MA, joining several other representatives/writers from some of your favorite entertainment sites. Over the next week or two, I hope to post up some further quotes and thoughts from the visit. In the meantime, after the jump, you'll find a description of what it was like to visit one of the top special effects houses in the world, as well as my impressions of the footage shown to us from the film
[Throughout this post you'll find images from the film. After the jump: an exclusive image from Tintin].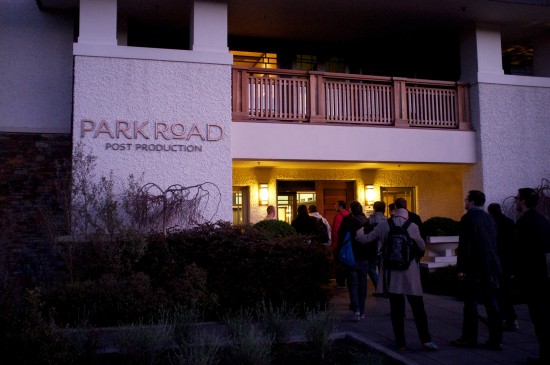 Our day started at 6:45 AM, when a couple dozen of us were whisked away from our hotel room to Park Road Post Production for a light breakfast. The first order of the day was a conference call with Steven Spielberg & Peter Jackson, in which they showed some of the footage from the film and discussed their creative process. It is difficult to describe what it was like to sit 10 feet away from Peter Jackson while next to him, Steven Spielberg chatted with us and answered our questions through a polycom linkup on a large TV screen. To see these two giants of the film world next to each other and sharing their thoughts on working together was a film geek's dream come true indeed.
At the Comic-Con panel the other day, Peter Jackson made reference to some test footage he shot to see what it would be like to combine a live-action human with a CGI dog (Snowy). Jackson decided to show us all this footage. Given that they ended up deciding not to go this route, I expected the footage to be distracting and tacky, but what was shown was actually a charming scene, all done in one take and one shot, in which Peter Jackson dressed up as Captain Haddock and explained to the viewer why he should be the actor who is chosen for the role. A CGI Snowy yipped around in the background, eventually becoming inebriated off of a bottle of Haddock's alcohol, passing out and falling into the water, while Jackson jumped in after him. Spielberg explained that it was this footage that made him decide not to shoot the film using live action actors. While I understand this decision totally, I still found the scene to be cute and enjoyable, if not entirely convincing.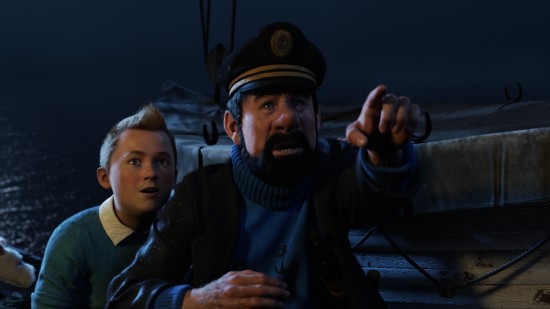 Subsequently, we were shown two scenes from The Adventures of Tintin; one in which Tintin is captured and placed in a shipping container while his dog Snowy takes off after him, and another breathtaking sequence in which Tintin and Captain Haddock fly through a spectacular storm over the ocean before crash-landing into a desert. Some of the special effects, sound mixing, and animation were admittedly incomplete, and they had just looped in John Williams' score, recorded only two days prior. But despite this, the footage exuded a level of polish that was quite impressive and I found myself wrapped up in what was going on and longing for more.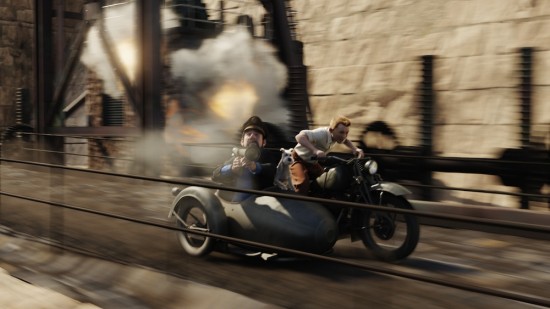 The lighting in this film is phenomenal; great care was taken to achieve a photorealistic look, and I think this film comes achingly close. Certain scenes are indistinguishable from real life, while others stray a bit further away. I'm not yet ready to say that the uncanny valley has been bridged via this film, but every time one of these movies comes out, it pushes the boundaries a little bit more and I am grateful for it. Tintin will likely deserve plaudits for just how close it comes to making you forget you're watching an animated film.
[Side note: Williams' score sounds amazing, a throwback to his scores for adventure films from decades past. I can't wait to hear it in its entirety!]
After this, it was off to the mocap stage. We entered a gymnasium-sized room, where dozens of sensors lined the ceiling and were pointed at the floor, covering every conceivable angle so as to detect motion-capture sensors regardless of any obstructions. On one side of the room was a huge bay of computers, while the middle of the room was taken up by the "furniture" that occupied the scene, as well as actors dressed in mocap suits.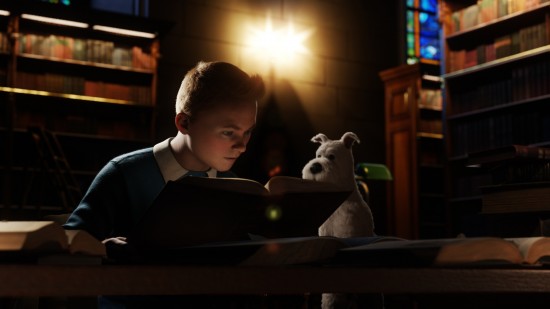 I've read about how James Cameron achieved the mocap look that was used in Avatar, and I've read about the capabilities of "virtual cameras" many times in the past. But seeing it in action is a totally revealing, jaw-dropping experience.
To demonstrate what these cameras were capable of, Jackson grabbed one and pointed it at the actors. To the side of the room, on giant, mobile Sony Bravia TV screens, one could see a reasonably approximate version of the footage from the final film, with the characters animated and rendered IN REAL TIME according to the actors' movements. As visual effects artist Joe Letteri explained, the purpose of such studios is to try to bridge the gap between old-school filmmaking and digital filmmaking. This sort of technology allows filmmakers such as Jackson to hold a physical camera and conceive of shots conventionally, while still taking advantage of the complete and utter freedom that the technology allows.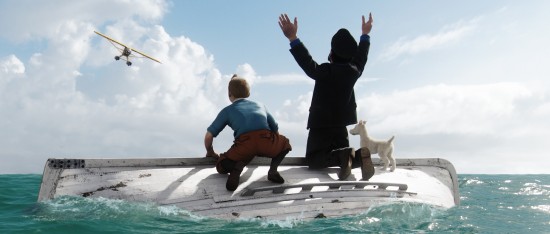 Before lunch, we headed over to Weta Digital, where artists demonstrated the technology they used to achieve the fine facial movements of Captain Haddock. We also toured the rest of the Park Road Post facility, where the sound for the film is being mixed, and saw how the sound engineers layered the sounds we heard in the finished clips.
Since Tintin is obviously an animated film, all of the sounds had to be created from scratch. The foley stage at Park Road Post Production is a bizarre delight, an isolated, messy room of analog contraptions in an ultra-modern building responsible for creating cutting edge digital creations. Rocks, sand, random blocks of wood, beat-up furniture, and other worldly possessions were strewn about, the building blocks of Tintin's sonic world. We were then shown a scene in which Tintin, Haddock, and Snowy are stuck at sea. Sound engineers isolated the sounds of individual characters, demonstrating how much texture their work added to the whole process.
At lunch, Eric Vespe from Ain't It Cool News chatted with me about his reaction to the day: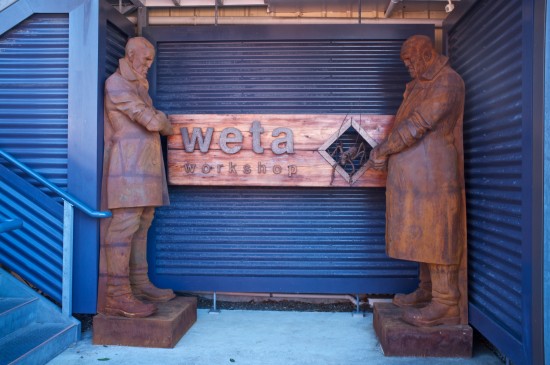 After a quick lunch, we were treated to a presentation at Weta Workshop by Richard Taylor, the co-founder of Weta, who described the design process for the film along with artist Chris Guise. Guise and others were tasked with converting Hergé's original drawings into realistic, three-dimensional images. Together, Guise and his team churned out over 2,500 images, which they provided to Spielberg and Jackson, who in turn decided on the look of the film. All along the wall of the Weta Workshop conference room were stunning, realistic renderings of Hergé's panels.
We concluded the day with a quick visit to the Weta gift shop. Below are some shots from the Weta Workshop lobby, as well as from the gift shop. It is a place of wonders:
I'm one of those guys that bought the special edition DVDs of films I loved, then spent hours devouring all of the special features. Visiting Weta was like watching the special features section of the Tintin DVD, only doing it live while the creation is still in process. It was enough to melt any movie geek's heart, and I'm grateful I got to witness part of the process.
Keep checking back at slashfilm.com during the next week for more in-depth info about Tintin, along with some more of my adventures in New Zealand.