Every Season Of Justified Ranked Worst To Best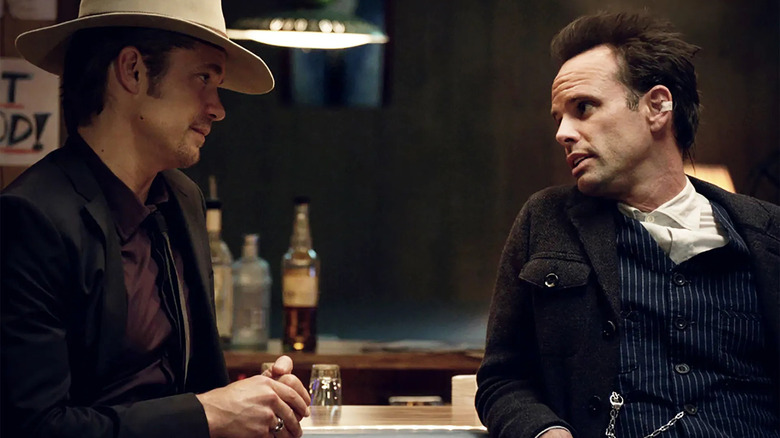 FX Network
Following the failure of 2013's "The Lone Ranger," The Atlantic published a piece by Michael Agresta about why the Western movie matters. It posited that Hollywood's recent offerings around that time ("Cowboys & Aliens," "Jonah Hex") misunderstood the genre's appeal and necessary themes. "For a century plus," Agresta writes, "we have relied on Westerns to teach us our history and reflect our current politics and our place in the world. We can ill afford to lose that mirror now, especially just because we don't like what we see staring back at us." Agresta wasn't wrong, but the Western he desired was underneath his nose — on television.
In the opening moments of "Justified," a Stetson hat-wearing marshall named Raylan Givens (a career-best Timothy Olyphant) walks onto a Miami, Florida roof deck, Cubano-tinged rap music blaring, and confronts a fugitive suspect (Peter Greene). There's crackerjack dialogue. A standoff ensues. The soul of this exchange is Western through and through, even if the adornments aren't, and it encapsulates Graham Yost's "Justified" in microcosm. 
Throughout six stellar seasons, Yost and his exceptional team told a story of American ambition and its foibles, class warfare and crime, and the impossibility of getting out of Harlan County, Kentucky alive. It was a modern Western for modern times, the "Lonesome Dove" and "Bonanza" the 2010s deserved. Whether you like the genre or not, it is a must-watch that reflects, with empathy, the bruised heart of America. Here is every season of "Justified" ranked.
9. Season 5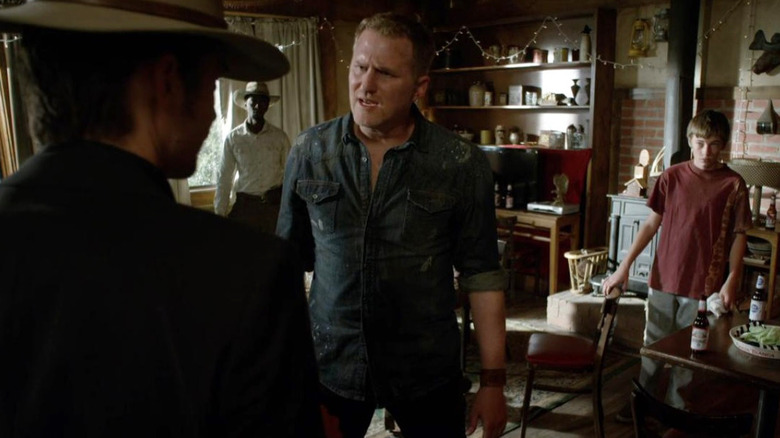 FX Network
Season 5 of "Justified" is the calm before the storm, an extended lead-up to Season 6 that positions Raylan and Boyd for one last showdown. On that level, it succeeds. On every other, it's a sterling disappointment. That sounds like a contradiction, but it's not, at least so far as "Justified" is concerned. The show still looks and feels fantastic, and every single series regular pulls their weight on-screen as per usual. Timothy Olyphant still simmers as Raylan, and Joelle Carter gets to stretch her acting muscles as a now prison-bound Ava. 
What's more, the show's penchant for against-type villain casting continues. Picking Michael Rapaport, consummate New Yorker, to play ultimate Florida Man Daryl Crowe Jr., the season's sugar-smuggling bad guy, is either an act of genius or madness. This is still good, compelling television, but the fifth season simply doesn't prove itself as the best version of "Justified."
8. Why does Season 5 fall short?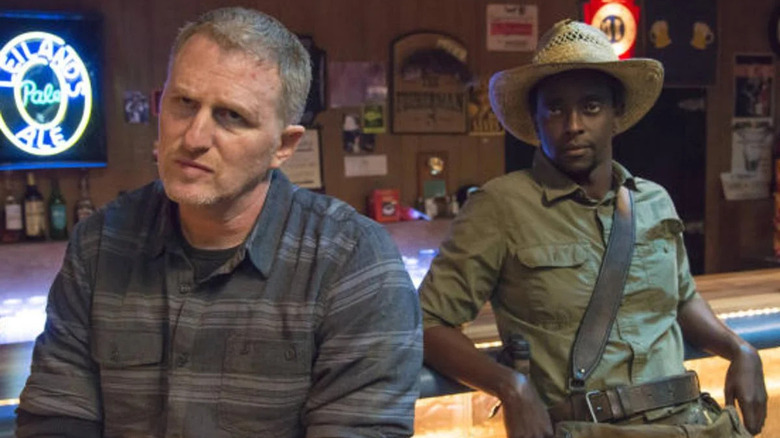 FX Network
"Justified," at its core, is a story about the power of people's predispositions. Sometimes they wrestle with them. Other times, they give in to them with stunning severity. But it's the collision of these predispositions and their Harlan, Kentucky setting which leads to the best and most powerful strains of "Justified." This is the story of the Bennett family in Season 2. It is, undoubtedly, the story of Boyd Crowder. It's not the story of the Crowes. 
The Everglades redneck family hails from the Sunshine State, which means their behaviors as outsiders bring Harlan County into shape relief. That isn't objectively bad, but it means the show must work overtime to let us in on their particular, Eastern Southern predispositions; it ultimately fails to. This means "Justified" Season 5 is still a solid crime saga, but ultimately a cut below what audiences come to expect from Graham Yost's frequently excellent show. (On the plus side, the 21-foot rule was very, very funny.)
7. Season 1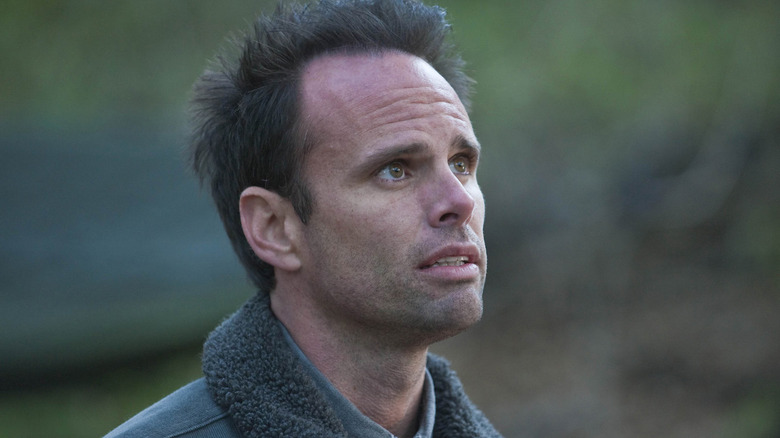 FX Network
The two wisest decisions in "Justified" history occur during Season 1, the first of which is ditching a "case of the week" story structure. While Raylan tracking down a cavalcade of petty criminals for the U.S Marshall's is entertaining and leads to some terrific guest spots (particularly Alan Ruck and Jere Burns, who parlayed his first appearance as Wynn Duffy into a recurring role), it lacks the cumulative power of later seasons' serialized storytelling. "Justified" went long form and became the better for it. That happens throughout its first outing, which shifts its focus to Boyd Crowder in deliberate increments and builds to the terrific season finale "Bulletville."
The second great decision the first season makes, of course, is keeping Boyd Crowder alive. Boyd was meant to die at the end of "Fire in the Hole." Walton Goggins, who turned down the one-off role of Boyd twice, signed on because he adored Timothy Olyphant and Graham Yost's work (and was friends with Olyphant). Goggins reworked Boyd's central motivation and all involved knew they'd struck gold. Season 1 is "Justified" pivoting, almost in real-time, from the show it thought it was going to be to a TV classic. Walton Goggins' Boyd Crowder is the axis of its journey. That means that the episodes centering in and around Harlan's most volatile son are largely excellent. The ones that confine him to the background are only delaying their greatness.
6. Season 3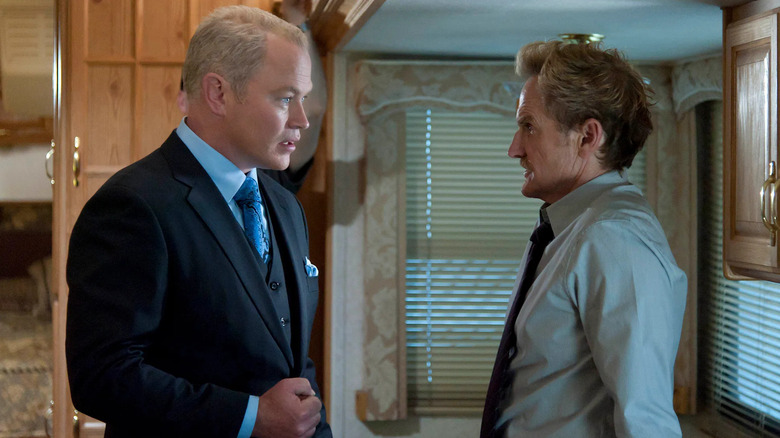 FX Network
Season 3 of "Justified" has the impossible task of following Season 2. This is a champagne problem for television shows to have, and Graham Yost's Western was hardly the first to try and top a near-perfect, breakout season. To their credit, they almost succeed. Season 3 is full of colorful additions to Harlan, KY, including the barbecue-favoring Limehouse, played with hypnotic razor-edged charm by Mykelti Williamson. He's almost overshadowed by the carpetbagger Robert Quarles (Neal McDonough), a Tonin Crime Family lieutenant from Detroit who aims to make Harlan his own and quickly deteriorates from put-together criminal to pill-popping lunatic. McDonough has made a career of stellar, underappreciated work and this might be the crown jewel of his filmography. What's more, recurring players like Wynn Duffy (Jere Burns) and Dewey Crowe (Damon Herriman) show up in excellent installments. 
Why, then, isn't this season ranked higher? Simple: When "Justified" leaves Harlan, it stumbles. The Tonin family comes to represent a major threat throughout Season 3 (and the Motor City is certainly an essential part of Raylan Givens' mythology; the revival series "Justified: City Primeval," is inspired by Elmore Leonard's book "City Primeval: High Noon in Detroit"), but the show and its creators fail to make it feel as lively and important as Harlan. What could be a colorful extension of the Elmore Leonard universe instead feels like a misstep or overreach. There's little doubt that "City Primeval" will offer a course-correct, but the fact remains that Season 3 is entertainingly uneven.
If you or anyone you know is struggling with addiction issues, help is available. Visit the Substance Abuse and Mental Health Services Administration website or contact SAMHSA's National Helpline at 1-800-662-HELP (4357).
5. Season 4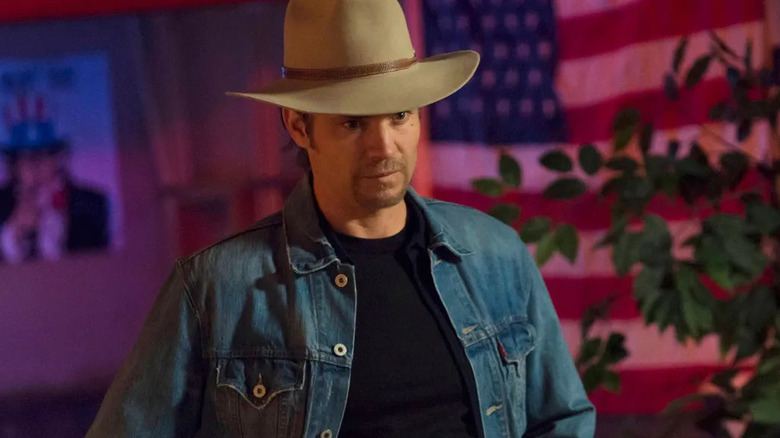 FX Network
In Season 4 of "Justified," the people of Harlan learn who they really are, which is fitting. The third-best outing of Graham Yost's show revolves around the identities of Drew Thompson and Waldo Truth and how both connect to the Givens and Tonin families. Who Thompson and Truth are — and what they can (or could) have offered — is the lynchpin of this season's many excellent stories. If some of the answers prove disappointing, that's by design. 
Raylan Givens has always fancied himself a man whose blood-stained hands are justifiably red. By the time the season finale "Ghosts" is through, it's clear that Raylan has learned just how far he'll go to save a loved one and that doubt about his role within the law has crept into his brain. Ava wanted to start a normal life and transcend the broken home and savage violence which introduced her to audiences. By season's end, she's in prison. The series of gut checks dished over the 13 episodes that comprise the fourth installment of "Justified" are real and existentially troubling. This is the show at its most haunting. Through Patton Oswalt's Constable Bob, however, it's also the show at its most hysterically awesome.
4. Why Constable Bob embodies the best of Season 4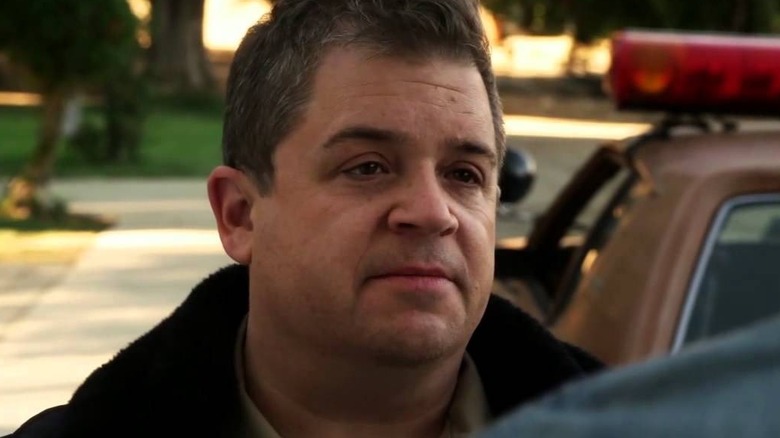 FX Network
Patton Oswalt was another surprising casting coup for a show that dolled out many in its first three seasons. But I don't think even Oswalt's most devoted fans or "Justified" stans could have predicted the incredible knock-down centerpiece of "Decoy," in which Bob not only saves the day but steals the episode's thunder from Raylan and Boyd altogether. 
This fan favorite scene is emblematic of the "Justified" writing room at its best. It sets up false expectations for a character and leaves just enough bread crumbs for a plausible subversion of said character. The turn that follows reinforces the story rather than takes it in a whole new direction. Elmore Leonard knew that humans were capable of anything, no matter how charming or meek or evil they seemed. The inverse was always possible and often one situational outcome away. "Justified" gets this, too, and shows it plainly through Constable Bob and his rather awesome go kit.
3. Season 2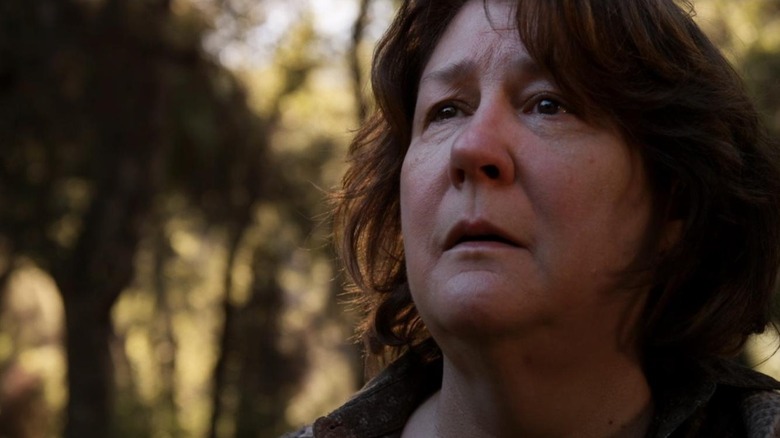 FX Network
Margo Martindale. That's all anyone has to say about Season 2 of "Justified," though it's worth saying more. There isn't a single creative involved in the sophomore effort of Graham Yost's show who doesn't step up to the plate and bash it out of the park. Timothy Olyphant settles into the role of Raylan and finds new nuance in his swagger. Walton Goggins convinced us Boyd's gone straight right until he breaks bad again. Jeremy Davies and Brad William Henke, who have anchored entire shows on their own, show up in supporting roles that have the blunt force impact of star turns. 
If that wasn't enough, Season 2 of "Justified" locks the show's themes in with purpose. At its core, "Justified" is a show about families and how life in the impoverished American South weathers at and warps a clan's history and present. More often than not, characters are scraping to get out from under their current lives and childhood upbringing. Some want to restore their family's honor (like Martindale's Mags Bennett). Others want to make a name for their family by any means necessary. Family is the albatross around your neck that can also lift you, but the weight of it is tree-like. No wonder no one leaves Harlan alive.
2. The Bennetts made Justified better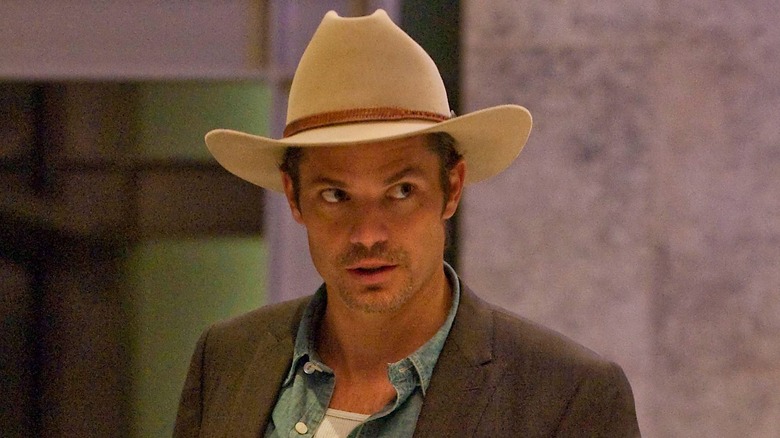 FX Network
These ideals were embodied masterfully through the Bennett family, arguably the best set of antagonists Raylan ever faced down short of Boyd Crowder. Where Boyd is a dark reflection of Raylan, Mags is parental for better and worse. Raylan admires her and wants to offer the olive branch to stem the generations of fighting between their families. Her illegal operations and his role as a marshall make that impossible. 
When the season comes down to the two of them sharing a deadly spiked moonshine, the loaded camaraderie becomes clear. It should be noted, too, that Raylan's handling of the Bennetts is as funny as "Justified" ever got. Dickie's baseball analogy riddled beat down of Raylan is hysterical. Not to mention, almost every line for Loretta McCready (a pre-fame Kaitlyn Dever) is both dry and acerbically funny. Season 2 of "Justified" made the show the best version of itself, though it would only eclipse the highs it offered in its final, majestic bow.
1. Season 6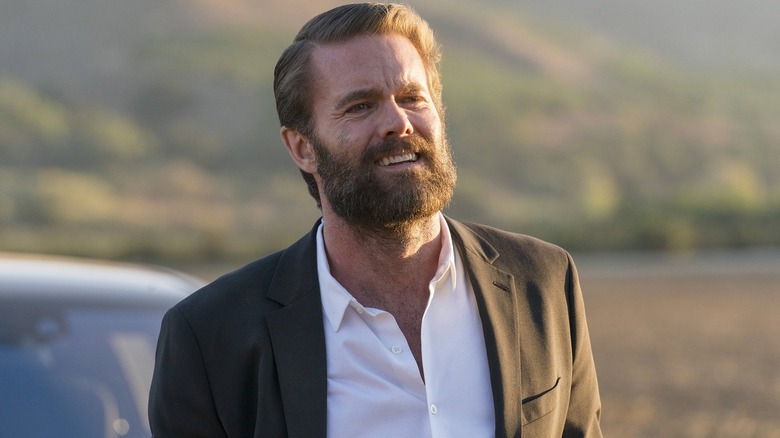 FX Network
"Justified" ends as it began. That's only sort of a spoiler, and, if you've yet to encounter Graham Yost's show before reading this article, it is also the highest possible encouragement to do so. When we first meet Raylan, he is the angriest person his loved ones know. The question that hangs over 75-plus episodes of "Justified" is whether or not Raylan can grow beyond his anger and still be an officer of the law, whether he is even capable of growth as a person. Those questions, in their own way, also applied to Boyd and Ava. When "Justified" chooses to answer them at Season 6's end, it makes clear that its abiding love for character quirks and whip-smart dialogue was emblematic of its actual belief in people. 
There's a reason that so many of the lowlifes who populate Harlan are likable. It's not just an exercise in style. With its final offering, "Justified" cements itself as one of the most humane and endearing Westerns to ever air on television. The showdown with your enemy is, in the end, less important than the one you have with yourself. Leaving Harlan alive doesn't mean anything if you're a shell of yourself in the end. For those "Justified" characters who do ride off into the sunset, they do so as fuller and better people, if only marginally. There is zero doubt that those who watch the show do, too.