A Whole Lot Of Teen Wolf Chemistry Carried Over Into Superman & Lois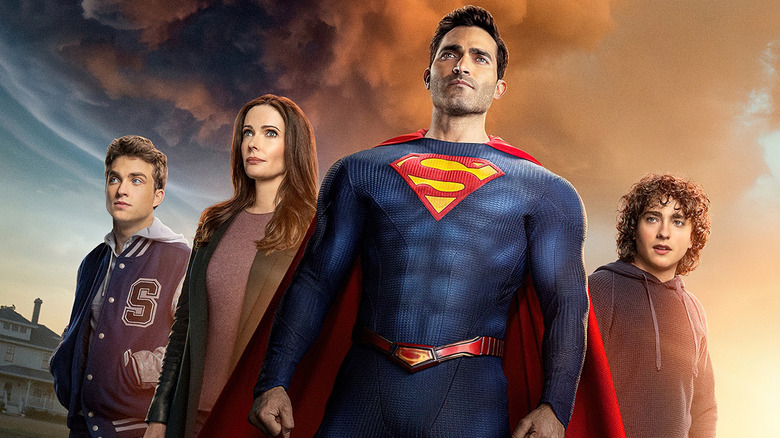 The CW
In "Superman and Lois," Tyler Hoechlin stars as the titular Man of Steel, a charismatic father and husband to Lois (Elizabeth Tulloch) and their two children, Jonathan (Jordan Elsass) and Jordan (Alex Garfin) Kent. However, before playing the squeaky clean superhero, Hoechlin was known for his turn as the flawed werewolf Derek Hale in "Teen Wolf." He will be returning to that universe soon in the feature-length sequel, but fans of both shows got to experience a major cast reunion before that film materialized. The second season of "Superman and Lois" features Hoechlin reuniting with a very important member of the fan-favorite MTV show.
Ian Bohen, who played Peter Hale, the main antagonist of "Teen Wolf," joined his former co-star on The CW series as the morally conflicted Lt. General Mitch Anderson. Although he isn't the main villain for Superman, there is a great amount of animosity that is built over the first half of the season. The two go back and forth relentlessly on the superhero series, displaying a great amount of chemistry in some of the season's most compelling scenes. But their dynamic wasn't crafted overnight: that relationship had been cultivated years before Hoechlin put on the red cape and boots.
The dawn of friendship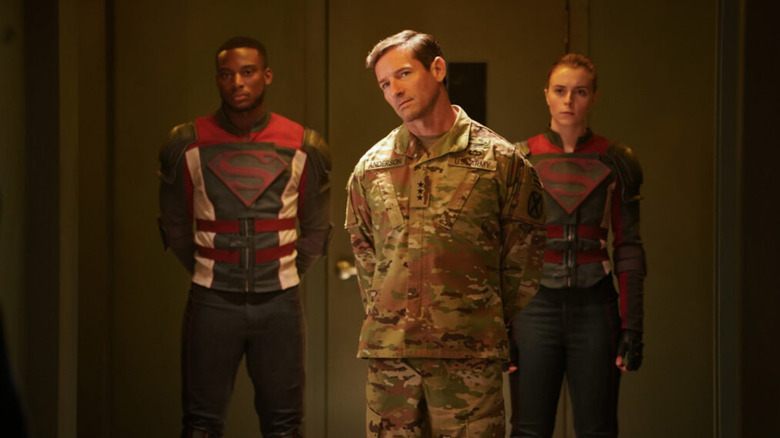 The CW
In "Teen Wolf," the two characters were often in conflict — not only because of Peter's self-serving personality but also due to the fact Bohen plays Hoechlin's uncle. The characters they play in the CW series aren't related, but they sure argue as though they are. While speaking to the Nerds of Color, Bohen expressed how exciting it was to reunite with his on-screen nephew, being able to rekindle that electric dynamic.
"We knew that we always wanted to work together again since it's been four or five years since we wrapped 'Teen Wolf' and we haven't worked together since ... when we knew this was happening, we were just over the moon at the chance to collaborate. The relationship dynamic is similar with Peter and Derek, and Anderson and Superman, same but different. So we wanted to find new ways to butt heads, find conflict, and also humanity, and doing it with one of your best friends is — it doesn't get any better, trust me."
Even after filming some of the show's most tense moments, the actor admits that the longtime friends "have a giggle" and often tease each other when they are waiting around. It's quite the opposite of what happens on screen, but even the adversarial relationship between the General and Superman evolves over time. Fortunately, their two characters don't stay mad at each other forever, as "Superman and Lois" is able to find the good in the complicated antagonist.
From foe to family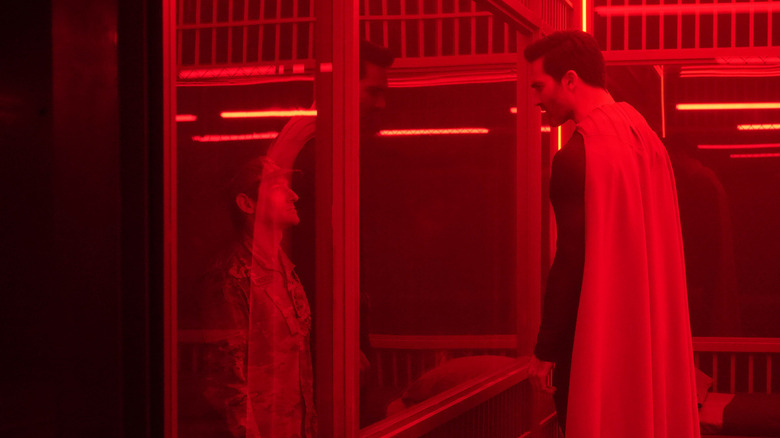 The CW
During the majority of "Superman and Lois" season 2, the replacement of General Lane with Mitch Anderson becomes a focal point in Superman's relationship with the government. He never stops being skeptical about Clark's loyalty to the United States, despite the fact Superman is dead set on representing the best of the world, not just America. Showrunner Todd Helbing told CBR that they really wanted to put Superman in a position where he couldn't just fight to fix the Anderson problem:
"So having a work problem in this way, where you have a guy that's taken over for your father-in-law and is creating problems and how do you get out of those, particularly when the people that he is solving the problem with, it's not their fault, either, but you're in a weird — you're almost in competition with them, or you're trying to save them from themselves."
Lt. Anderson eventually spirals into desperation to one-up the Kryptonian, taking a temporary drug that gives him powers and joining forces with cult leader Ally Allston (Rya Kihlstedt). Bohen's character is also responsible for the death of Bizarro Superman, despite our Clark insisting he was not the villain the general sought. But, by the end of the season, he realizes his error after finding out the truth about Bizarro Superman and his family. He gets to redeem himself before the finale, not without sacrificing his own life to ensure Superman and his family are able to take out Allston. 
The first two seasons of "Superman and Lois" are now streaming on HBO Max.