Dota: Dragon's Blood Book 3 Review: Despite Shortcomings, This Video Game Adaptation Is Full Of Existential Tension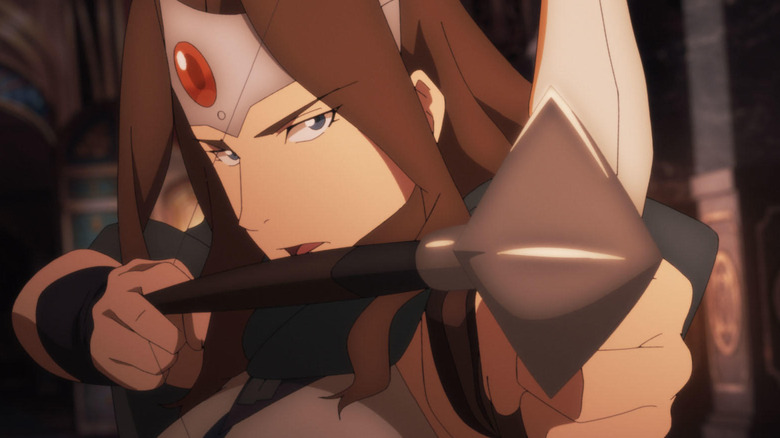 Netflix
"Dota: Dragon's Blood" didn't seem to rake significant traction upon its release.  Yet another Netflix video game-adapted cartoon riding the fantasy adult animation steam trail left by the "Castlevania" animated adaptation, "Dota: Dragon's Blood" (created by Ashley Edward Miller) pitifully does not duel well against the agile contemporary canon of video game cartoons like the groundbreaking "Arcane." But although its shortcomings have been conspicuous, it isn't necessarily an undeserving production.
Whether or not you're versed with the source material, the "Dota 2" MOBA video game (don't consult me on that lore), "Dota: Dragon's Blood" may intrigue a general follower of dark fantasy animation. It also shares a lineage with the "Avatar: The Last Airbender" franchise courtesy of its pleasing designs by the South Korea-based Studio Mir ("Legend of Korra"), a dab (not a thick swipe) of a humorous vibe and trademark goofy expressions by said studio, and a "television story" credit by Bryan Konietzko. (That Netflix markets it as an "anime" despite not fitting the strict definition as a Japanese-made animation is a whole different story.)
Enjoying the cartoon is replete with caveats. Emotionally connecting to the magical world-building in "Dota: Dragon's Blood" is like sinking your teeth into tough meat, both because its elements of elves and dragons feel too familiar and there's too fleeting an intimacy with its cultural or lived-in idiosyncrasies. Steeped in a dragon-populated fantasy world, Book 1 started with the Dragon Knight Davion (Yuri Lowenthal) facing a mysterious possession of his body and mind, his alliance with the exiled Princess Mirana (Lara Pulver), the chess-playing machinations of the mighty mage known as the Invoker (Troy Baker), and a ton of other arcs. 
A rocky launch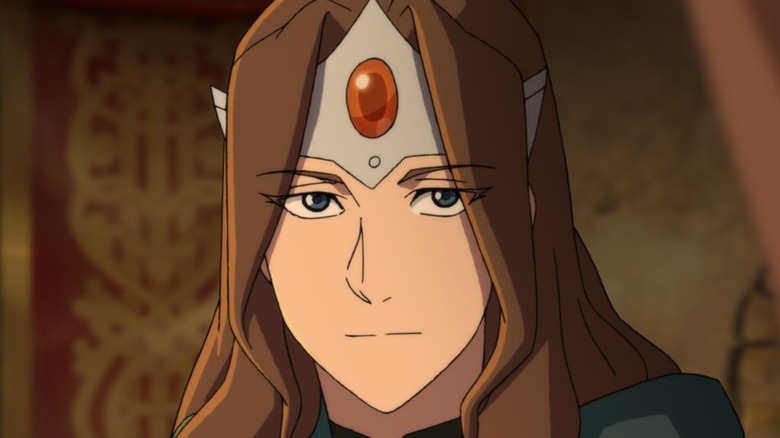 Netflix
What has been a constant with this material is a roster of compelling leads, among them the likable Davion, the determined Princess Mirana, the ruthless Luna (a standout Kari Wahlgren), and the sweet-sounding yet merciless elven Fymryn (Freya Tingley). Even if you can barely inhale the fantasy world, the characters are the conduit for investment. Back in Book 2, "Dota: Dragon's Blood" was able to vibrate with more character moments even if there lingered a precarious juggle to accommodate its bloating scale in an increasingly crowded principle cast.
Book 2 yielded its share of rousing moments that gradually destabilized the intersecting politics and personal interventions. Much of it, even its compelling bits, are mired in the mess. The arrows of "Dota: Dragon's Blood" are a few inches from direct emotional bullseyes in spite of a plentitude of thematic ideas (such as the questioning of faith and loyalty that haunts Mirana, Luna, and Fymryn).
Shedding the molten dragon scales of its instability, the launch of Book 3 groans beneath the great weight left behind. Book 3 also begins leaving questionable lapses in character interactions and judgments that prompt some head-scratching. A few times I questioned, "Hey, where did that lingering grudge go?" When you're also singling out some lackluster performances from otherwise consistently commendable casting choices, that does not portend for a strong season.
But then, by the third episode, the cartoon stretches its wings when our leads are hurled into a cosmic universal shift. It then proceeds into a pensive mood, as if a Pandora's Box is creaking open. From there, Book 3 swells the existential tension.
An existential Book 3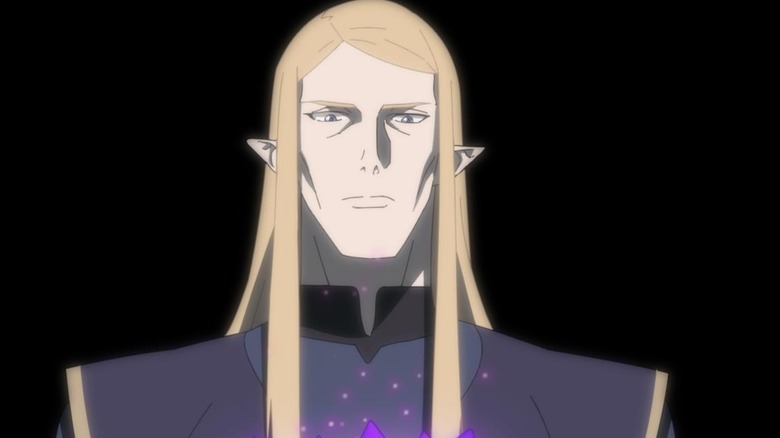 Netflix
Much of "Dota: Dragon's Blood" coiled character arcs in a complex manner, cutting liberally from character to character and hanging on (dis)interesting arcs of varying quality. The result is that its politics are not as cohesive as hoped or it quivers when attempting a balance with the personal and the grand—like, say, the punkish "Arcane" achieved or the scattered, yet spiritually synergized, "Castlevania." This isn't to deny that it yielded its share of solid character writing because so much of the script allows these characters space to have emotional turmoil in their own decisions and worldviews.
So it is a relief that Book 3 pours out a respite for the character cloistering of the first two Books. Perhaps it helps that the most recent Book transitions into arcs where a majority of the centric players are de-centralized and thus delegated into supporting roles without necessarily reducing their importance. Depending on a viewer's personal attachments, this may end up side-lining some fascinating seeds for certain characters' psychological journeys (Luna, I think, is a victim of this).
Book 3 hones its focus on two characters, whose adventures run parallel. I can say this is the season for Mirana, who has to ride miles to confront a terrible choice that can undo all that she loved. But Book 3 also serves as the season for another unexpected character to shine. It finds emotional wavelengths in the contrast and intersections: one character who, in a sense, already holds the "answers" that bring no relief and another who is necessarily piecing together the puzzle with a dreaded outcome. The result is real anticipation for the inevitable convergence, the type of anticipation that was lacking in the previous Books.
One could argue that this new storyline is forcibly attached to draw out its finality. But it works in part because it (finally) feels emotionally organized and has sincere grappling over its implications. It's overdue, but "Dota: Dragon's Blood" feels a few inches closer to the bullseyes of glowing emotional resonance.
Book 3 of "Dota: Dragon's Blood" will premiere on August 11 on Netflix.