Every Season Of The Sopranos, Ranked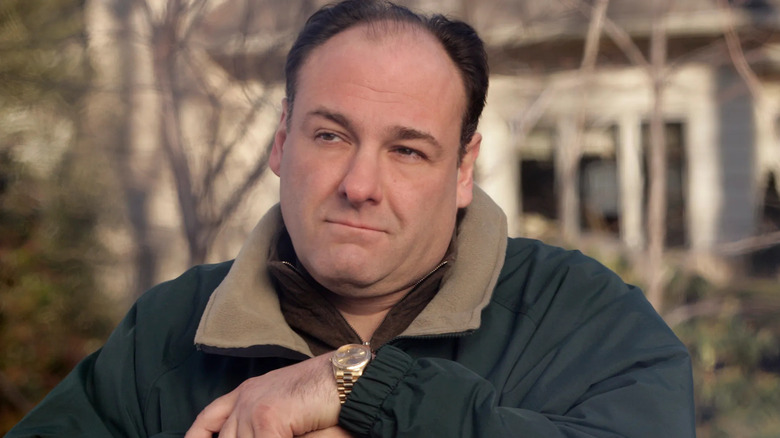 HBO
To say that "The Sopranos" changed television forever would be an understatement. Do you love "Breaking Bad," "Mad Men," "Game of Thrones," "Justified," "True Detective," or "Mr. Robot?" None of those "peak television" shows would have been possible if it was not for the foundation that "The Sopranos" laid. The groundbreaking HBO crime show proved that television was a medium that could rival film in terms of compelling dramatic storytelling. It created a phenomenon that is still awe-inspiring to this day.
"The Sopranos" tells the story of the titular Italian crime family, and its patriarch, Tony (the late James Gandolfini). While cinematic classics like "The Godfather" and "Goodfellas" previously explored the criminal world, "The Sopranos" took the time to show how Tony balanced his personal and professional lives. Tony is an antihero capable of horrible deeds, but he can also be funny, charming, and romantic. The audience is forced to decide whether or not he is a protagonist that they can invest in as Gandolfini delivered one of the greatest performances in television history. 
After running for six seasons, the series finale, "Made in America," ended on an ambiguous note that continues to spark discussion among fans. (Fans were also able to return to "The Sopranos" universe thanks to the 2021 prequel film "The Many Saints of Newark.") Here is every season of "The Sopranos," ranked from worst to best.
7. Season 6A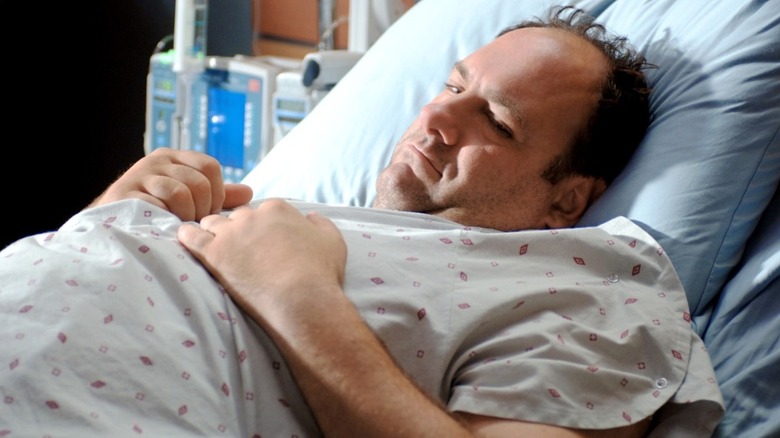 HBO
The final season of "The Sopranos" was the longest, airing in two parts in 2006 and 2007. This has become an increasingly popular strategy for telling an extended conclusion to a beloved series; shows such as "Breaking Bad," "Mad Men," "Ozark," "BoJack Horseman," "The Walking Dead," and "Better Call Saul" adopted similar release patterns. The story arc of Season 6 is a compelling one, where, after a spiritual reawakening following his near-death experience, Tony finds himself facing an uncertain future.
Unfortunately, the majority of Tony's best moments are saved for the final part of the series. As a result, Part One of Season 6 feels like an extended prologue, and there's a few storylines that drag. In the episode "Mr. & Mrs. John Sacrimoni Request," Vito Spatafore's (Joseph R. Gannascoli) closeted homosexuality is revealed after the wedding of Johnny Sack's (Vincent Curatola) daughter, Allegra (Caitlin Van Zandt). Vito's escape to New Hampshire and relationship with the volunteer fireman Jim Witowski (John Costelloe) are, unfortunately, dull.
That being said, even weaker episodes of "The Sopranos" are better than a majority of other shows. Season 6 still includes many powerful moments, such as Tony's journey through his subconscious in the episode "Join the Club." After being shot by his uncle, Junior (Dominic Chianese), Tony slips into a coma and has an extended dream where he is a salesman in California. This metaphorical journey establishes Tony's search to find his identity, which becomes an important theme in Part Two of Season 6.
6. Season 4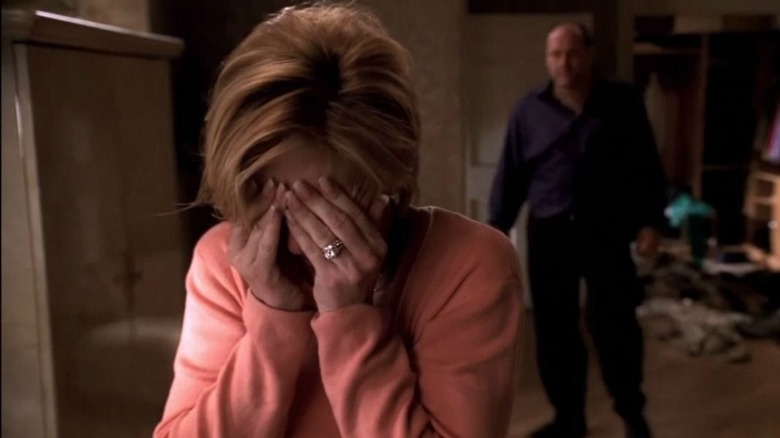 HBO
Season 4 is one of the slower seasons of "The Sopranos." While the show has always focused heavily on Tony, Season 4 took the time to explore some of the supporting characters that were also integral to the series. Christopher Moltisanti (Michael Imperioli), Tony's protégé, takes on a larger role in the family business. Tony knows that Christopher is bound to lead the family one day, and starts bonding with him by revealing secrets about his past. Tony enlists Christopher to help him murder retired police Lieutenant Detective Barry Haydu (Tony Mason), as Haydu was responsible for the death of Christopher's father, Dickie.
Unfortunately, Christopher continues to fall deeper into his addiction to illegal drugs. This puts an increasing amount of strain on his relationship with his girlfriend, Adriana La Cerva (Drea de Matteo). Faced with potential imprisonment for possessing drugs, Adriana reluctantly becomes an informant for the FBI in the episode "No Show." The ramifications of her betrayal don't reach their climax until Season 5. 
Meanwhile, Tony's relationship with his wife, Carmela (Edie Falco), reaches its breaking point. As Tony engages in a passionate affair with Svetlana Kirilenko (Alla Kliouka), Carmela begins to form a crush on Tony's Italian driver, Furio Giunta (Federico Castelluccio). The tension between Tony and Carmela finally boils to the surface in the season finale. Their heated argument in "Whitecaps" is one of the most finely acted moments of the entire series.
If you or anyone you know is struggling with addiction issues, help is available. Visit the Substance Abuse and Mental Health Services Administration website or contact SAMHSA's National Helpline at 1-800-662-HELP (4357).
5. Season 1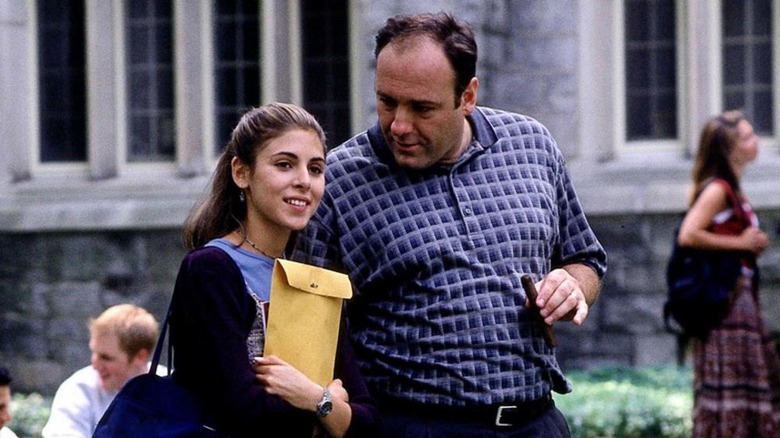 HBO
It's still impressive how much "The Sopranos" was able to accomplish within its very first season. Some great shows sometimes struggle to get out the gate; it's easy to notice the disparity in quality when comparing the first season of "Breaking Bad" to the subsequent seasons, for example. "The Sopranos," however, arrived as a fully-formed concept at the very beginning. It established many of the core elements of the series, including Tony's complex power struggle with Junior, his therapeutic relationship with his psychiatrist, Dr. Jennifer Melfi (Lorraine Bracco), and Christopher's anxieties about becoming a "made man."
After the death of Jackie Aprile Sr. (Michael Rispoli), the acting boss of the DiMeo crime family, a debate arises about his successor. An internal power struggle could result in war, but Tony yields control of the family to Junior. Junior is appointed as the new boss in the episode "Pax Soprana." This helps set up a rivalry between Tony and Junior that lasts throughout the series. 
The episode "College" remains one of the most influential episodes of "The Sopranos," and was an early sign of its brilliance. During a road trip to look at colleges, Tony spends time with his daughter, Meadow (Jamie-Lynn Sigler). Tony is shocked when Meadow asks him about his connections to the mafia. He reluctantly tells her that he is not quite the honorable businessman that he claims to be. During Meadow's college interview, Tony goes out on his own to kill the DiMeo family traitor Fabian Petrulio (Tony Ray Rossi).
4. Season 3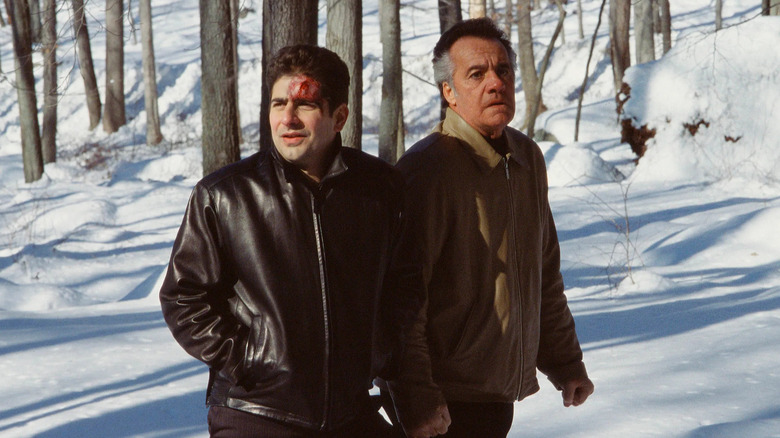 HBO
Season 3 is one of the most emotionally devastating seasons of the show. After the death of Salvatore Bonpensiero (Vincent Pastore) at the end of Season 2, it was clear that "The Sopranos" wasn't opposed to going to very dark places. Season 3 includes an even more emotional tragedy with the death of Jackie Aprile Jr. (Jason Cerbone). Despite his attempts to carve a different destiny for himself by attending Rutgers University, Jackie Jr. falls into the same criminal lifestyle that his family has been culpable of. Unfortunately, Jackie Jr. begins to fall under the influence of Ralphie Cifaretto (Joe Pantoliano), who begins romancing his mother, Rosalie (Sharon Angela). 
Ralphie makes his first appearance on the show in the episode "Proshai, Livushka." Although none of the characters on "The Sopranos" are necessarily "heroic," Ralphie is one of the most unlikable characters in television history. In the episode "University," Ralphie brutally murders a young woman, Tracee (Ariel Kiley), who had been pregnant with his child. The shockingly violent scene became one of the most controversial moments in the show's history. 
Jackie Jr. begins to fall in love with Meadow, and Tony attempts to guide him toward a non-criminal path in the episode "...To Save Us All from Satan's Power." Sadly, Jackie Jr. gets into deeper trouble when he and his friends Carlo Renzi (Louis Crugnali) and Dino Zerilli (Andrew Davoli) rob a poker tournament. Ralphie decides to have Jackie Jr. killed, and Meadow is heartbroken by his death.
3. Season 2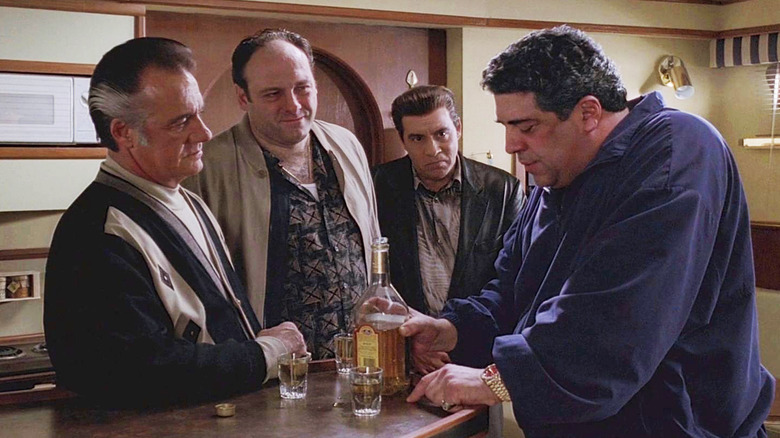 HBO
In any show where the main characters can be defined as antiheroes, the actual antagonists need to be particularly villainous. "The Sopranos" certainly did not have a villain problem, as Season 2 saw the introduction of Richie Aprile (David Proval), who is released from prison. Richie is among the vilest characters in "The Sopranos" universe. Tony deals with his fair share of loathsome adversaries, but Richie is among the few that gets under his skin. Richie isn't used to dealing with Tony as a boss, as he had known him when he was younger.
Richie resumes a romantic relationship that he had with Tony's sister, Janice (Aida Turturro), from when they were in high school together. Although Janice is completely insufferable, she adds a comedic element to the series through the ways that she annoys Tony. Tony also spends more time in Season 2 with his mother, Livia (Nancy Marchand). Although Marchand was set to play a major role in Season 3, she sadly died in 2000. In retrospect, Marchand's last scenes with Gandolfini are even more powerful.
"The Sopranos" began to show its aptitude for experimentation in the episode "Funhouse." After Tony discovers that Salvatore is a rat, he is forced to kill his lifelong friend and ally. Tony has strange dreams about his relationship with Dr. Melfi and his concern with Salvatore. Season 2 also includes the self-aware episode "D-Girl," where Hollywood celebrities like Jon Favreau, Sandra Bernhard, and Janeane Garofalo have cameos playing themselves.
2. Season 5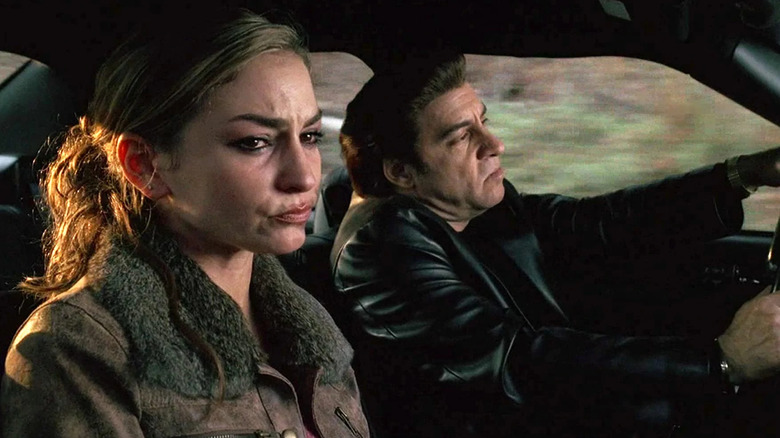 HBO
Season 5 set the stages for the end of the series by raising the stakes. Major characters are killed, Tony's subconscious is explored, and the conflict between the families grows more volatile. Emmy voters recognized the jump in quality; after four previous nominations, "The Sopranos" finally won the Primetime Emmy Award for best drama series.
After directing several episodes of the series, Steve Buscemi joined the show as Tony's cousin, "Tony B" Blundetto. Tony B is released from prison at the beginning of the season and attempts to forge a different fate for himself as he tries to go straight. Unfortunately, crime finds a way of finding Tony B, and he falls back into his old ways. In "The Test Dream," Tony B becomes extremely angry after learning that Phil (Frank Vincent) and Billy Leotardo (Chris Caldovino) have executed his friend, Angelo Garepe. He decides to go out on his own and kills Billy. In order to calm down the tensions between the families, Tony is forced to kill his cousin.
Adriana also meets her demise in the heartbreaking episode "Long Term Parking." The FBI threatens to throw Adriana in prison for helping to cover up a murder. Although she attempts to reason with Christopher, he decides at the last minute to leave her to her fate. Silvio Dante (Steven Van Zandt) picks up Adriana and drives her out into the abandoned wilderness. It's one of the tensest sequences in the series as Adriana knows she's about to die. 
1. Season 6B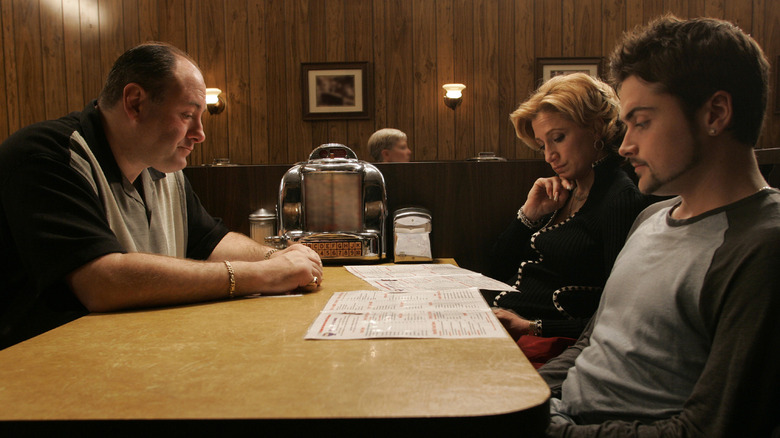 HBO
Although the first half may have been somewhat underwhelming, Season 6 reaches a satisfying conclusion in Part Two. The final nine episodes include some of the most emotional and shocking moments in the entire series. Fans may debate what happened after the closing credits of the series finale, "Made in America," but showrunner David Chase cannot be doubted for his bravery. "The Sopranos" went out like it began — on its own terms. "Don't Stop Believin'," indeed!
Season 6 does a great job of fleshing out Tony's relationship with his immediate family. Tony's son, A.J. (Robert Iller), deals with depression, and attempts to take his own life. He's ultimately hired by Little Carmine Lupertazzi (Ray Abruzzo) and joins his film production company. Although he may not have inherited his father's criminality, it's hardly suggested that his future endeavors will be honorable. Meadow's hypocrisy is also revealed. After claiming that she does not want to live the same life as her father, Meadow becomes engaged to Patrick Parisi (Daniel Sauli). She decides to not continue her legal career if it would mean betraying the family.
Many characters meet their untimely deaths in Season 6. Janice's husband, Bobby Baccalieri (Steve Schirripa), is brutally whacked in "The Blue Comet" on Phil's orders. Phil ultimately has to pay the same price; he's shot to death by Tony's associate, Walden Belfiore (Frank John Hughes). The ultimate question is whether or not Tony survives. Were Tony and his family killed, or do they have to live with their crimes?
If you or anyone you know is having suicidal thoughts, please call the National Suicide Prevention Lifeline by dialing 988 or by calling 1-800-273-TALK (8255)​.