The Sandman Actor John Cameron Mitchell On Comics, Storytelling, And Breaking The Binary [Spoiler Interview]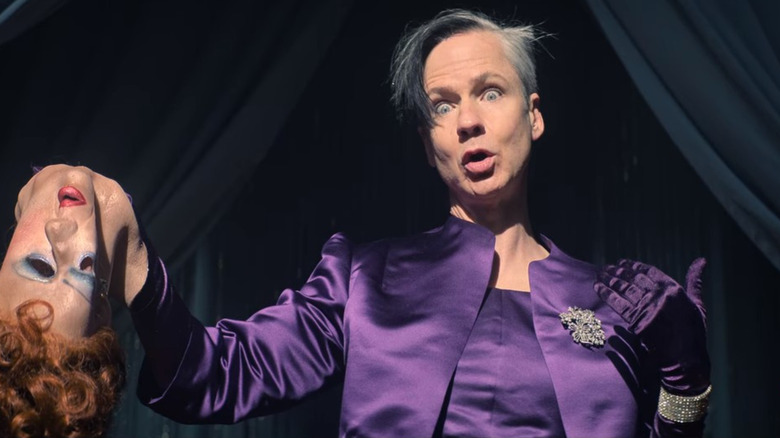 Netflix
This article contains spoilers for season 1 of "The Sandman."
John Cameron Mitchell is no stranger to colorful, surreal, mind-bending storytelling, but the "Hedwig and the Angry Inch" director and star was still in for something new with Netflix's "The Sandman." The incredibly intricate 10-episode first season adapted two arcs from Neil Gaiman's "The Sandman" comics: "Preludes & Nocturnes" and "The Doll's House." Mitchell, a long-time friend of Gaiman's who directed an adaptation of his short story "How to Talk to Girls at Parties," was more than game to be a part of "The Sandman" universe, and there just happened to be a perfect role for him. 
Mitchell plays Hal, the owner of a bed and breakfast where Rose (Vanesu Samunyai) stays with her friend Lyta Hall (Razane Jammal) while she's on the search for her missing younger brother, Jed (Eddie Karanja). Hal and his found family of bed and breakfast guests are all changed by Rose, both through trying to help her and because being around her alters their dreams. Hal is a sweet man who once dreamed of being a Broadway star — which is pretty funny, given that Mitchell took "Hedwig" to Broadway. This is a pretty big turnaround from playing Joe Exotic in Peacock's "Joe vs. Carole," and it feels like a homecoming. I had the chance to sit down and chat with Mitchell via Zoom about indie comics, gender-bending, and set shenanigans. 
This interview has been lightly edited for clarity and brevity. 

'I think they finally cracked the safe'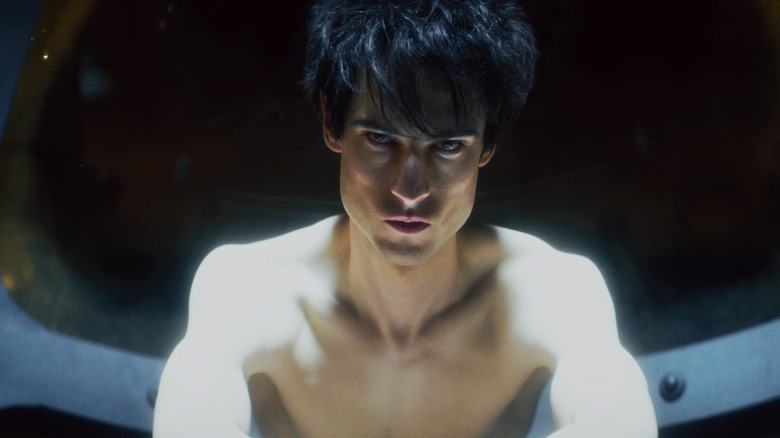 Netflix
You're friends with Neil Gaiman, but I was wondering what your relationship to "The Sandman" was before signing on to do the show.
I wasn't a major acolyte. I think when that came out, it had a major impact. I mean, there were three graphic novel series that were considered for adults that came out after 1985, which were "Sandman," "Watchmen," and "The Invisibles," and they were kind of the urtext for a lot of people and launched a thousand other titles. They all had their charms, and they all had multiple characters. There was philosophy throughout. There were thrills and chills that you would expect from comics, but it was for adults and could often be very emotional.
But I wasn't a major student of "Sandman." I'm a friend of Neil's. I adapted his short story "How To Talk To Girls At Parties" for the screen, and we're buddies. So I was thrilled when the offer came through to play Hal, which I mostly did because I got to sing songs from [the Broadway musical] "Gypsy," and I would like to play Mama Rose someday. So it was a good time, and a wonderful cast and group of people. I enjoyed being a mentor, and my character is a mentor to the character of Rose, so I loved working on it.
Stephen Fry is a buddy. Tom Sturgess is brilliant. I've met him a couple times. Manages to take a character that, on stage, could look a bit flat and imbue it with this kind of rueful, unspoken backstory. He's really brilliant in this. Very hard role to play. So just very happy overall to be part of something that I believe has finally been cracked, something that many people have tried to adapt and failed for various reasons. But Allan Heinberg, Neil, Netflix, the combination, I think they finally cracked the safe.
'Probably all of us are non-binary, if we think about it'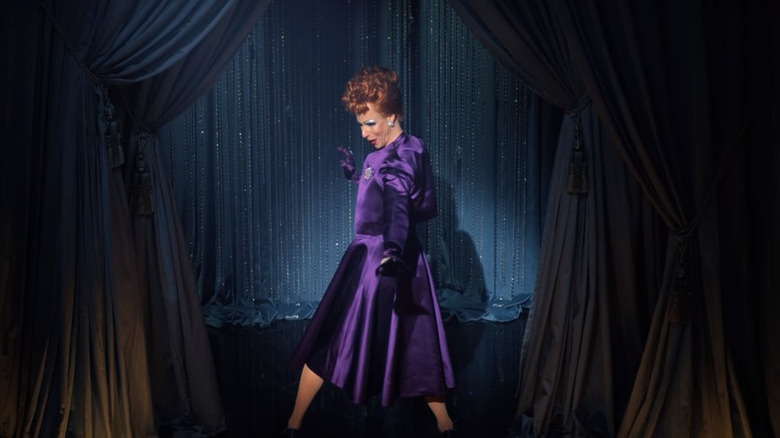 Netflix
Like you said, your character Hal gets to do some singing and dancing, and some of it's in drag. How is it returning to show tunes and drag again, ala "Hedwig and the Angry Inch?"
Yeah. I mean, it's like it's my go-to place. I was always terrified of my feminine side when I was younger, because when you're a boy, being feminine is worse than being a murderer. Then I realized later after my first gig as Hedwig that it was a beautiful and natural part of me. And in fact, probably all of us are non-binary, if we think about it. We have energies that we call male and female at times within us. And if we repress them, I often say, it's like an animal dying in your wall. It can really stink the place up if you don't express yourself. And in small ways — like a straight guy learning to knit is a cartoonish version of that. And doing drag was another one for me. So doing Hedwig had opened up the world to me artistically, sexually, romantically. I suddenly found feminine guys attractive, whereas before I'd been taught to not find that — to find it repulsive, in fact.
And so Hal was a version of me, perhaps, if I hadn't been successful the way I was. He has this regret of giving up his dream, his Broadway dream, and the dream of course is a metaphor that's extended throughout this whole series. And it means many different things. Everyone's like, "Well, what does the Lord of Dreams do?" He's not even sure sometimes. Desire and Despair say, "Well, what is a dream without desire and despair? We come first."
It's a fascinating metaphorical thing that Neil's getting into while not stinting on the action and the Corinthian villain and the whole "how are we going to find the three objects," which remind me of the sacred objects of the Japanese emperor, that was a mirror and a sword and a jewel. It's similar to that, and ultimately not betraying the emotion behind it. I find myself really moved when Constantine's lover dies and Dream gives her a final dream of endless love, which [ultimately] does end. So I think it really succeeds on a lot of levels.
'I like the idea of being Desire'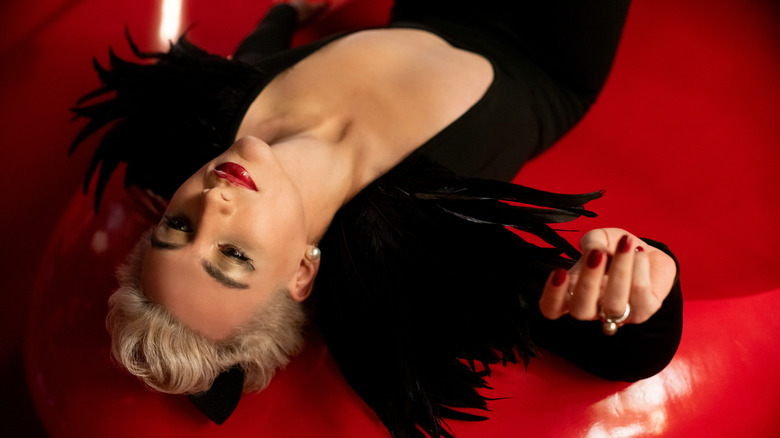 Netflix
If you hadn't played Hal, is there another character in season 1 that you would've wanted to portray?
I wouldn't mind giving a shot at Dream himself, or Gilbert, but they're all juicy. They're all delicious. Constantine's a fun role too, but it's all a hoot, and they've got the best actors in the business. So many great British actors packed in there. And these seasons take a long time, but I'm hoping to rejoin them. I think my character doesn't really come back 'til season 3, though, because there's so many storylines.
And if you could take over the jobs of one of the Endless, who would you want to be and why?
I like the idea of being Desire. The non-binary person who's playing them, Mason, was our understudy for our "Hedwig" Broadway tour. They're a brilliant singer performer and now actor, and I'm really proud that they're pushing into mainstream stuff. That's awesome while retaining their standard-bearing non-binary-hood.
'They're all kind of brutal'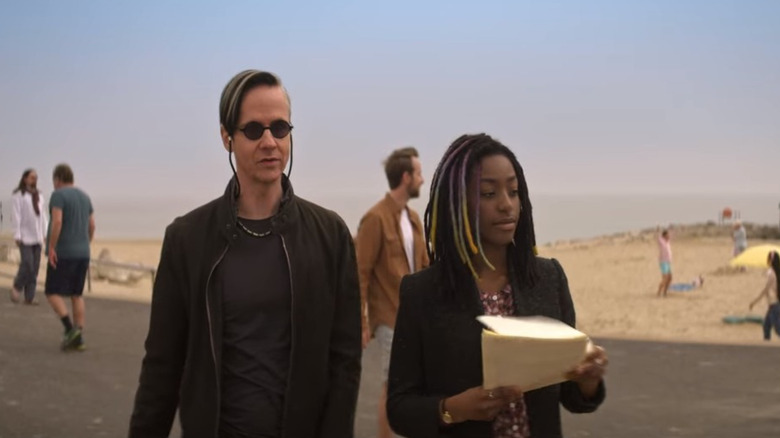 Netflix
You spoke about some of the other non-superhero comics and comics for adults earlier. Are there any that you would like to see get made into a movie or TV series that haven't yet?
I think "The Invisibles." "Watchmen," "Sandman," and "The Invisibles" were the three great adult ur-texts for launching a thousand other titles, and Grant Morrison's "Invisibles" — they all have things in common, but there's something ... I don't know. There's something kind of spikier here about Grant, sharper about the humor and brutal, too. They're all kind of brutal, but there's something about that one. It's funny: Conspiracy theory is such a kind of wart on our body lately that tends to spread and it can get very ugly, but these titles kind of use those panics and those fears to tell their stories, and "The Invisibles" [is] sort of like, "What if every conspiracy theory is true?", which is sadly kind of where a lot of us are ending up. All news is fake, so all stories are true.
'I really love working with all the kids in my B&B'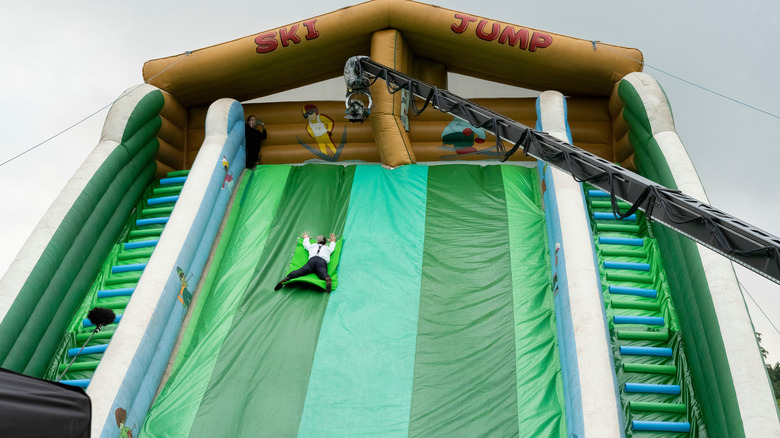 Netflix
Were there any fun moments on set? You talked about getting to see Tom Sturgess work and having a lot of friends on set. You got to act with most of the ensemble cast, other than a few of the immortal folks.
Oh yeah. I had a blast. I mean, I really love working with all the kids in my B&B, the spider women and the Ken and Barbie and Vanesu [Samunyai], who played Rose and the kid who played her brother, [Eddie Karanja]. He was so sweet, and it was just fun to go down a slide [pictured above] and pretend you're being sucked into a vortex. I hadn't done anything that big budget before.
'I can't wait to see what Allan and Neil come up with'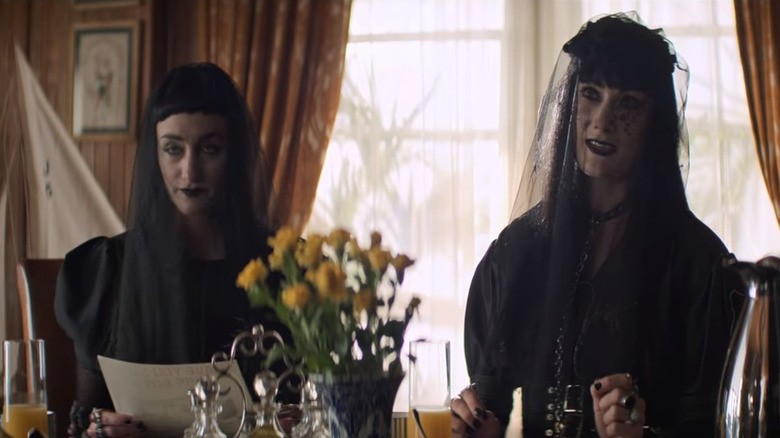 Netflix
If you could run a bed and breakfast, would you want to, and what would it be like?
It's funny. I just bought a house in New Orleans because right after "Sandman," I played Joe Exotic in "Joe Versus Carol" for Peacock and bought a house in New Orleans. And it's weird, the character that Charles Dance plays is considered an accolade of Allister Crowley. You know who that is, right?
Oh, yeah, the founder of Satanism — or not founder of Satanism, but his stuff led to that [through the later works of Anton LaVey].
Yeah. He wouldn't call himself a Satanist, but he was definitely an occultist. And he ran, eventually, the OTO, which was the Order of the Oriental Templars. And I bought my house from the OTO. It has his ballroom. I probably will be a little bit of a Hal in that house.
Goth Hal.
Yes.
There are a lot of wild characters in the world of "The Sandman" beyond season 1. Are there any that you cannot wait to see, or any major favorites and why?
It's just too much! There's a trove and I can't wait to see what Allan and Neil come up with, who they funnel in the later seasons because they've managed to keep it nicely clear, even though there's millions of convolutions. They've somehow found a structure where it doesn't go off the rails and retains its emotional impact, which I appreciate.
"The Sandman" season 1 is currently streaming on Netflix.