One Sandman Star Wants To Tackle Another Iconic Vertigo Comic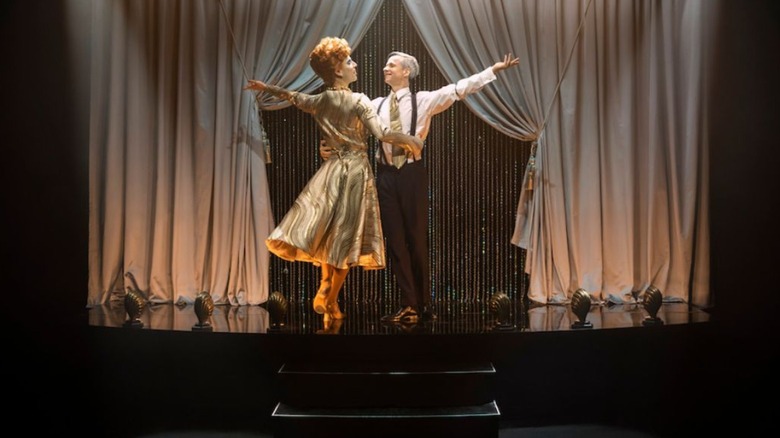 Netflix
John Cameron Mitchell has given us so much: the glam rock musical "Hedwig and the Angry Inch," the real sex dramedy "Shortbus," and most recently, his portrayal of Hal, a scene-stealing supporting character in Netflix's long-awaited adaptation of "The Sandman." Hal owns the house Rose Walker (Kyo Ra) moves into in the series, but he's also her friend and mentor, helping her find her brother Jed and performing in dreams as a drag star alter ego.
Mitchell has been a fan of Neil Gaiman's work for years, and even adapted one of his short stories, "How To Talk To Girls At Parties," in 2018. Now, in an interview with ComicBook.com, Mitchell is demonstrating the depth of his "Sandman" knowledge and revealing which other classic Vertigo comic he'd love to adapt.
"I think I would be up for writing an 'Invisibles' series," Mitchell told the outlet, explaining that he's actually already considered bringing the acclaimed Grant Morrison comic series to life on screen. "At one time my producer was saying, 'You should pursue that.'" Mitchell says he didn't end up developing "The Invisibles" because he was wary of dealing with a big budget project, since "more money means more trouble, more jockeying for money and effects and it just gets unwieldy." Although the writer, director, and performer has helped shape big projects before — "Hedwig and the Angry Inch" ended up on Broadway, after all — he's most known for working in the indie sphere.
Mitchell says he didn't pursue "The Invisibles" adaptation, but knows just which arc of the series, which ran from 1994 to 2000, that he'd be most interested in. "The most famous book and maybe memorable is called Apocalipstick," Mitchell explained.
Could Apocalipstick ever make it to screen?
"It's about a trans member of the group of superheroes named Lord Fanny, who is this Brazilian boy [sic] in the tradition of Candomblé, which is a kind of Afro-Brazilian religion dealing with death. It's an incredible book," the filmmaker shared. While Mitchell seems to be referencing the hero's childhood origin story here, it's worth noting that Lord Fanny is a trans woman, shaman Hilde Morales, who later joins the group of freedom fighters known as the Invisibles.
Mitchell points out that "Apocalipstick" has "echoes" of "Hedwig and the Angry Inch," which is also about a gender non-conforming young person living through a specific cultural moment — in this case, East Berlin in the 1960s and '70s. "That alone would make an incredible feature just right there," Mitchell told ComicBook.com. While Mitchell is definitely right about how unique and striking "The Invisibles" is, "Apocalipstick" in particular is violent and tragic, and might be a hard sell for studios and streamers alike. In general, Morrison's stories are on the more controversial end of the comic book spectrum, and have been censored in the past.
Still, Mitchell cites Morrison as one of a trio who "revolutionized comics" in the '90s, along with Gaiman and "Watchman" author Alan Moore. "They, of course, spawned a thousand other titles who were inspired by them," Mitchell says, praising the author behind "The Sandman" in particular. "Neil went on to become his own Joseph Campbell in a way. He took all of these myths and made narratives out of all of them." In 2018, Morrison signed a deal with Universal Cable Productions that could lead to a TGV adaptation of "The Invisibles." If that ever happens, we'll be on the lookout, in case Mitchell ends up living his "Apocalipstick"-adapting dream after all.