The 15 Best Ingrid Bergman Movies, Ranked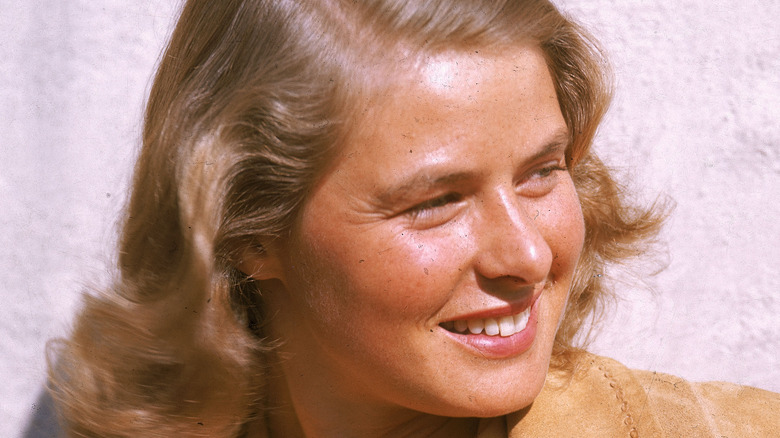 Hulton Archive/Getty Images
When Ingrid Bergman came to Hollywood in 1939, the Swedish native couldn't speak English. She was discovered by legendary producer David O. Selznick who was struck by her effortless beauty. Yet, the studio system still tried to pluck her thick brows and cover her face in gobs of stage makeup. Bergman flat-out refused and Selznick backed down, eventually declaring she would be the first "natural" actress. 
Howard Hughes was so taken with Bergman that he bought her RKO studios as a gift. She was a married woman but had many affairs: musicians, photographers, and of course, her co-stars. After one on-set fling the famously unflappable Gary Cooper remarked, "No one loved me more than Ingrid Bergman, but the day after filming concluded, I couldn't even get her on the phone." Her true passion was the work, and everyone knew it. She could count both Cary Grant and Alfred Hitchcock as professional admirers.
In 1949, Bergman walked out on her husband and ten-year-old daughter and moved in with director Robert Rossellini. It was a seismic Hollywood scandal. There were boycotts and even condemnation on the Senate floor. Yet, when that marriage collapsed, Bergman made a comeback and won her second Oscar. There was another failed marriage and another Oscar. Until her death from breast cancer on her 67th birthday in 1982, she always returned to her craft. The star is gone, but her body of work is immortal. Here are the icon's 15 best movies, ranked.
15. Stromboli, Europa 51, and Journey to Italy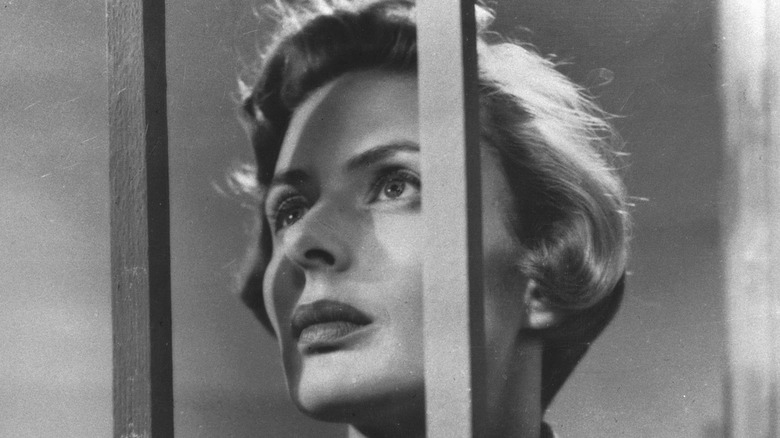 United Archives/Getty Images
Around 1947, Ingrid Bergman wrote Italian director Roberto Rossellini a flattering and flirtatious fan letter, praising his work and offering her services. Rossellini didn't receive the missive for over a year but was ecstatic when it finally turned up. "I just received with great emotion your letter ... as the most precious gift," the director gushed. "It is absolutely true that I dreamed to make a film with you..."
Bergman would leave her family and go to Italy to begin a seven-year affair with Rossellini. The romance produced three children, including actress Isabella Rossellini, and three somewhat pretentious films in the style of Italian neo-realism, an anti-Hollywood notion that cinema could be as dismal as real life. It focused on Italy's post-World War II social problems, utilized real locations, amateur acting talent, and was filled with all the tedium and imperfection of reality. However, Rossellini bravely shunted aside some of these notions when a movie star showed up on his doorstep.
The first of these films, 1950's "Stromboli," stars Bergman as a Lithuanian refugee who marries an Italian man and moves to his volcanic island of "Stromboli." The conservative local culture treats her with disdain, and she becomes disenchanted and leaves. The end. These films are not exactly driven by rousing stories. The New York Times called the picture "incredibly feeble, inarticulate, uninspiring, and painfully banal." Bergman's Italian trilogy is nevertheless an exhibition of her talent in yet another language.
14. The Bells of St. Mary's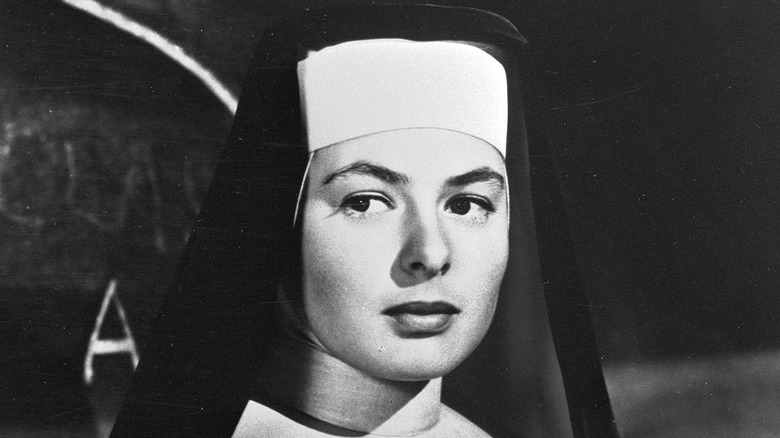 United Archives/Getty Images
Bing Crosby won an Oscar for his turn as the slightly whimsical priest-to-the-people, Father Chuck O'Malley, in the 1944 film "Going My Way." In 1945 RKO Pictures released a sequel of sorts, "The Bells of St. Mary's," in which O'Malley is transferred to a rundown inner-city Catholic school that may soon be condemned — by local government, not God. It's there that O'Malley meets the self-assured and sometimes set-in-her-ways mother superior, Sister Mary Benedict, played by Ingrid Bergman.
O'Malley's first act is to dismiss all the students for an impromptu holiday. Sister Mary certainly doesn't approve of this good-guy act, and the two continually clash over their competing visions for how to save this school. Things get tense as a greedy local businessman tries to scoop up the crumbling property. This film may be easier to enjoy if you're Catholic or 100 years old. Despite its slow pacing, critics at the time liked it a lot. This is early-career Bergman at the height of her beauty. Even in a habit. she is a vision in this gentle parochial tale.
13. The Inn of the Sixth Happiness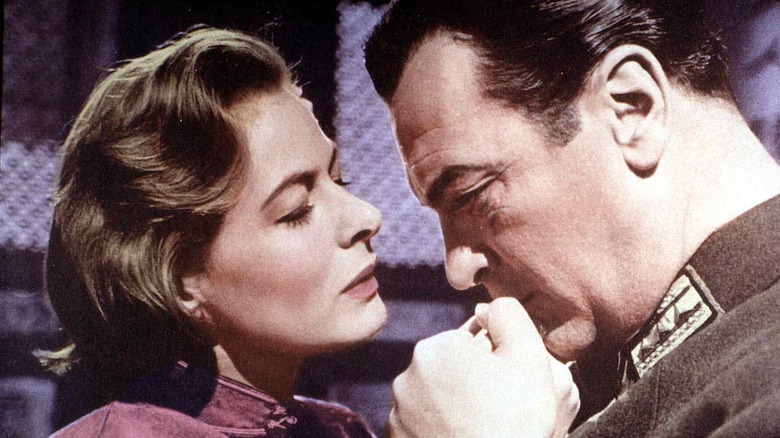 United Archives/Getty Images
What is the sixth happiness? Well, each person decides that in their own heart, or so goes the slogan of the Chinese Inn at the proverbial center of the true story of Gladys May Aylward. Aylward was a British missionary whose good works were interrupted by the outbreak of the Sino-Japanese war. She was wounded but led 100 orphans to safety during a perilous mountain escape.
Aylward's life was first turned into a book, "The Small Woman," and then, this Hollywood film "The Inn of the Sixth Happiness" in 1958. It's Bergman's most overtly heroic role since "Joan Of Arc" a decade earlier. The reliable Curt Jurgens has a good turn as Lin Nan, a half-Chinese-half-Dutch military officer who forms a romantic bond with Aylward and assists on her missionary quest to save the children. Director Mark Robson got a best director Oscar nod in 1959 and extracted typically buoyant work from Bergman as this tenacious woman with an unfailing inner assurance she's been called to her true purpose.
12. Joan of Arc
Keystone Features/Getty Images
The real Joan of Arc was burned at the stake as a heretic at just 19, but a 33-year-old Ingrid Bergman delivers a mature performance as the French heroine that earned her an Oscar nomination — even though the 1948 film was not a success. Director Victor Flemming was a married man, but according to The New York Times, "fell deeply in love with the irresistible Swede and never really got over it." Flemming would die of heart failure the following year.
Given the slightly less fascinating film itself, one wonders how many historical figures would have been deemed deranged in other eras. Christ was likely thought of in this light by the pagan but practical-minded Romans of his day. Joan of Arc is just as zealous, but by her time, the West was entrenched in Christendom. So when this 15th-century peasant girl tells a magistrate she's had a vision from God that she is to lead French armies and save the country, her claims coincide with prophecy, and she gets an audience with the Dauphin.
A historical advantage of this 1948 biopic is that it was made at a time when Hollywood was catering to a country where Christian self-identification was more ubiquitous. This film's sincere religiosity contrasts with the more Machiavellian 1999 version starring Mila Jovovich. It's not hard to imagine further swashbuckling girl-boss reboots, but Bergman's version depicts Joan in her sincere spiritual commitments.
11. The Visit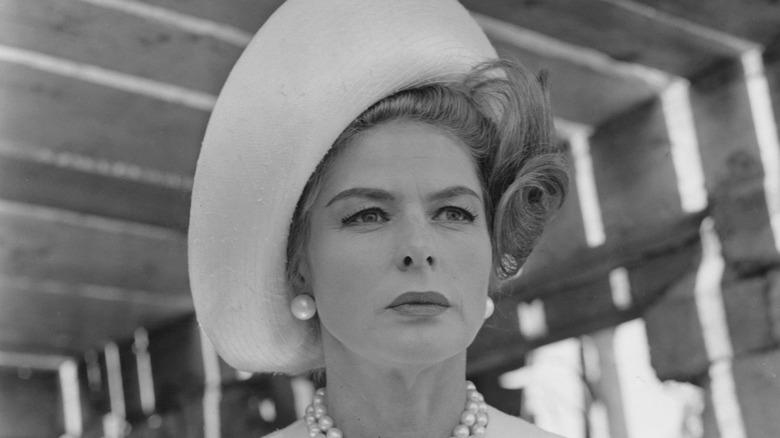 Keystone/Getty Images
Ingrid Bergman plays Karla Zachanassian, a beautiful and wealthy woman living in a decaying European hamlet, who has an affair with a local businessman, Serge Miller (Anthony Quinn). When she becomes pregnant, he denies paternity, and she flees the town in shame. Years later, she returns with an almost Hitchcockian proposal to the town's people. She will lavish on them millions if her scumbag ex is strung up in a show trial.
Released in 1964, "The Visit" was adapted from a popular Broadway play, but the theme about cash corrupting society is somewhat softened for the big screen, and it loses its Shakespearean coup de grâce. The film's director, Bernhard Wicki, explained the change in tellingly Tinseltown terms: "One cannot end a film with death as easily as one can a play."
The idea then becomes that Bergman's vengeful Karla has lived her life as a Count de Monte Cristo-esque quest for revenge, and yet, at her moment of satisfaction — plot twist! All along, she planned to shame the townspeople for accepting her twisted bargain, and most deliciously, her former lover must live out his days in the knowledge that his friends were willing to murder him for money. This ending might be darker than death and sillier, too, but Bergman is rousingly sinister in this black and white film. She would have made a good Cruella Deville or Maleficent had she lived until Hollywood became Disneyland.
10. Intermezzo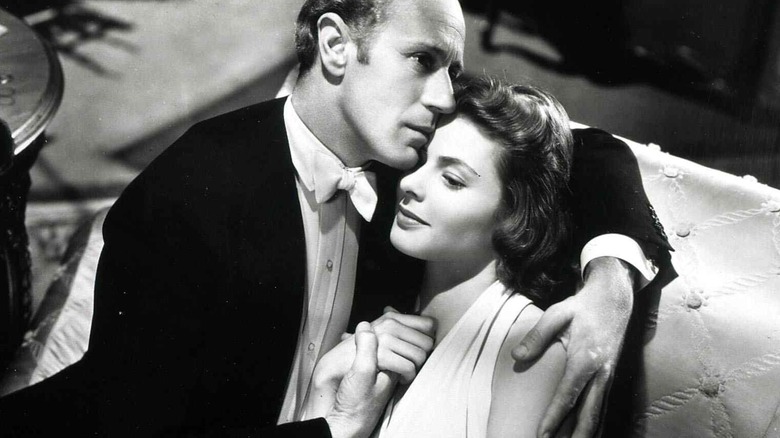 United Archives/Getty Images
"Intermezzo" was Ingrid Bergman's first Hollwyood film. Released in 1939, it's a remake of the 1936 original from Bergman's home country of Sweden. Leslie Howard stars as Holger Brandt, a married concert violinist who falls in love with his daughter's piano teacher, Anita Hoffman (Bergman). He invites Anita on tour, and despite the couple's guilt, Holger is set on leaving his wife — until tragedy strikes and changes their plans.
Bergman was around 23 years old and unable to speak English, but you wouldn't know it by watching. More importantly, the film's producer, David O. Selznick, who discovered Bergman, was blown away by her work ethic. He was simultaneously shooting "Gone With The Wind" but made time to praise the ingenue. "Miss Bergman is the most completely conscientious actress with whom I have ever worked ... She never for a minute suggests quitting at six o'clock or anything of the kind ... her natural sweetness and consideration and conscientiousness ... is completely in keeping with the fresh and pure personality and appearance which caused me to sign her."
Selznik was certainly selling his new star, and he would go on to loan her out at a great personal profit. Perhaps his flattery could be seen in that light alone if Bergman didn't earn so many other professional admirers in her long and dedicated career. "Intermezzo" was her first success and despite the language barrier, it vaulted her to Hollywood stardom.
9. Cactus Flower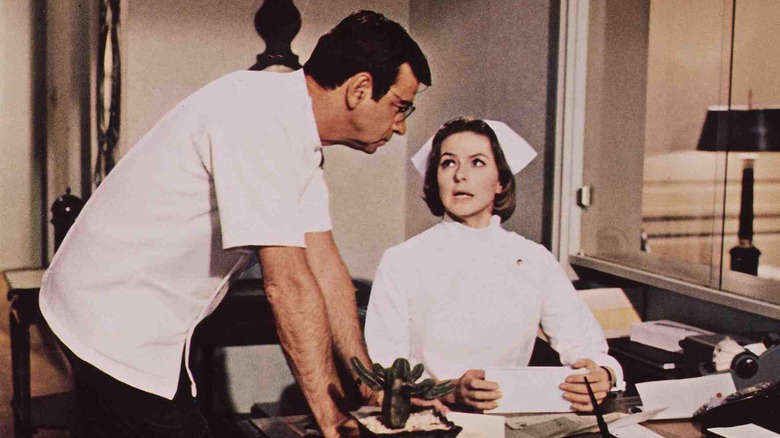 United Archives/Getty Images
"Cactus Flower" is a screwball comedy from 1969 and was well received by both audiences and critics. Roger Ebert liked it so much that he wrote that it's the kind of comedy that inspires "raucous laughter." 
This comedy is so specific to a time and place that it's not likely to induce any side-splitting laughs these days, but the story, based on a long-running Broadway play, is still amusing. Ingrid Bergman plays the nurse to a middle-aged dentist, Dr. Julian Winston (Walter Matthau). He's having a fling with 21-year-year-old Toni (Goldie Hawn) but tells her he's married to keep things casual. When he falls for her anyway, nurse Stephanie agrees to pose as Dr. Winston's wife and demand a divorce so this deceitful dentist doesn't have to admit he lied — about being married at least. The only problem is Bergman's nurse is in love with Winston too.
"Cactus Flower" doesn't have the moody style of the star's World WarII era films, particularly her masterful Hitchcock collaborations, but even in the late 1960s, Bergman still had the stuff to make a romantic plot turn.
8. Autumn Sonata
Ingrid Bergman's final film performance in 1978's "Autumn Sonata" is a stunner. It's her only collaboration with fellow Swede director Igmar Bergman (no relation). She plays an aging matriarch who just watched her husband slowly die in the hospital. That's when she makes the trek to stay with her estranged daughter. To her surprise, her other daughter, who has a degenerative disease and uses a wheelchair, is also living in the home.
Bergman shows up like a whirlwind. On the first night, she puts on a bright red dress for dinner so she doesn't appear the grieving widow. She feels personally aggrieved that she wasn't told that her disabled child lives in the home as if it is all a plot to shame or embarrass her. We know this because she talks to herself incessantly in great, frantic monologues.
Bergman (the director) is known for his talky dramas with tons of psychological subtext in which characters often break the third wall. "Autumn Sonata" has some of the feel of a stage play, but the saturated colors and smooth camera work by cinematographer Sven Nykvist elevate the proceedings. The film is almost entirely in Swedish, but Ingrid Bergman's intense and nearly manic performance carries the film in a fitting end to an iconic career. Even more impressive, production was at one point delayed for Bergman's cancer surgery. The disease eventually led to her death in 1982.
7. For Whom the Bell Tolls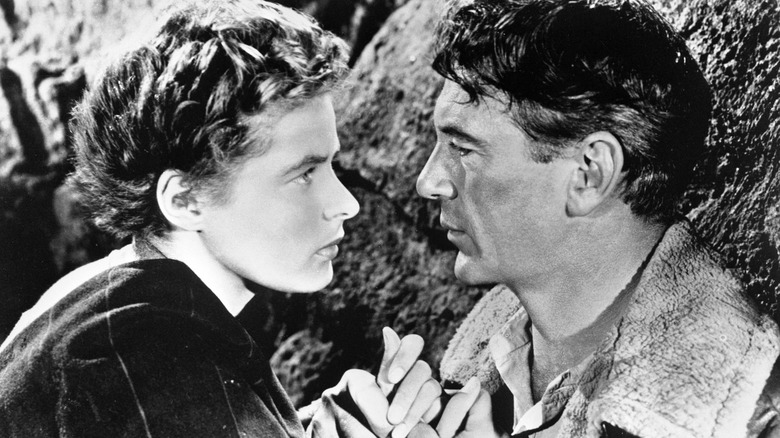 United Archives/Getty Images
In this 1943 adaptation of Ernest Hemingway's famed novel, Gary Cooper plays Roberto Jordan. He's an American operative in Spain assisting rebel fighters resisting the dictatorial reign of General Francisco Franco. High in the mountains, preparing to strike a crucial bridge, Roberto meets a displaced Spanish woman named María (Ingrid Bergman) living among the gruff guerillas.
Maria has been living rough. Her face is covered in dirt, and her hair is shorn because she recently escaped the fascist forces who shaved her head. This is a studio film in the literal sense and is shot entirely on sets. The combination of grime and bright studio lights brings out Bergman's incredible eyes. It's easy to understand why Roberto is taken with this spunky young partisan.
Bergman and Cooper's affair during filming is well documented, and the passion feels real in her first ever Oscar-nominated role. Cooper's Roberto is infatuated in a way that changes his wartime calculus and seems destined to end in tragedy. "For Whom The Bell Tolls," like the novel it's based on, has an epic scope — maybe too much so. The Blu-ray version runs for almost three hours. There's a shorter theatrical cut, and that's the one to see.
6. Gaslight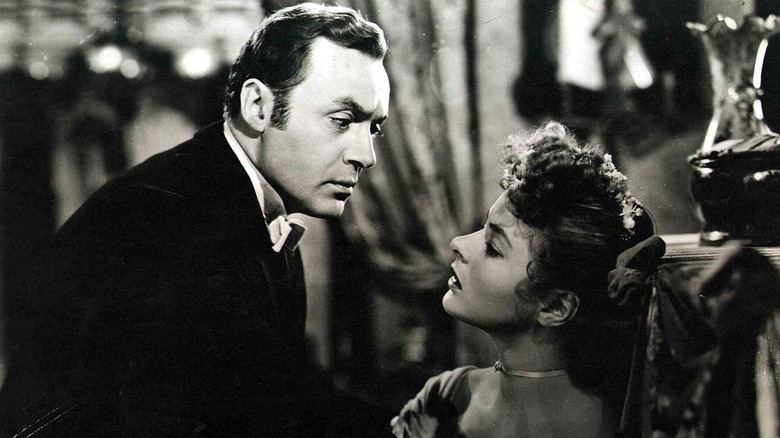 United Archives/Getty Images
"Gaslight" from 1944 opens almost like a flickering silent movie and doesn't have the production values of an even older film from Ingrid Bergman's canon like "Casablanca." It is, however, awash in period charm. It's a remake of the same story from only four years prior, but this version of the thriller oddly doesn't stage the opening murder, the brutal strangulation of an English opera singer in her home. Years later, the murdered woman's niece, Paula (Bergman), is training to be a singer but gives it up during a whirlwind romance with a dashing pianist named Gregory Anton (Charles Boyer). The couple soon moves back into her deceased aunt's spooky, gothic London flat.
Married life soon turns tense. An heirloom of Paula's goes missing, then a picture on the wall. The gas lamps in the house are brightened, then oddly dimmed, but Gregory denies even noticing this and questions Paula's sanity as she becomes more paranoid and isolated. "Gaslight" is based on a play from 1938 but this film is most responsible for the popular term. It's a baroque and mannered portrait of domestic psychological abuse at the hands of a man who is not who or what he says he is. "Gaslight" is dated, but even as the lamps are turned low, Bergman in her black and white prime was never more luminous.
5. Indiscreet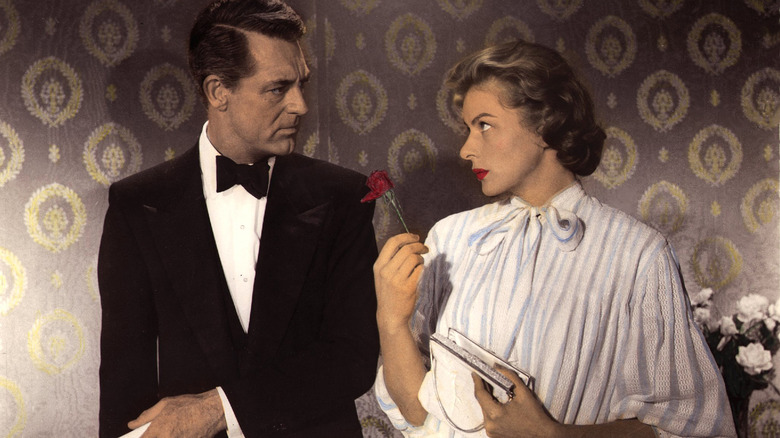 United Archives/Getty Images
This slightly underrated 1958 film is Ingrid Bergman and Cary Grant's second collaboration. Bergman was coming off an Oscar win in 1957, which Grant accepted in her stead, so she jumped at the chance to work with her friend again after their iconic collaboration on Alfred Hitchcock's "Notorious" 12 years earlier.
It's not known if Bergman and Grant had an affair, but their close relationship is well-documented. During their initial collaboration in 1945, the normally controlling Hitchcock was so smitten with the married Bergman that he allowed her war photographer lover, Robert Capa, to take photos on his set. Meanwhile, Grant was coming off one of his four divorces. Maybe the timing was never right for a real Bergman-Grant fling, but their onscreen chemistry was intense, and they work that same magic in "Indiscreet."
Bergman plays Anna Kalma, a famous stage performer resigned to a life without love. That's when her similarly upscale sister, Margaret (Phyllis Calvert), invites her to a party where she meets a dashing banker named Philip Adams (Grant). The chemistry is immediate, but it turns out he's already married. The romance goes ahead, but there's a screwball element, and nothing with Adams is what it seems. "Indiscreet' is irresistible. The photography is lush and colorful and so are the sets, but most of all, you'll swoon for its two stars.
4. Murder on the Orient Express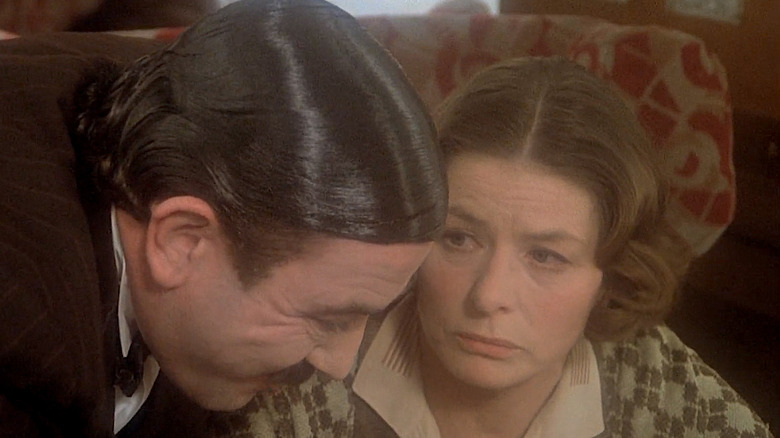 Anglo-EMI Film Distributors
"Murder On The Orient Express" is one of the most engrossing films of the 1970s and among the best murder mystery films ever made. Adapted from the Agatha Christie novel of the same name, the plot follows a large ensemble of strangers on a train. When one of them is stabbed to death, the brilliant detective Hercule Poirot (Albert Finney) interviews each passenger aboard the stranded locomotive to piece together how this crime may link back to a famous abduction case. Poirot's investigation is the real show in this dialogue-driven film, as his gift for deductive reasoning stands in for the inventive plot-minded genius of Christie.
Ingrid Bergman has a small role, but no less than the other stars like Sean Connery, Lauren Bacall, and Anthony Perkins, and she nabbed her second Oscar for the part of Greta, a zealous religious missionary who shouts things like, "Only God can judge!" But doth thou protest too much? The Swedish-born Bergman learned English to become a global movie star but leans on her roots for a broken Swedish-English accent as she unfurls her supposedly innocent backstory. The fun is in figuring out if this woman of God is telling the truth or hiding a devilishly clever crime.
3. Spellbound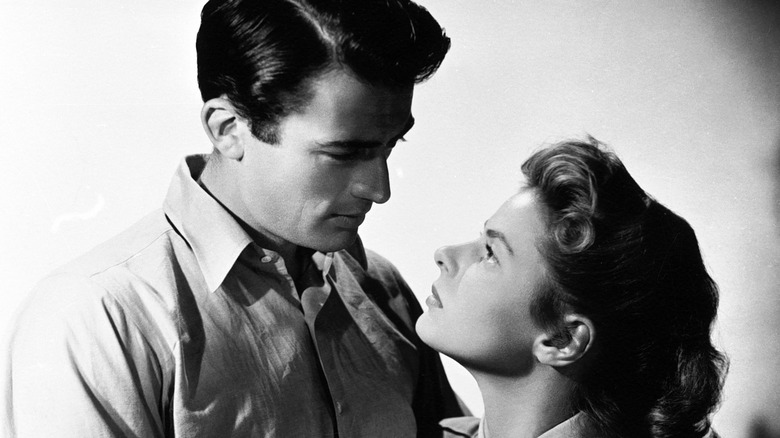 United Archives/Getty Images
In "Spellbound," Ingrid Bergman stars as Dr. Constance Petersen, a psychoanalyst at Green Manors Mental Hospital in Vermont. Her patients are dangerous and unhinged, and the other doctors fall all over themselves for her affection. It's quite a job. Constance, however, remains constant and detached — "a human glacier," as one colleague brands her. That all changes when a new and very handsome young doctor named Anthony Edwardes (Gregory Peck) joins the ward. The two fall fast in love, but soon, a patient with a supposed guilt complex triggers Edwardes to believe he repressed memories of his own complicity in a murder.
This psychological thriller by Alfred Hitchcock takes the most explicit interest in Freudian psychology of all the films in the director's storied career. "Spellbound" was released in 1945, just six years after Freud's death, and it portrays a mental health profession in the thralls of the founder of psychoanalysis ideas. The entire premise is a bit like one big spell of mass delusion among experts. That works because Hitchcock's interest in Freudian symbolism here is less subtle than in "Psycho" or "Rear Window" or even "Vertigo." Freud is really just a device for an amnesia story as Bergman deploys her skills to probe the depths of the identity of the dashing Dr. Edwardes.
2. Notorious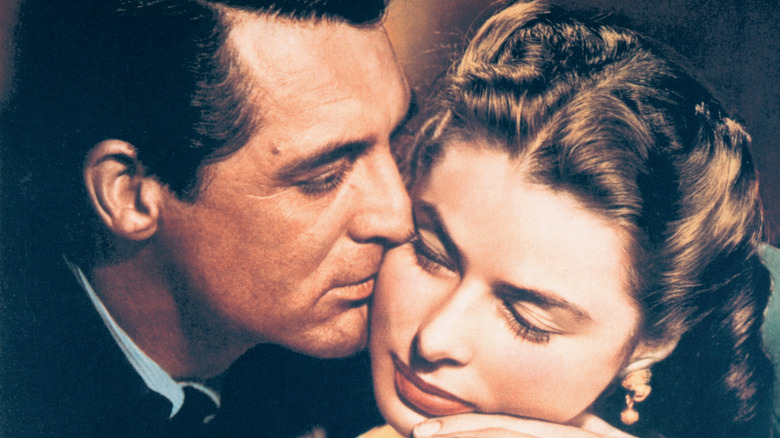 United Archives/Getty Images
Ingrid Bergman as Alice is absolutely transfixed by Cary Grant's Devlin in "Notorious." The two stare into each other's eyes as they pour out the last of a bottle after a dinner party that somehow turned into a booze binge. Alice's hair is tousled, but somehow Devlin isn't intoxicated at all. Their chemistry is electric, yet his composure says something else is on his mind.
Alice has reason to drown her worries. Her father has just been convicted as a Nazi war criminal, and soon, we find out the mysterious Devlin didn't crash this party by accident. He's a spy and wants Alice to help him smoke out another Third Reich fugitive hiding abroad. Devlin's deception cools the romance, and things get even more complicated when she learns this sexy spy wants her to seduce a Nazi hiding in Brazil.
This steamy thriller from 1946 is one of Alfred Hitchcock's very best films. Carried by the romance plot, it's one of his pictures that holds up from this era before color. There are just some duos that make you believe the passion is real, and you know it when you see it. "Notorious" has fun with spies and Nazis and other various MacGuffins, but really, it's all a thrilling ruse to keep these lovers apart.
1. Casablanca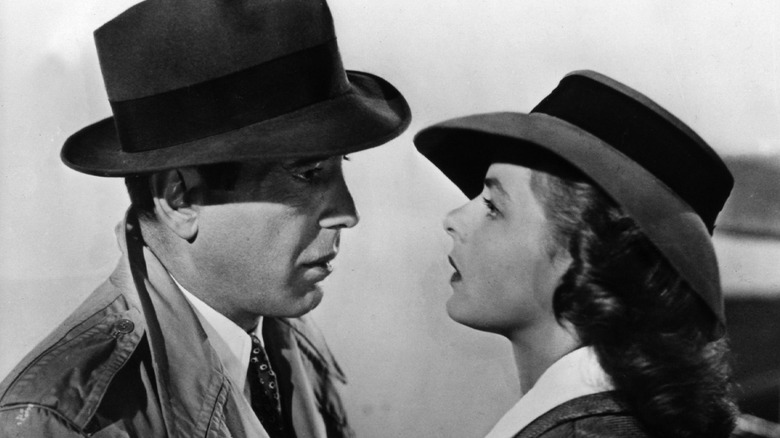 United Archives/Getty Images
There has always been one glaring problem in what is arguably the greatest movie Hollywood ever produced. Humphrey Bogart is on brand as the brooding tough guy, Rick Blaine. He's a no-nonsense proprietor of a classy casino bar in the Nazi-occupied North African territory of Casablanca. He has zero interest in taking sides as passports out of the province become invaluable. However, when his ex, Ilsa Lund (Ingrid Bergman), shows up needing a ticket out, Rick turns into a blubbering, moody teenager, drowning himself in drink in his stylish and shadowy office above the bar.
This is an odd way for a film noir anti-hero to act in 1942. We learn Rick was once a freedom fighter, so the tough-talk isn't just a front. Yet, Bergman's beauty instantly melts him, and that really is the key to salvaging this incoherency. Bergman is simply among the most telegenic women ever captured on celluloid and her spell on Rick is supernatural.
Flashbacks show the former couple's whirlwind romance in Paris, and we get why Rick is so sore that she ghosted him all those years back. When she wanders into Rick's Cafe, dressed all in white, a halo of gauze over the lens, Bergman's more apparition than actor. Rick fancies himself a realist who sees all the angles, and usually, he does. Only Bergman could pull the wool over his eyes, and his journey is about overcoming his cynicism and love-lorn grief for the greater good.