Dracula Drudgery Led Christopher Lee To The Wicker Man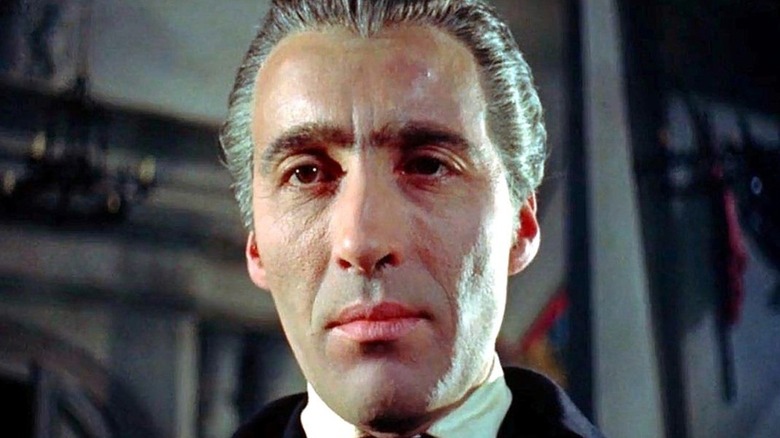 Hammer Film Productions/Rank Film Distributors
Many actors have played Count Dracula over the years, but who is the best? My vote goes to Max Schreck in "Nosferatu." His is a truly nightmarish creature, feral and pestilent, stripped to the barest vestige of humanity after centuries of scuttling around in the shadows. Sure, his character is called "Count Orlok," but that name change and other tweaks didn't fool anybody, resulting in a lawsuit from Bram Stoker's estate that almost wiped the film from existence.
But with most movie fans, you have a two-way tussle between Bela Lugosi and Christopher Lee. Lugosi's classic Universal monster is regal and intense, with a hypnotic gaze and a much-imitated accent ("Bleh-bleh-bleh," as Adam Sandler might say). Crucially, though, he just isn't very scary.
Lee played the Count in Terence Fisher's racy 1958 Hammer adaptation of "Dracula," pairing him with Peter Cushing as his adversary, Van Helsing. He portrayed the vampire as a lustful, ferocious predator, popularizing the concept of elongated fangs to drain victims of their blood. His ferocious performance made him a star.
The popularity of the film spawned eight sequels, but typecasting and the law of diminishing returns saw Lee grow weary of the role, despite the fame it brought him. Luckily for him, he became friends with playwright Anthony Shaffer, who said Lee wanted to make films (via Cathode Ray Tube) "...without women who look like Barbra Windsor running up and down papier mâché corridors screaming, without the contact lenses and the snappers."
Shaffer was on a roll after his Tony-award-winning stage play "Sleuth" became an Oscar-contending film, earning nominations for director Joseph L. Mankiewicz and both Laurence Olivier and Michael Caine for Best Actor. And Shaffer would soon have the perfect part for Lee.
Christopher Lee's favorite film role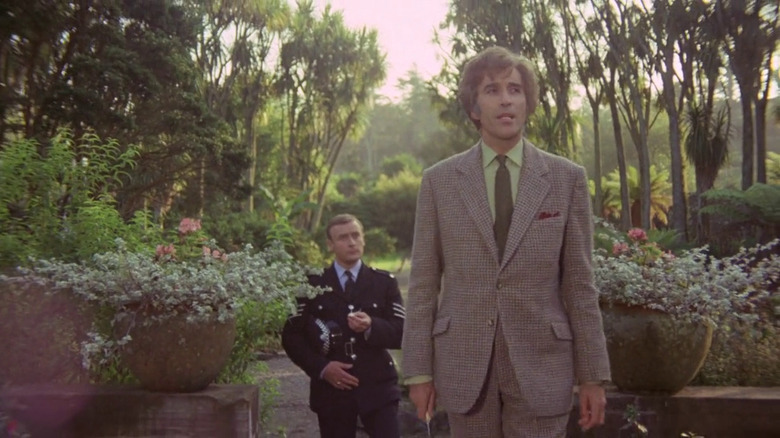 British Lion Films/Warner Bros Pictures
Christopher Lee made well over 100 films during his lengthy career, but he always declared the role of Lord Summerisle in "The Wicker Man" his favorite. Lee and Shaffer purchased the rights to David Pinner's novel, "Ritual," which followed a devout Christian copper on a missing child case in rural Cornwall who finds himself targeted to become a human sacrifice. Teaming up with director Robin Hardy, Shaffer focused on the book's pagan elements and relocated the action to a fictional Scottish island, downplaying traditional scares in favor of mounting dread.
Shaffer wrote the part of Summerisle for Lee, a debonair laird whose elaborate plan lures the pious Sgt. Neil Howie (Edward Woodward) to his horrific appointment with "The Wicker Man." As in "Sleuth," Shaffer found an intriguing power dynamic at the heart of the story, with Howie and Summerisle representing a clash of two opposed beliefs.
Summerisle is one of the best-written characters in horror cinema and Lee plays him to perfection. There are parallels to Julian Karswell in "Night of the Demon," another urbane cult leader with the means and charisma to manipulate his followers; Summerisle is charming, well-educated, and witty, with a dominant aura that makes it believable that he's able to mobilize an entire island to murder Howie.
Summerisle is a fascinatingly ambiguous character. It's never clear how much of his doctrine he really believes; he's very matter-of-fact about the history and science of the island, yet he has a blankness that suggests he has become high on his own supply. The greatest moment of Lee's performance arrives when Howie warns if his sacrifice fails, the islanders will come for Summerisle next. In his eyes, we can see he knows Howie is right, but then he doubles down on his pledge to his cult.
The Wicker Man was Lee's passion project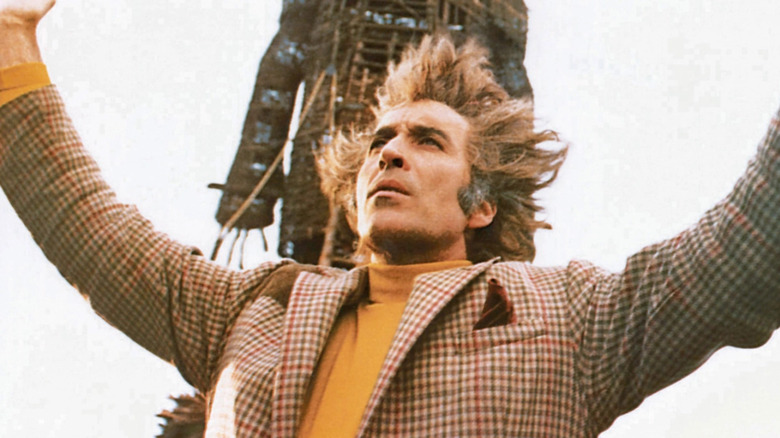 British Lion Films/Warner Bros Pictures
"The Wicker Man" became a passion project for Christopher Lee. Not only did he stump up some of his own money towards buying the rights to Pinner's book, but he also received no salary for his part in the film. He said (via "The Wicker Man Enigma"):
"I knew I was doing something quite extraordinary. I got paid nothing, and I keep repeating that to people and they don't believe it, but it's true. I've got the contract to prove it. Anyway, sometimes you do things for love."
Lee's love for "The Wicker Man" helped save it from obscurity, and it eventually became the venerable cult classic it is today. By the time it was ready for release, studio executives didn't really know what to do with it. Put off by its oddness and harrowing ending, they were happy to cut their losses and didn't even hold a press screening. Lee was having none of it and he became a passionate advocate for the project, offering to pay critics to see the film and later traveling to the United States on his own dime to help promote it ahead of its North American release.
Despite Lee's best efforts, "The Wicker Man" still had an inauspicious start. Significant cuts were made for both its UK and US releases, the latter truncated version overseen by Roger Corman. In Britain, it unceremoniously played as the B-feature on a double bill with "Don't Look Now." 
Lee remained passionate about the film and lived long enough to see its restoration and re-evaluation, now regarded as one of the greatest British films ever made and the cornerstone of folk horror's "Unholy Trinity." With both Count Dracula and Lord Summerisle on his resumé, Lee is also rightly remembered as a true legend of horror.