The Bodies Bodies Bodies Cast Bonded Over Some Mutual Pain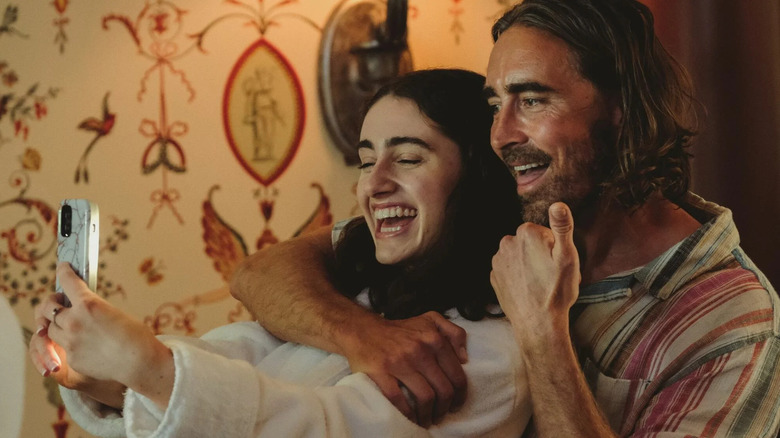 A24
It's pretty obvious that "Bodies Bodies Bodies," which recently began a limited release run, was a labor-intensive film. After all, our main cast of characters does find themselves fighting for their lives in pretty comical ways, not to mention the titular game they play can get pretty aggressive.
This aggressiveness is something that the cast of the film seemed to relish in, at least according to stars Lee Pace and Rachel Sennott. The two recently gave an interview with Entertainment Weekly, recalling memories of the production preserved through behind-the-scenes Polaroids. When breaking down one photo of them with costars Chase Sui Wonders and Pete Davidson, it was revealed that they had a bit of fun with one of the game's bizarre rules. "One of the customs this group of friends [do] is to take a shot and hit your neighbor in the face," Pace explained.
This scene, in particular, served as a strange first for Sennott, who shot to recognition in 2020's "Shiva Baby." The actress elaborated further on the odd bonding experience. "We actually all slapped each other once, because we wanted to feel what it felt like," she said. "And I've never been slapped in the face before. It was electrifying!"
'I can't believe you're making this about you'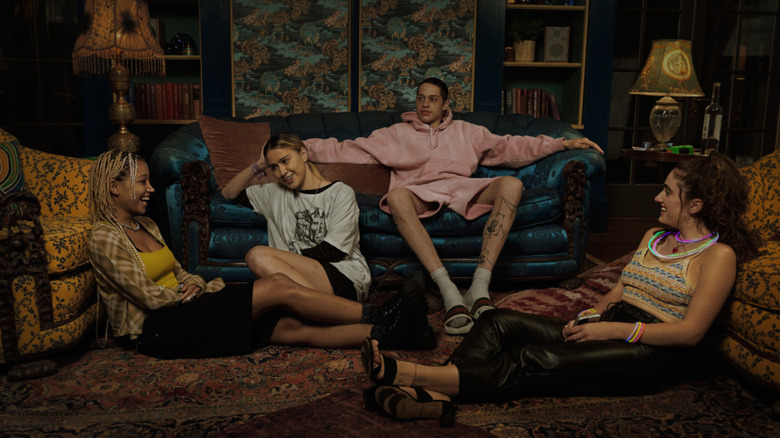 A24
Slapping each other around wasn't the only less-than-ideal event the actors bonded over. While speaking to EW, Sennott revealed that the cast often got together and hung out off-set at a creepy hotel they were staying at during filming.
"It was so crazy because we were in this small town, staying in basically a haunted hotel," she said. "It was this weird, creepy motel, and we were all staying on the same floor, and we would just go to each other's rooms and hang out and talk, and we bonded really, really quickly."
The connections between the cast also strengthened once it came time for everyone to clean up after a long day of shooting. Needless to say, filming a mystery-slasher set during a hurricane is bound to make things messy; Sennott recalled that "the whole place was trashed," and getting clean at the end of the day was no easy task:
"We were sticky, dirty, gooey, sopping wet. Any of the times where it's the girls running through the house, we were just covered in blood so much, and we would shower in the house at the end of the night, and you would just look down and all the blood would be pooling."
"Bodies Bodies Bodies" is now playing in select theaters and will expand nationwide on August 12.