The Prey Creative Team Explain One Huge Advantage Of Going Direct To Streaming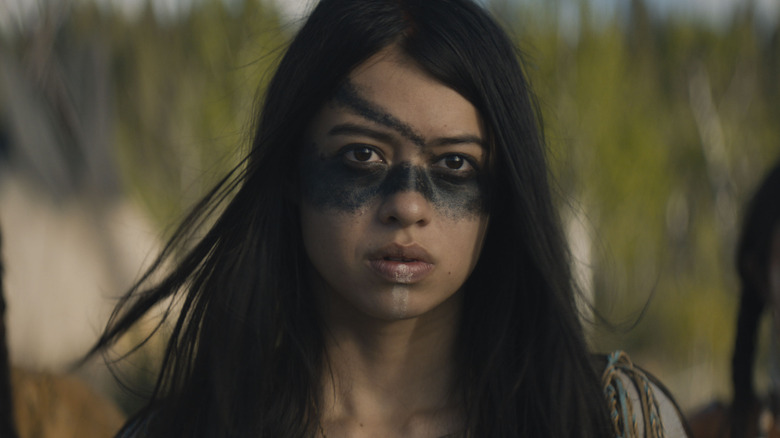 Hulu
Dan Trachtenberg's "Prey" will soon be available on Hulu for the world to stream, with viewers finally able to return to the world of "Predator" since the last installment in the series in 2018. However, some fans have found issues with the fact that "Prey" is set to be streaming exclusively with no theatrical window in sight. The precedent for streaming movies finding a theatrical window has been something of a mixed bag, with the occasional big Netflix project like "The Irishman" or "The Gray Man" getting a limited theatrical run. (Netflix sure likes releasing its men in theaters.) Besides major releases from "big name" directors, streaming movies don't often get the big screen treatment.
The theatrical experience is cherished, and while "Prey" certainly warrants being seen on as big of a screen as possible, that doesn't mean watching on your television is bad. The creative team behind "Prey" are a glass-half-full kind of group, as director Dan Trachtenberg and producer Jhane Myers see the exclusivity of the film to a streaming service as a good thing and an opportunity to provide a more diverse form of storytelling.
Providing authenticity through streaming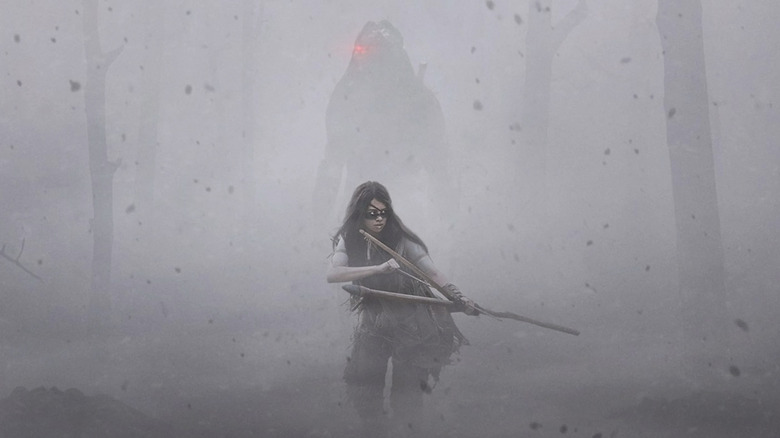 Hulu
In an interview with GamesRadar, Trachtenberg and Myers spoke about the positives of the film going to streaming, particularly the alternate language option that brings a whole new level of authenticity to the story. Producer Jhane Myers says: 
"It's a huge bonus because if you were going to see it in the cinema, you wouldn't have the option of watching it in Comanche. It's so important. This is the first time that a film has ever been entirely in the Comanche language, ever. It's also the first time that a brand new film is coming out in the Native language. So for authenticity, for representation, it sets that bar really high. I always tell people, 'Oh, you need to watch it in English and you need to watch it in Comanche just to see it.' Just for Native people, that's a huge thing. Huge."
Trachtenberg's "Prey" is a compelling film partly because of its historical backdrop. Having the focus on the Comanche Nation of the 1700s not only offers a fresh new take on the "Predator" franchise but allows underrepresented peoples to shine in an action film of their own. To be able to view it in the native Comanche language is just an incredible opportunity. Whether we like it or not, it would probably not have been possible had the film been released in theaters.
A celebration of Comanche history and culture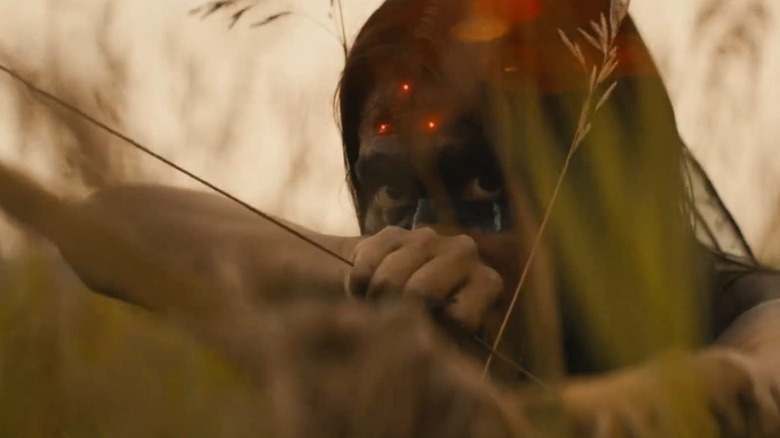 Hulu
Trachtenberg sees the streaming-only release of "Prey" as a benefit not only for entertainment but for education and awareness, as he says in an interview with GamesRadar:
"The initial intention was to have the film done in Comanche. So in some regard, it's like, 'Okay, cool. there's a version of this movie without any artifice.' It's like, 'This is how it would sound and how it would be.' Not many people speak Comanche, and this could almost be like a teaching tool to encourage people to continue to learn that language and that it's captured. So much Native American history, so much Comanche history is oral. So, having a tool that solidifies something and makes it permanent is so cool. Movies are forever — for as long as we have the technology, anyway. So, I think it's wonderful to have it and fully represent the culture and people we're portraying."
"Prey" is an incredible and visceral film, using the rich history of the Comanche Nation to not only ground the movie in an entertaining revisionist take on the "Predator" franchise but also possibly inspire viewers to educate themselves on Comanche history. The characters in "Prey" may be fictional, but the traditions, strength, and pride of the Comanche Nation are something that is still alive and well. If such a celebration of history and representation is something that a theatrical release could not achieve, then the streaming release of "Prey" was indeed the only option.