John Huston's Treasure Of The Sierra Madre Cameo Was One Big Humphrey Bogart In-Joke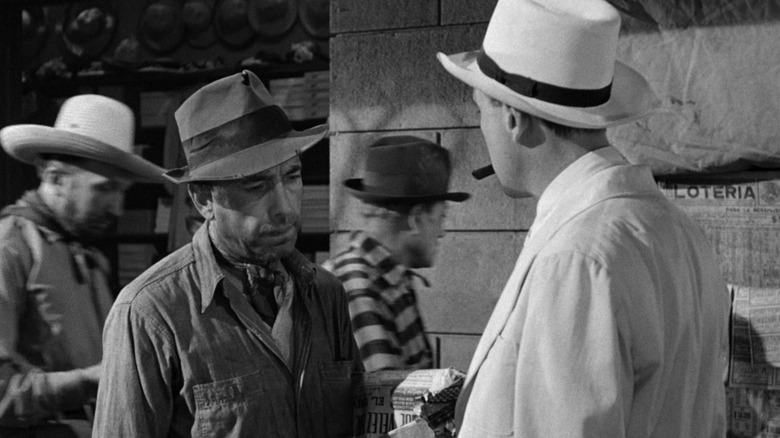 Warner Bros.
In the opening scenes of John Huston's 1948 Academy Award winning film "The Treasure of the Sierra Madre," Fred Dobbs (Humphrey Bogart) is down on his luck. He's in Mexico looking for work in 1925, and can't seem to find any. He's reduced to asking for pesos in the street, and approaches a tall American man in a white suit and hat. The American gives him a coin. Dobbs can buy a meal and a lottery ticket. He'll be fine for maybe 12 hours. 
"The Treasure of the Sierra Madre" eventually follows Dobbs into the wilderness — to the mountain of the title — with a pair of compatriots (Tim Holt and Walter Huston, the director's father). While sealed off from humanity, the trio strike gold, assuring wealth to the end of their days. Striking gold, however, drives Dobbs to the brink of his sanity, and it won't be long before both he and the Holt character are seriously considering murder as a means of getting a larger share. Earlier in the film, Dobbs claims that this very thing will never happen to him, all but assuring that it will. The film is a combination Western and episode of "Tales from the Crypt."
The action of "Sierra Madre" is kicked off by that tall American in white who gives Dobbs some money. A few days later, Dobbs unwittingly asks the same man for money. On the third try, the tall American speaks: "This is the very last you'll get from me. From now on, you have to make your way through life without my assistance." 
This is a funny line, considering that it comes from director John Huston himself, acting in a cameo.
John Huston's cameo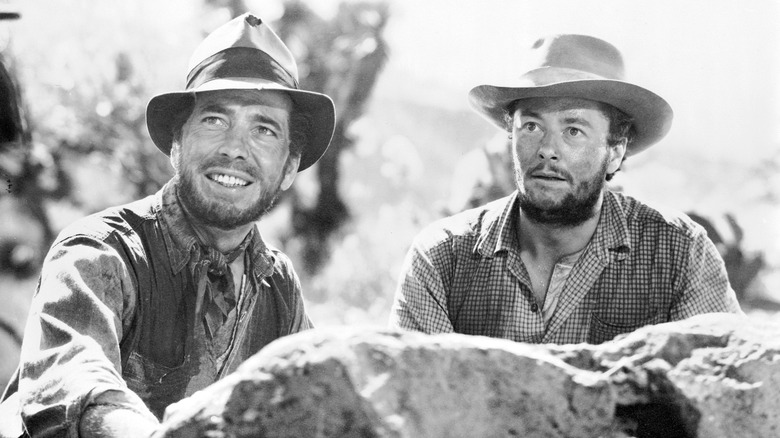 Warner Bros.
The cameo in "Sierra Madre" was Huston's on-screen debut. He would go on to play notable roles in a few other films as well, often playing a version of himself. Even his corrupt magnate in "Chinatown" and his voice work as Gandalf in the animated take on "The Hobbit" take great advantage of Huston's natural authority and reputation as a filmmaker. His finest role likely came in the finally-completed-in-2018 Netflix drama "The Other Side of the Wind" directed by Orson Welles. In that film, he plays a very Welles-like director who bristles at the emerging trends in New Hollywood, hating films like Michelangelo Antonioni's "Zabriskie Point," a sweaty, ennui-ridden sex film that was popular at the time. 
In "Sierra Madre," Huston appears to be giving Bogart direction on camera. Huston and Bogart had worked together before on two previous hits, "The Maltese Falcon" — Huston's debut — and "Across the Pacific." Huston was lucky to pair with Bogart, as he was in the midst of establishing himself as a prolific movie star. Huston would give Bogart another boost toward superstardom, and after "The Maltese Falcon," there was no stopping Bogart. 
Huston's and Bogart's interaction in "The Treasure of the Sierra Madre" was a wink from director to actor. In 1948, Bogart had "Casablanca" behind him. As a Warner Bros. contract player, he no longer needed any kind of "leg up." Funny, then, that Huston should turn to him — after boosting Bogart's profile with "Maltese" — and say to his face that he's not going to give him a handout. Bogart was going to have to make his way through life without Huston's assistance. 
The two would go on to make "Key Largo," "The African Queen," and "Beat the Devil" together.
Dialogue as charity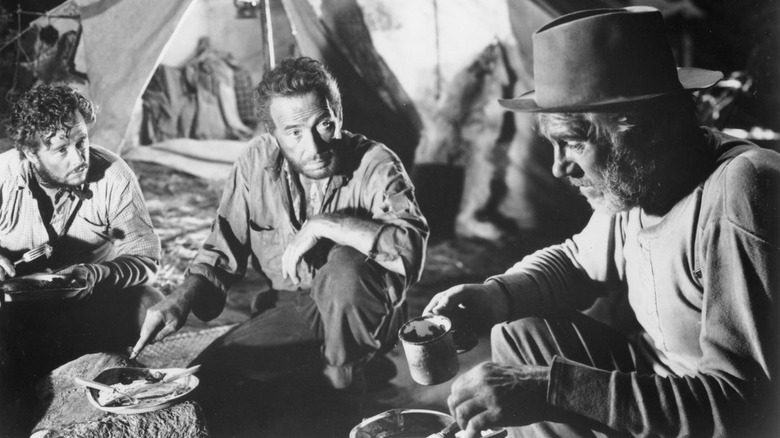 Warner Bros.
In Stefan Kanfer's 2012 book "Tough Without a Gun: The Life and Extraordinary Afterlife of Humphrey Bogart," Kanfer stages the interaction between Bogart and Huston in terms of Huston's talents as a writer. Huston also served as screenwriter on "Sierra Madre," basing it on the 1927 adventure novel by B. Travern. In that book, Bogart is said to like Dobbs as a character, but understood that good dialogue would be required to more effectively communicate the character; Dobbs couldn't be a mere man corrupted by greed. He needed to be a whole person. 
Bogart, in his "Sierra Madre" scene, seemed to be asking not for a peso, but for good dialogue. The very screenwriter gives him a little dram of writing and tells him to figure it out. An actor, after all, requires a good screenplay to look good. This goes to an unsubstantiated quote from Bette Davis, who once had to explain to a director that if she spoke bad dialogue, the audience wouldn't think to blame the screenwriter, choosing instead to blame her. 
Huston is playfully flipping Bogart a coin. You'll only look good in this movie, he is saying, if you read my dialogue. 
In a film as harrowing and as intense as "The Treasure of the Sierra Madre," such an interaction adds a wonderful note of playful levity. Huston does not appear in the rest of the film, but his generosity allowed Dobbs to live as both a character and as a fictional construct.