The Banshees Of Inisherin Trailer: Colin Farrell And Brendan Gleeson Reunite For The Most Awkward Break-Up Ever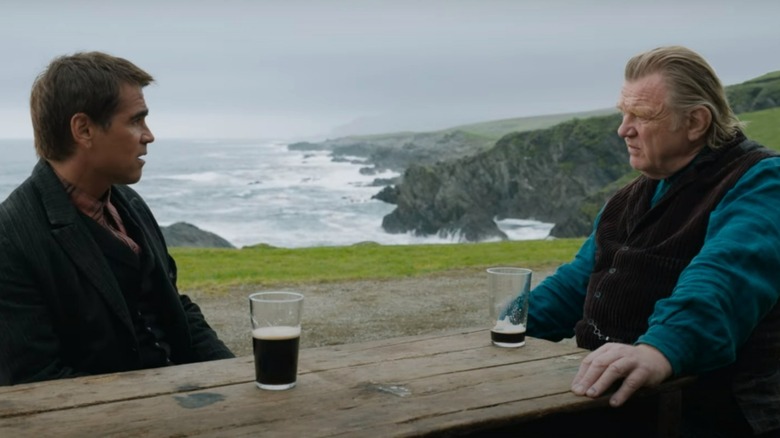 Searchlight Pictures
If you're a director like Martin McDonagh with three successful hits under your belt — the brilliant "In Bruges," 2012's "Seven Psychopaths," and most recently the Oscars darling "Three Billboards Outside Ebbing, Missouri" — the question then becomes: What next? Well, you can't go wrong with going right back to where it all started ... in more ways than one.
Reuniting with his pair of "In Bruges" stars, Colin Farrell and Brendan Gleeson, McDonagh appears set to deliver his most delightfully Irish-flavored film yet. If you've ever wondered how difficult it might be for a male friend to "break up" with another male friend, "The Banshees of Inisherin" will attempt to answer that longstanding question to darkly hilarious results. With a plot that's endearingly reminiscent of that classic "Seinfeld" episode, the writer/director's fourth feature film looks to bring all the sarcasm, wit, and deeply uncomfortable social situations we've come to expect from movies with McDonagh's name on the marquee.
Now that Searchlight Pictures has finally dropped our first look at the film ahead of its planned film festival circuit, check out the first official trailer below!
The Banshees of Inisherin trailer
You know how it goes: You've known a person all their life, gotten along swimmingly for all those years, and then one day you wake up and decide you've had enough. That's the excruciatingly awkward dilemma that Brendan Gleeson's Cole and Colin Farrell's Pádraic find themselves in that kicks off the events of "The Banshees of Inisherin."
Life comes at you fast. "I just don't like you no more," Cole bluntly informs his former friend. "But you liked me yesterday," Pádraic protests. Things go from bad to worse from there, as the tiny Irish island (and the troublemaking supporting cast, to boot) offers neither of the two frenemies any sense of solace from the other. Given both actors' repeated collaborations with one another over the years, the premise is sure to lend an ironically meta twist to the events of the story. In addition to Farrell and Gleeson, the film also stars Kerry Condon and Barry Keoghan.
Expect first reactions to drop after its world premiere at this year's Venice Film Festival later this September. The North American premiere will follow during the Toronto Film Festival, ahead of its wide release on October 21, 2022.
Set on a remote island off the west coast of Ireland, "The Banshees of Inisherin" follows lifelong friends Pádraic (Colin Farrell) and Colm (Brendan Gleeson), who find themselves at an impasse when Colm unexpectedly puts an end to their friendship. A stunned Pádraic, aided by his sister Siobhán (Kerry Condon) and troubled young islander Dominic (Barry Keoghan), endeavors to repair the relationship, refusing to take no for an answer. But Pádraic's repeated efforts only strengthen his former friend's resolve and when Colm delivers a desperate ultimatum, events swiftly escalate, with shocking consequences.