Everything We Know About The Banshees Of Inisherin So Far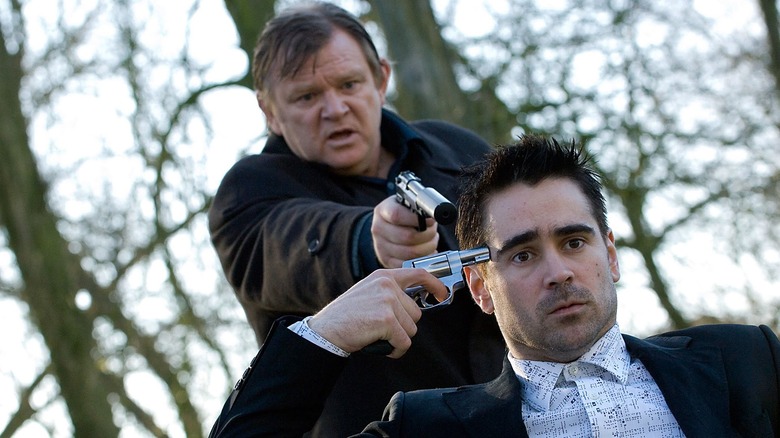 Focus Features
Martin McDonagh and Colin Farrell are retracing their Irish roots in an exciting new project coming this fall (via Screen Daily). This will be McDonagh's follow-up to the 2017 drama "Three Billboards Outside Ebbing, Missouri," also produced by Searchlight Pictures. The upcoming film, titled the "Banshees of Inisherin," follows "two lifelong pals on a remote Irish isle," Variety reports. Conflict arises when one of the two suddenly cuts the friendship short. Like "In Bruges," McDonagh's new film will be a black comedy — "it's all I can do," the director quipped to Vanity Fair.
McDonagh first collaborated with Farrell in 2008 on his directorial debut, "In Bruges," a sentimental film about two hitmen hiding out in a small Belgian town after bungling a job. Following the roaring success of their first project, the pair worked together again in 2012 on "Seven Psychopaths," an ensemble comedy about a screenwriter in search of a new idea who gets swept up in a world of crime. The two men's excellent working relationship comes from their shared "love ... of storytelling," Farrell explained to MSN, adding that McDonagh's writing "just makes sense" to him. In return, McDonagh compliments Farrell for being "open to going to dark places," capable of balancing the sentimentality and humor of his work. Their deep understanding of one another and decades-long creative relationship makes the news of their latest endeavor incredibly promising.
A dream team of frequent collaborators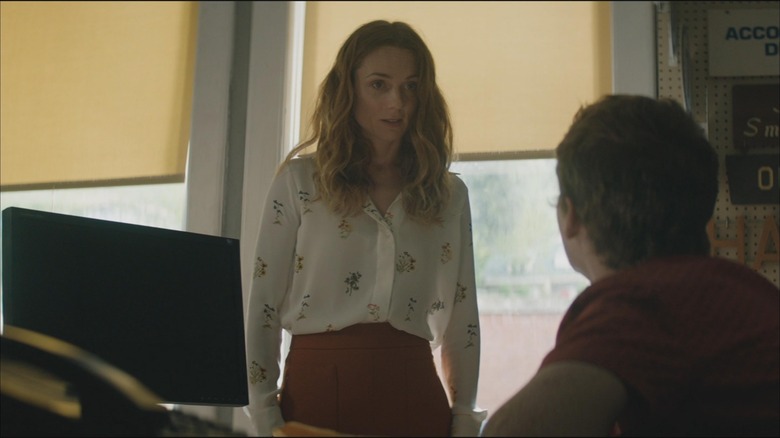 Searchlight Pictures
"The Banshees of Inisherin" will also feature a leading performance from Brendan Gleeson, who starred opposite Farrell in "In Bruges" (via Deadline). Gleeson is additionally recognized for his role as Alastor 'Mad-Eye' Moody in "Harry Potter and the Goblet of Fire," which he reprised in the franchise's subsequent films, as well as his supporting role in the 1995 historical drama "Braveheart." Gleeson has not collaborated with McDonagh since "In Bruges" in 2008, although he did star as hard-boiled Irish cop Gerry Boyle in "The Guard" (2011), which was written and directed by McDonagh's brother.
The "Banshees" cast also includes Kerry Condon, who played Pamela in "Three Billboards" (via Deadline). Condon is known for her ongoing role as Stacey on the "Breaking Bad" spin-off series "Better Call Saul," as well as her role as Pamela on the dramatic series "Ray Donovan." McDonagh obviously enjoys bringing old collaborators in on new projects, but this will be Condon's first time working with the other McDonagh veterans like Gleeson and Farrell. The Oscar-nominated "Three Billboards" was more overtly political and tonally dramatic than McDonagh's other work, so it will be interesting to see how Condon interacts with material that is more comfortably within McDonagh's creative wheelhouse.
Newcomer Barry Keoghan has joined the star-studded cast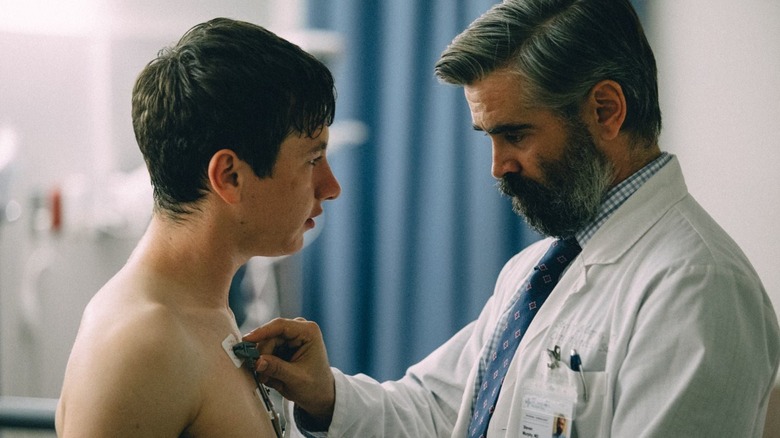 Curzon Artificial Eye
Barry Keoghan is also slated to star in "Banshees," his first role in a McDonagh film. Keoghan has made waves over the past few years with his major role in the 2021 Marvel film "Eternals" as well as his smaller part in Christopher Nolan's 2017 war film, "Dunkirk." Although this is Keoghan's first time in a McDonagh production, the actor has worked with Farrell in the past. Keoghan actually played Farrell's son in Yorgos Lanthimos' slow-burning horror film, "The Killing of a Sacred Deer" (2017). They were also both featured in "The Batman" (2022), although their characters did not interact. Farrell is hilarious as The Penguin, while Keoghan plays an unnamed Arkham prisoner that sounds eerily similar to the Joker, suggesting that he may be cast in upcoming DC projects.
Keoghan confirmed that "Banshees" finished filming in October, so the film should be well into post-production by now, if not already complete (via Twitter). With a dream team full of award-winning entertainers with comfortable working relationships, it's hard to imagine that "Banshees" won't be one of the best films of the year.