Why Jamie Lee Curtis Regrets Virus, One Of The Worst Science Fiction Movies Ever Made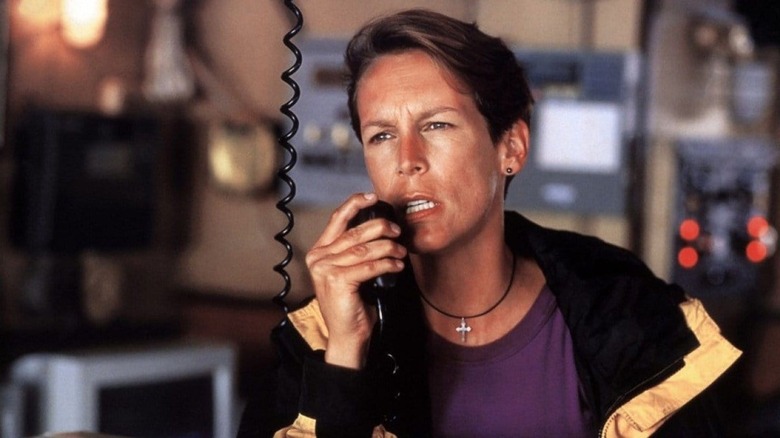 Universal Pictures
Jamie Lee Curtis might be one of the most entertainingly frank actors to ever deliver a sound bite, especially when it comes to discussing her own movies. Last fall, the "Halloween" star admitted that she detests the horror genre, telling the PA news agency in regards to the franchise that made her famous: "I don't like these movies. I don't watch these movies." During that same press tour, she spoke at length with The Guardian about the catch-22s of being a woman on screen, saying that she's "never been a woman-in-film darling" because her involvement in horror movies can be seen as exploitative.
Curtis is honest about what she loves, and just as honest about what she doesn't. Despite her own aversion to horror movies, she's still clearly really into the "Halloween" franchise, telling audiences who caught an early glimpse of footage this year that "'Halloween Ends' will "f*** you up," which in the context of the long-running slasher series sounds like a good thing. But there are some past projects the actor isn't nearly as effusive about, including at least one she downright loathes.
In an interview with WENN, Curtis once cited the 1999 film "Virus" as one of the worst projects she's ever worked on. "That's a piece of s*** movie," she told the outlet, then added for emphasis: "It's an unbelievably bad movie; just bad from the bottom." The actor is far from the only person to hate the sci-fi horror film, which was directed by frequent James Cameron collaborator John Bruno.
A derivative sea-bound thriller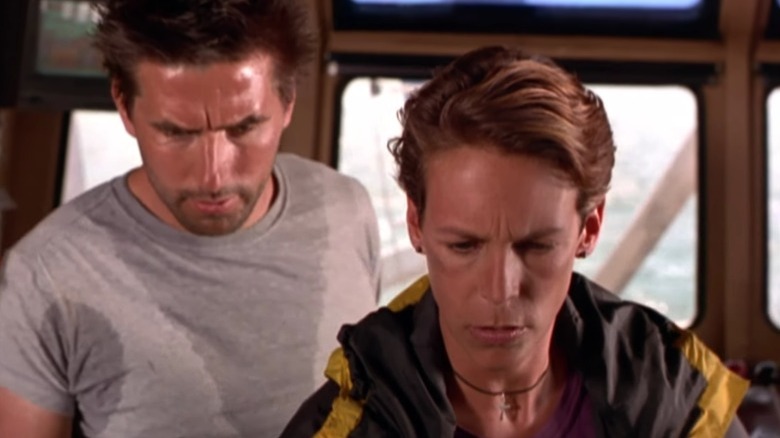 Universal Pictures
The response to "Virus" upon its initial release was abysmal. The movie was a certified flop, making only $30 million at the box office against a reported $75 million budget. It was also widely rejected by critics. Roger Ebert gave the film one star, lamenting its "distinct letdown" of a monster and lighting problems that made the movie "almost unseeable." He ended his review of "Virus" by recommending an entirely different movie.
The plot of "Virus" is interesting enough on paper. Curtis plays an ex-Navy officer named Kelly who has to save the day when the crew of the tugboat she's working on ends up trapped on a Russian ship with robotic aliens who think humans are a virus. Donald Sutherland co-stars as an alcoholic ship captain, while William Baldwin plays an engineer. The film may sound vaguely original now, but it arrived after a decade's worth of ocean-set sci-fi and horror movies, from Cameron's "The Abyss" to the Michael Crichton adaptation "Sphere" to "Deep Rising," a movie that shares several plot points with "Virus" and was released just a year earlier.
"It was maybe the only time I've known something was just bad and there was nothing I could do about it," Curtis says of her experience shooting the movie. "I just do the best I can and there have been bad movies that have been wildly successful and great movies that have tanked, so you never know." 
While "Virus" has become a bit of a cult favorite, the film is still mostly remembered for its corny special effects and derivative plot points. Curtis says that she thought maybe the film could've been a "precursor to all of these Marvel comics movies," but that audiences who tend to love action and sci-fi didn't show up for the film after all.
The best bad movie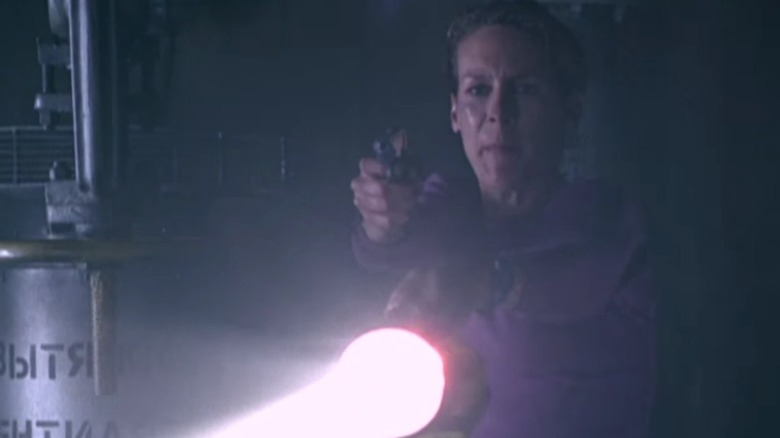 Universal Pictures
Though Curtis doesn't seem to point the finger at any one person involved with "Virus" to explain its failure, she does remember one sequence that seemed particularly outlandish to shoot. "There's a scene where I'm running away from this alien and I actually hide under the stairs," she told WENN. "I come down some stairs and then duck up underneath them and I'm quivering and this big thing comes down the stairs and I'm freaking hiding under the stairs! This is something that can open walls of steel and I'm hiding under stairs!" It was a moment that tested her ability to suspend her disbelief.
So sure, "Virus" was never going to win any awards, neither for its quality nor for the cleverness of its horror movie heroine. But there is one thing the movie is good for, according to Curtis. "Rob Reiner for his 40th birthday had a bad show business party where everybody brought show business clips," Curtis told IGN in 2003. The party's theme seemed to be showing off the worst project each guest had ever been a part of, and while it took place before Curtis starred in the box office bomb, she apparently knows what movie she'd bring to an event like it if she could. "That's the only good reason to be in bad movies," Curtis told IGN. "Then when your friends have [bad] movies you can say 'Ahhhh, I've got the best one. I'm bringing Virus.'"