Here's When You Can Stream The Orville On Disney+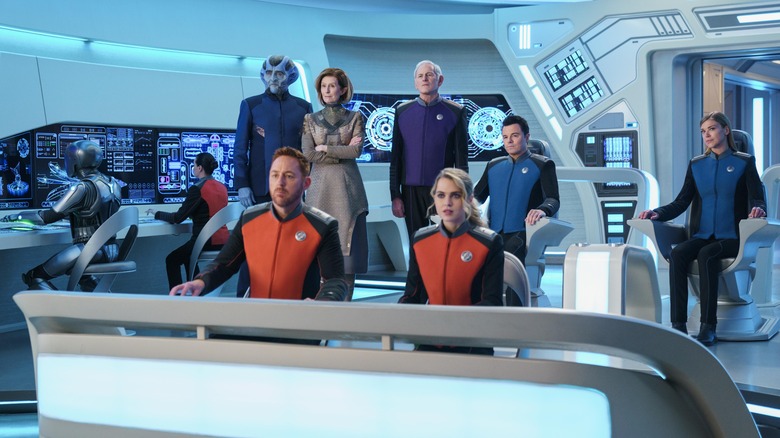 Hulu
After debuting in 2017 and presenting two acclaimed seasons on Fox, Seth MacFarlane's epic space adventure "The Orville" made the jump to Hulu after the Walt Disney Company acquired 20th Century Fox in 2019. However, thanks to the ongoing pandemic, fans were unable to see the newly christened "The Orville: New Horizons" until this year. Now, with the third season finale looming, it seems like Captain Ed Mercer and his crew have a new heading plugged into their navigational systems: Disney+.
During their panel at this year's San Diego Comic-Con, the cast revealed that the Emmy-nominated, fan-favorite sci-fi series would be available to watch on the Mouse House's streamer starting on August 10, 2022. But what does that mean for the future of the show? A recently issued press release may hold the key to the fate of the USS Orville.
As a follow-up to the Comic-Con announcement, Disney+ shared a press release reiterating the debut of "The Orville" on their platform later this month. It included a video from the show's creator and star Seth MacFarlane along with a statement sharing how excited he is for "the opportunity to expand our Orville community further" and for "new audiences to experience this series." While there's no mention of the fourth season renewal that fans have been clamoring for in the announcement, it does say that "all three seasons" are dropping on Disney+ and it "will also continue to stream on Hulu."
You want to open this jar of pickles for me?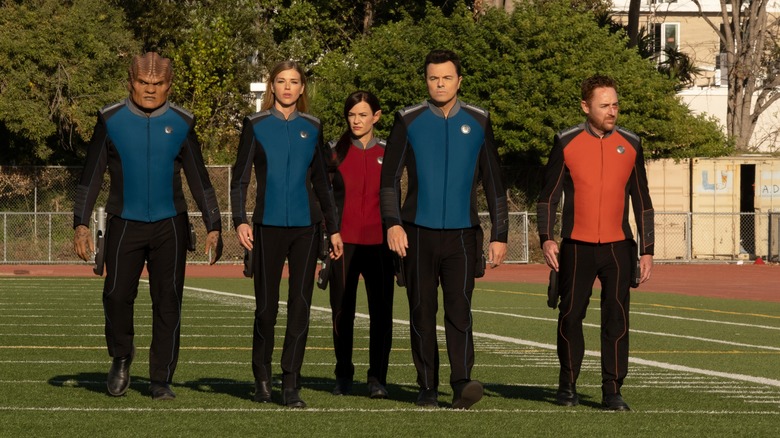 Hulu
Okay, I don't know about you, but I'm getting serious mixed signals here. It may just seem like semantics that I'm reading far too much into, but saying "all three seasons" makes it sound like "The Orville" is coming to an end after the third season finale and the whole story is coming to Disney+. There's the bit about staying on Hulu, but again there's no mention of new episodes streaming there either. Alternatively, if this news is taken at face value, this could just be Disney doing everything they can to get eyes on an amazing show that they stand behind. 
While it started as kind of a workplace comedy on a spaceship, "The Orville" has evolved into an amazing mix of "Star Trek," "Star Wars," and "Galaxy Quest" thanks to a nice bump in their budget and the creative team getting more control over the tone. As a result, "The Orville: New Horizons" honestly has some of the best sci-fi and best storytelling on "television" right now and it deserves to have more eyes on it. The episodes spotlighting Peter Macon's Lt. Commander Bortus and his family alone are enough to garner attention during award season, but the whole ensemble cast gets their fair share of engaging, relatable, and heart-breaking moments throughout the latest season. 
Depending on how the last episode of season 3 goes, it's easy to see how things could wrap up after episode nine, but hopefully, we don't have to worry about that for some time. And if we do, here's hoping that MacFarlane can talk Disney into taking the "Star Trek" route and send his crew to the big screen for a theatrical adventure or thirteen.
The season (or series?) finale of "The Orville: New Horizons" will air on Hulu on August 4, 2022.